It was shown because the "other community" is growing at eight per cent.
The RSS held a meeting on Sunday, presided over by chief Mohan Bhagwat, which implored Hindu couples to have more children, because the Hindu population is growing at the rate of 2.1 per cent, while that of the "other community" is growing eight per cent, The Indian Express reported.
A video alleging that "Muslims were taking over Europe" was also shown at the event, reported The Hindu. The article also quotes an RSS worker citing its "easy availability" on YouTube as an example of its authenticity.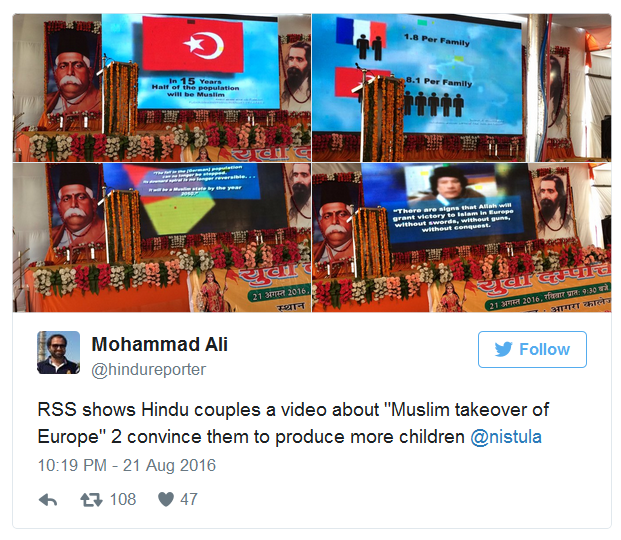 Despite numerous articles debunking the notion that "Muslims are taking over Europe", the video in question has been doing the rounds of the internet for the last few years. A 2011 study by the Pew Research Centre had found that global Muslim populations will grow at a rate slower than in the past few years.
The video itself uses the techniques common to the genre of YouTube conspiracy. Statistics and facts are quoted without context. An article by BBC debunked the claims made in the video when it was popular. More than anything, the huge popularity of the video – viewed by more than 10 million people – was being seen as the growing Islamophobia throughout the world.
Here's John Oliver explaining how a YouTube conspiracy works. (Warning: Do not watch if you like chocolate eggs.)
Periodically, right wing groups like the RSS and VHP ask Hindus to have more children to prevent themselves from becoming a minority in India, even though the current growth rates make this an impossibility anytime soon. Asked by an attendee how these children could be fed, the RSS chief had no answer, reported The Hindu.
Courtesy: Scroll.in