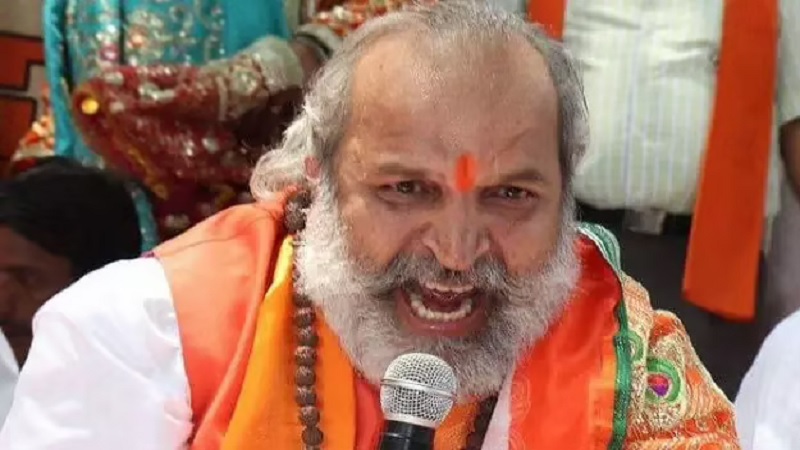 Image Courtesy:sentinelassam.com
Shortly after being acquitted in the Babri Masjid demolition case, one of the accused boasted in front of news channels of demolishing the mosque as well as future plans to attack other such mosques in the country.
The 62-year-old BJP member and former Chief of Shiv Sena's North India faction, Jai Bhagwan Goyal, said that the group had always intended to demolish Babri Masjid on December 6, 1992. They first attempted to do so in 1990 but were stopped by the then Uttar Pradesh Chief Minister Mulayam Singh. Goyal said they succeeded with their "unflinching commitment" in 1992.
He also promised future plans to demolish mosques in Kashi and the Shahi Idgah in Mathura that as per right-wing narrative was constructed by Emperor Aurangzeb after demolishing a temple at Lord Krishna's birthplace. Despite being acquitted, Goyal said that he was prepared for the death penalty for the crime was "an act of pride" for the man. He believed that the group's acquittal meant they had the blessings of Lord Ram.
Similarly, former BJP MP Vinay Katiyar and another person accused in the demolition said that the decision to launch a similar movement in Mathura would be taken after consulting the saints. He even encouraged those seeking political mileage to join them.
It seems shocking that those claiming innocence moments ago in court would begin to flaunt their alleged crime mere moments after the CBI court's verdict. It is a recent trend among discriminating leaders to boast involvement in the Babri Masjid demolition. Last year, BJP MP Pragya Singh Thakur also claimed to have had a significant role in the demolition.
To say that such claims injure the secular spirit of India is a gross understatement. The question that one must consider is not the depths to which these people will lower themselves but at what point must they be stopped.
Meanwhile, citizens chose to vent their frustration about the unfortunate series of events on social media.
जय भगवान गोयल -"हां, मैंने किया।" मैने गिराया।
कोर्ट के जज – "नहीं, आपने नहीं किया ….?
Jai Bhagwan Goyal – "Yes, I did." Supreme Court – "No, you did not …. #RIP_Justice ?#BabriMasjid #BabriDemolitionCase

— बेबाक आवाज (@bebakaawaj6) October 1, 2020
We Demolished #BabriMasjid, I Was Prepared For Death Penalty', Says Jai Bhagwan Goyal After Being Acquitted #BabriMasjidDemolitionCase #BabriMasjid
Supreme Court-No you didn't do it.
Everyone acquitted-Understandable,have a great day pic.twitter.com/htjq3SuyG9

— Yubaraj Ghoshal (@GhoshalYubaraj) October 1, 2020
Related:
Acquittal of Babri accused, gang rape of UP Dalit woman are interlinked; have roots in the history
Babri Masjid demolition judgment shocks India!
Krishna Janmabhoomi: Mathura court dismisses plea against Shahi Idgah
Bearing witness to the Babri masjid demolition