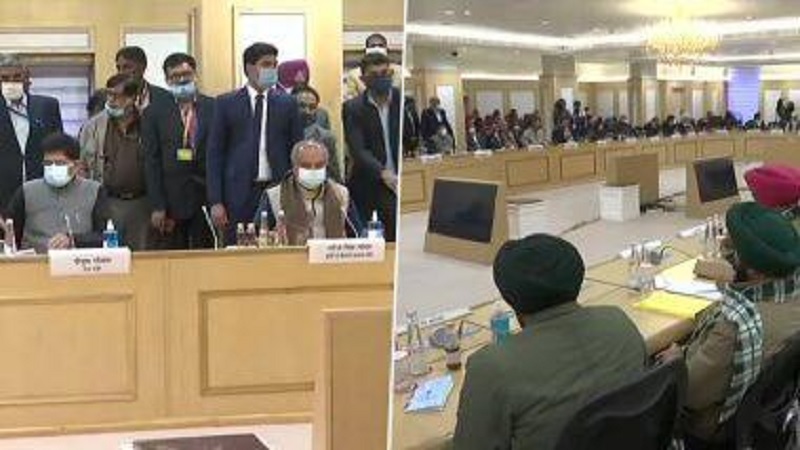 Image Courtesy:latestly.com
Union Minister Narendra Singh Tomar has explicitly said that the demand for repeal of the three agriculture laws opposed by farmers organisations cannot be accepted during heated talks with farmer leaders on January 8, 2021.
News reports claim a palpable tension between farmer leaders and the central government officials as farmer leaders finally exited the Vigyan Bhavan hall for lunch but refused to eat or utter a word thereafter. The talks ultimately ended without a conclusion after the lunch break.
Tomar's statement was in response to farmer leader Balbir Singh Rajewal's pointed question as to whether Ministers intended to honour farmers' wishes. However, the atmosphere became tense on receiving the less-than-welcome response.
Despite persuasion, farmer leaders refused to talk any further with one farmer leader placing a placard on the table "We will either die or win."
According to the farmers community page 'Kisan Ekta Morcha' on Facebook, farmer leader Rakesh Tikait has claimed before the eighth round of talks began that the central government would continue to talk in circles, trying to convince farmers to give up their demands.
"I am making it clear that we have immense patience, we are prepared to sit here till March, 2024," he said.
Farmers remain united in their decision to stand firm on the demand for repeal of the Farmers (Empowerment and Protection) Agreement on Price Assurance & Farm Services Act, the Farmer's Produce Trade and Commerce (Promotion and Facilitation) Act and the Essential Commodities (Amendment) Act.
Further, Tikait said that the central government should pass the laws that it passed without consulting farmers.
Earlier, farmer leader and member of the Samyukta Kisan Morcha Darshan Pal warned the central government on January 7 that these laws should be completely repealed and remunerative MSP should be made into a legal right of all farmers.
"We will never accept the amendments offered by Govt and towards fulfilling our demands, we will continue to intensify the protests," he said.
With the central government's explicit declaration of not repealing laws, farmers' protest will intensify in coming days. Already, many locations across India observed indefinite sit-ins and state level rallies on Thursday. On Monday, Vijayawada farmers in Andhra Pradesh took out a huge rally. Bihar farmers are continuing with their Pakka Morchas (Indefinite Sit-ins) in more than 25 places.
"It is well known that APMC Act was abolished in Bihar in 2006 and farmers of Bihar are one of the biggest victims of deregulated markets. Today, they are sending a message to the rest of India to not accept such anti-farmer 'reforms'," said Darshan Pal.
Related:
Thousands of tractors set off along the KMP highway!
BJP's anti-farmer tirade motivated by Modi's desire to implement farm Acts: AIKSCC
Tractor march on Jan 7 instead of Jan 6, farmer leaders warn the govt to know its limits
Is Reliance not walking the talk on Contract farming?
Karnataka and Kerala farmers come together to intensify struggle
Are the new farm laws constitutional?
Haryana: Farmer protesters suffer tear gas shellings, survivors claim police used expired shells
Former Minister calls Centre's three agri laws "draconian", demands repeal