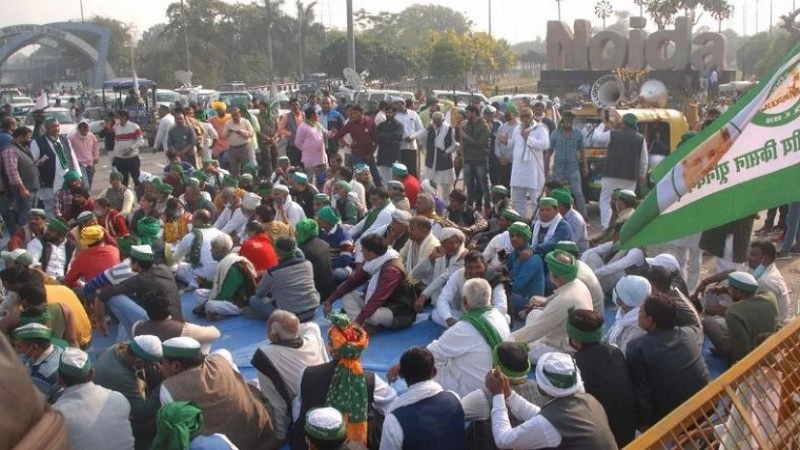 Farmers' agitations continue in Rajasthan, Uttar Pradesh and Haryana as farmers close down toll plazas and gather for mahapanchayats across northern India on February 12, 2021.
Responding to the Sanyukta Kisan Morcha's (SKM) call for opening of toll plazas, Rajasthan farmers have opened all plazas near the borders. Protesters said that these toll points will remain open indefinitely until the central government agrees to withdraw the three farm laws – the Farmers (Empowerment and Protection) Agreement on Price Assurance & Farm Services Act, the Farmer's Produce Trade and Commerce (Promotion and Facilitation) Act and the Essential Commodities (Amendment) Act – and provide legal provisions for Minimum Support Price (MSP.)
This agitation will later be followed by a mashal juloos in honour of the CRPF soldiers who died on February 14, 2019 as well as farmer martyrs who had died while participating in the farmers' struggle.
Meanwhile, Bilari city in Moradabad district of Uttar Pradesh, and Bahadurgarh district of Haryana, both organised mass gatherings to spread awareness about the impact of the three laws on the agriculture sector. Farmer leader Rakesh Tikait visited both sites to encourage farmers to dissent against the central government's anti-farmer laws.
Recently, mahapanchayats have spread like wildfire in north-India following huge success in Muzaffarnagar, Uttar Pradesh and Jind, Punjab. The district-level meetings also allow the presence of political authorities on-stage. However, farmer leaders of the SKM continue to prevent political figures from standing on their stages in the protest sites near Delhi.
Related:
Mahapanchayats in UP, Rajasthan and Haryana from Feb 12
At least 25,000 people gather for Punjab's first Mahapanchayat
Mahapanchayats getting bigger, bolder
Farmer focussed Mahapanchayats getting massive response in UP as well
Farm laws, not just farmers' problem: Delhi citizens