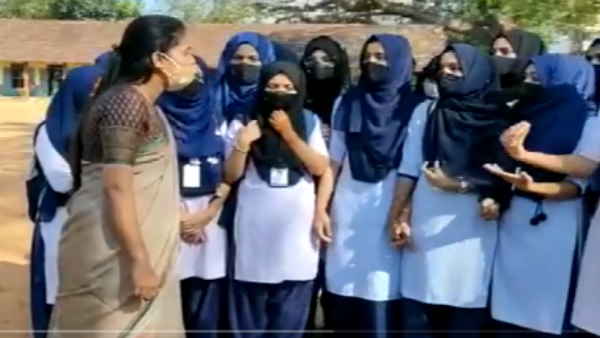 Udupi's Kundarpura's Muslim girl students on February 3, 2022 took to sit-in protests outside their pre-University college to assert their right to wear a hijab on campus. Male students have joined this protest that decries the administration's sudden decision to ban wearing of the hijab on campus shortly after protests by a right-wing students group.
Rights groups and Islamic groups have spoken out in support of these girls who opposed the college's decision to take away their choice to wear a hijab. The People's Uncion of Civil Liberties (PUCL)'s Karnataka Chapter cited the violation of basic fundamental rights like the right to equality and right to a dignified life aside from the constitutional freedom to practise any religion of choice.
Similarly, the Students Islamic Organisation (SIO) condemned the government college's "inhuman attitude" in closing the gate in the face of students wearing hijab.
"SIO strongly condemns this incident. This is a clear violation of the constitutional and educational rights of the students… The silence of the Deputy Commissioner and the concerned department has created anxiety among the students," said the SIO.
Prohibiting Muslim students of Govt. PU College in Kundapur from entering their campus for wearing #hijab is an inhumane attitude. The concerned department should immediately intervene and allow the students to study in the classroom wearing headscarves.#UdupiStudentsNeedJustice pic.twitter.com/CwpD1d2J85

— SIO of India (@sioindia) February 4, 2022
Students have been especially concerned because the decision came only two months before Class 12 exams. Rummaging through college rulebooks, the girls even cited a clause that states "Girl students are permitted to wear the scarf inside the campus. However, the closure of the scarf should be test of their dupatta."
Steeled with this fact, students on Friday entered the second day of their protest. Their demonstrations have garnered the support of netizens, political activists and other student unions.
#HijabisOurRight college rule book has no problem on wearing hijab.
karnataka govt reduced itself to bigotery. how long you would survive is the matter of time.
sack the principal.@RanaAyyub@HumanRightsCtte@UNICEF@UNHumanRights@HumanRights@RahulGandhi pic.twitter.com/G5guTLlhTc

— mbw (@mbhanifyousef) February 4, 2022
The lie that hijabs students are violating college uniform is busted. Rule says as long as hijab colour matches uniform they can wear it (exactly as in the case of Sikh boys' turbans). https://t.co/1JY6V6wsPC

— Kavita Krishnan (@kavita_krishnan) February 4, 2022
Students protesting outside their college in Karnataka. They are again denied their entry in to the college for wearing #hijab.
More courage and Duas to you brave ladies.

All apartheid walls shall fall. #HijabisOurRight pic.twitter.com/Ah0fOiNE64

— Aysha Renna (@AyshaRenna) February 4, 2022
Even journalists like Rana Ayyub, Faye D'Souza and radio jockey Sayema have voiced their solidarity with the trailblazing girls.
This has to stop now. https://t.co/ykOu4dqDN6

— Faye DSouza (@fayedsouza) February 3, 2022
For a teacher to stand as a mute spectator when his students are crying to be allowed into the premises. This is not apartheid ? Are women in hijab a threat while yogis in constitutional offices proudly flaunt saffron robes. Her body, her agency, her choice. https://t.co/UMTKStUjdo

— Rana Ayyub (@RanaAyyub) February 3, 2022
A hijab has scared the spineless govt. Ridiculous. Proud of these girls. They are resilient and they have a great future. None can stop them to bloom.
Absolute solidarity with them.Brazen islamophobia at display
Today it's hijab,tom it will be a turban etc.Where are the courts? https://t.co/bTXzEG6oiV

— Sayema (@_sayema) February 3, 2022
However, the right-wing goons soon turned upon the supporters questioning why THEY do not wear hijab despite supporting the students. In particular, people attacked Rana and Sayema who hail from the same community.
You will never find Rana..Arfa..Saba in #hijab but they will provoke other females..be aware of such snakes

— Trupti Garg  (@garg_trupti) February 4, 2022
All progressive secular minded ppl in media like Saba Naqvi, Sreenivasan J, Faye D, Shashi Tharoor etc support Hijab in schools! pic.twitter.com/S1KvBO5W5M

— Jyoti Shiralee (@jyotishiralee) February 4, 2022
The whataboutery in this case is especially sickening considering the right-wing IT cell immediately began sharing nude photos of women in hijab or citing anti-hijab movements in other countries to shame supporters. This is not unlike the recent incident where women's photos were shared on an app claiming to "sell" the women. To all this, the government has shown an overall apathetic attitude.
Its a sick sick state that governs us and a sicker society that is responding to this. All the time. Speak up majority India before its too late! #HijabisOurRight #hijab @Samriddhi0809 @_sayema https://t.co/rVvSRuS0Kn

— Teesta Setalvad (@TSetalvad) February 4, 2022
Shockingly, some people have even resorted to absurd queries like why D'Souza (a Christian) does not don a hijab or why secular elements support the hijab demand when women in places like Iran have suffered due to it.
Some of the Hypocrites Roaming freely without any shackles But want to put young School & College Girls in Hijab. TELL THEM TO WEAR HIJAB FIRST #hijab #Udupi pic.twitter.com/LwKoeteDOB

— Rosy (@rose_k01) February 4, 2022
1) Indian Feminists/ Secularists pushing #Hijab for young children while roaming free without Hijab

2) Indonesia World's largest Muslim Populated Country has no Hijab for students

3) Iran where women are attacked with acid for not wearing Hijab pic.twitter.com/nYV4xBPVYl

— Arun Pudur (@arunpudur) February 4, 2022
It may be noted that women in such countries opposed the imposition of the hijab while the Udupi girls are protesting against the forced removal of the hijab. In both instances, it is the dismissal of consent and choice that the women are fighting against. Moreover, in a state that has reported multiple incidents of fake "love jihad" accusations and communal attacks, the forced removal of the hijab also works as an act of Islamophobia. The women who have been attacked in the crossfire remain in solidarity with the students with this in mind.
I come from a family of opinionated, educated and working women. My sister and my sister in law started wearing the hijab a few years ago while my mum stopped wearing it when she was 16, i mostly wear westerns. These are our personal choices, we have exercised our agency

— Rana Ayyub (@RanaAyyub) February 4, 2022
Shouldn't our endeavour be to create spaces where girls can wear whatever they want to be comfortable? I feel if someone really wants to free girls from patriarchy- empower them with an education and choices. This school is doing the opposite

— Faye DSouza (@fayedsouza) February 4, 2022
Meanwhile, the controversy worsens in the state. Where Karnataka had reported at least five hijab-ban incidents by Thursday, it reported two more incidents in Byndoor, Udupi and Ramadurga, Belgaum. Once again, students wearing saffron scarves demanded that their colleges ban hijabs.
Related:
Two more hijab controversies in Karnataka
Hate as a State project is not a new phenomenon: Survivors
Karnataka Veil Issue: Should Muslims Choose the Veil Over Education?
Has inaction prompted another Muslim women's auction on the internet?