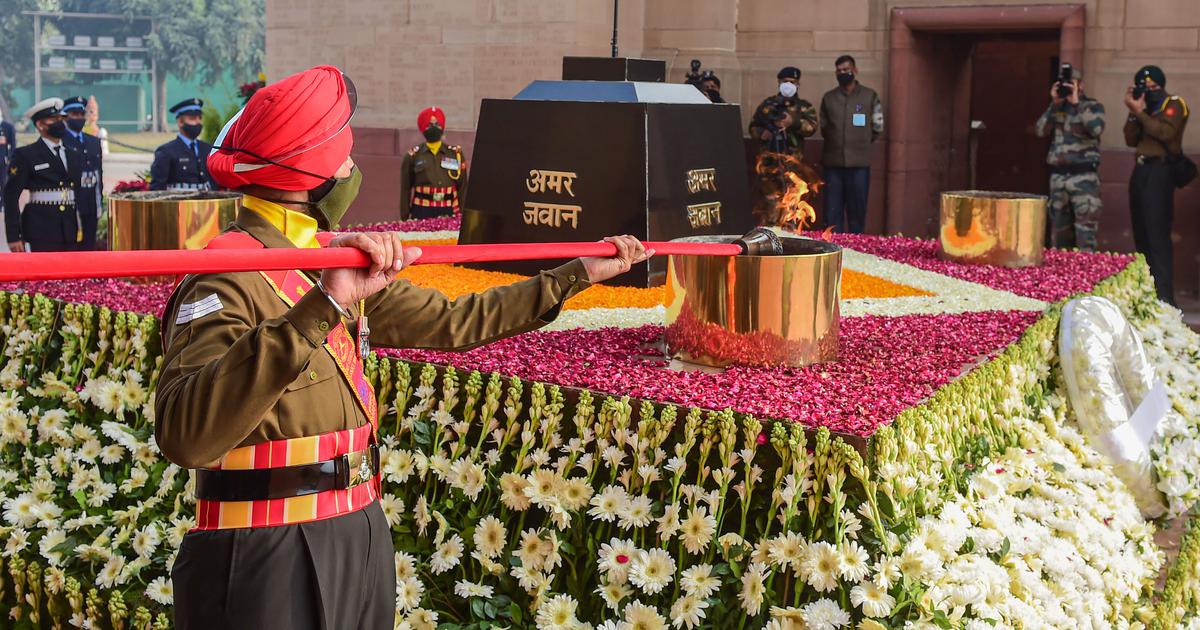 Republic Day 2022 will stand out in history. There will be no salutes offered on behalf of a "grateful nation" at the Amar Jawan Jyoti or the eternal flame that has burned for 50 years to honour the fallen soldiers, at India Gate. The Amar Jawan Jyoti flame was taken and 'merged' at the relatively new National War Memorial (NWM) at a ceremony on Friday afternoon.
Chief of Integrated Defence Staff Air Marshal B R Krishna presided over the ceremony, which lit a torch with the Amar Jawan Jyoti, that had been inaugurated by the then prime minister, Indira Gandhi, on January 26, 1972 as a memorial for Indian soldiers who made the supreme sacrifice. It was constructed after India defeated Pakistan in the 1971 war.
Republic Day 2022 would have marked Amar Jawan Jyoti's golden anniversary, however, it now has been extinguished at its original place and 'merged' at the NWM that was inaugurated by Prime Minister Narendra Modi, on February 25, 2019. According to the government, the move was carried out because India Gate is "a symbol of our colonial past".
This is being seen as a political statement by most, as yet another 'stamp' of the current Bharatiya Janata Party led government, which is also busy 'rebuilding' the entire Central vista, including the Parliament. The message has also reached states such as poll bound Punjab, Uttarakhand, Uttar Pradesh, Manipur and Goa, as well as Rajasthan and Haryana which are not holding elections but are crucial for the BJP, from where many soldiers hail.
Sorry this is India's 'Colonial Past' as per Indian Government sources who bring 'right perspective' into extinguishing 'eternal flame' at Amar Jawan Jyoti. https://t.co/fhPB1o6scj

— Priyanka Chaturvedi?? (@priyankac19) January 22, 2022
However many veterans remain divided on the issue. Col. DPK Pillai (retd) said "It is coming of age of India. A flame lit in a memorial for World War 1 honoured the mercenaries who fought for the British in a war that didn't mean anything for colonised India. The NWM for independent India's wars is the appropriate place for an eternal flame to honour Indians," he then deleted his tweet and later 'apologised' for offending people after he was called out by other veterans and the public.
I am sorry my thoughts on the flame in a memorial made for world war 1 with Indian money for soldiers who were never honoured outside of India ignored in all western Militray history has offended people
My grandfather also was a soldier in British Indian army and I respect him

— Col DPK Pillay,Shaurya Chakra,PhD (Retd) (@dpkpillay12) January 21, 2022
A suggestion. Extend National War Memorial to India Gate (called All India War Memorial when inaugurated on 12 Feb 1931). We will then remember/honour all Indian soldiers who laid down lives from WW 1 to date, & include those of INA who fought under Netaji Subhash Chandra Bose.

— Ved Malik (@Vedmalik1) January 23, 2022
Did we fund a memorial for the 'mercenaries,' that too, in a foreign land? #IndiaGate #AmarJawanJyoti #AmarJawanForever #amarjawan https://t.co/ftocgXUAzr pic.twitter.com/DKYTo62y96

— Manmohan Bahadur (@BahadurManmohan) January 23, 2022
Let the music play?
While opinions remain divided on the 'extinguishing' and 'merging' of the eternal flame that has been revered as almost a sacred flame by most who have visited and paid their respects at the site, came another blow. The government dropped the soothing 'Abide with me', Mahatma Gandhi's favourite hymn from the military's Beating the Retreat ceremony that is held on January 29 each year at Vijay chowk on Rajpath. The instrumental version has been played since 1950 by the Massed Bands of the security forces at the ceremony that marks the end of the Republic Day celebrations. Abide With Me, has been replaced by the patriotic song Aye Mere Watan Ke Logon, sung by Lata Mangeshkar. The Army's brochure noted that "Beating the Retreat is a centuries-old military tradition dating from the days when troops disengaged from the battle at sunset. As soon as the buglers sounded the retreat, the troops ceased fighting, sheathed their arms and withdrew from the battlefield."
Since 1950, the Massed Bands has played the tune at the Beating the Retreat ceremony, held on January 29 every year. After the tune is played, the retreat buglers bring down the Indian flag at dusk to mark the end of the Republic Day celebrations. This year onwards they will play the tunes of 'Aye Mere Watan ke Logon'. It was written by Kavi Pradeep, music composed by C. Ramchandra, and sung for the first time on Republic Day 1963 by Lata Mangeshkar. According to news reports the Hymn was replaced after "a decision was taken to include only Indian songs", the Print quote 'defence establishment sources' saying that "since this retreat is a part of the Azadi ka Amrit Mahotsav celebrations. So, all tunes that will be played by the band will be Indian." Abide With Me was written in the 19th century by Scottish poet Henry Francis Lyte and composed by William Henry Monk. The right wing sees it as a "Christian" hymn, and is happy at it being dropped, forgetting that there are Indians who are Christians. The speculations that Abide With Me will be dropped began in 2019-2020, though it was said that year that it may be replaced by "Vande Matram". By 2018, 25 of the 26 tunes used in the ceremony were Indian compositions, and Abide With Me was the only 'English' composition.
'Abide with me' was a Christian hymn written in 1847 but no longer only a Christian hymn. It is a universal hymn that belongs to all religions.

The hymn was part of the Beating the Retreat ceremony since 1950.

— P. Chidambaram (@PChidambaram_IN) January 23, 2022
This tweet is a request for citizens to play #AbideWithMe on 26th January when it's replacement #SareJahanSeAchha is being played.

When open calls for genocide are being made by the dispensation, this travesty isn't lost on me. @sushant_says @OmairTAhmad#NotInMyName pic.twitter.com/eMrGFh7KBV

— Priyadarshi/ପ୍ରିୟଦର୍ଶୀ/प्रियदर्शी/ਪ੍ਰਿਅਦਰਸ਼ੀ (@MajChowdhury) January 23, 2022
Thought hard. I have rarely, if ever, heard the hymn Abide With Me in a church or a chapel.

Always once every year on a high street in Delhi. During Beating the Retreat, from the time I was in school.

But then what else can you expect from the creators of Good Governance Day. pic.twitter.com/RIazpMOR02

— Derek O'Brien | ডেরেক ও'ব্রায়েন (@derekobrienmp) January 23, 2022
Ironically the news that the Hymn will be dropped also trended on January 22 which marks the day when Australian missionary Graham Stuart Staines and his sons, 11-year-old Philip and 8-year-old Timothy, were burned to death in the van they were sleeping in, outside a church in Keonjhar district of Odisha in, 1999. A mob led by fanatic Bajrang Dal's Dara Singh alias Ravindra Pal and 15 others attacked the Staines while they slept in their station wagon and then set the vehicle on fire in Manoharpur village of Keonjhar district of Odisha.
Today is the 23rd death anniversary of Graham Staines and his boys. Hate has been brewing for so long. Indian society is corroded #GrahamStaines #Fascist_India #HateCrime @cjpindia @JohnDayal @karunajohn pic.twitter.com/QH0uvEQluY

— Teesta Setalvad (@TeestaSetalvad) January 23, 2022
In September 2003, a designated CBI court in Bhubaneswar sentenced Dara Singh to death (later life imprisonment) and handed life-term to 12 others. Of the three others named in the chargesheet, Ramjan Mahanta and Ghanashyam Mahanta were arrested by the CBI in 2013 while Buddhadeb Nayak continued to evade arrest. Recently a court rejected a plea by Dara Singh seeking modification of his life imprisonment. Singh is currently serving life sentences in three separate cases. The HC bench comprising chief justice S Muralidhara and justice BP Routray rejected Singh's criminal appeal seeking his release from jail in the murder case of a Muslim trader in 1999 for which he was sentenced to life by a trial court in 2007. Singh pleaded that as he has already undergone more than 21 years inside the jail and considering his long custody, the punishment may be treated as life term, reported Hindustan Times. In 2007, a trial court in Mayurbhanj sentenced Singh to life for killing and then burning Muslim trader SK Rehman of Padiabeda village in Thakurmunda block of the district. The same year, he and three others were sentenced to life for murdering 35-year-old Catholic priest Father Arul Doss in Sep 1999, at Jamubani village of Mayurbhanj district, added the HT.
Communal acts continue, PM stays silent
Meanwhile, communal riots continue to be reported in India. In 2021,there were 20 communal riots, in which one person died, and 16 incidences of communally motivated mob lynching. It is to be noted that the State has stopped publishing its reports on communal riots and mob lynching under the National Crime Records Bureau (NCRB) which reports substantially a greater number of communal riots. The actual number of riots and mob lynching might be several times than those reported in the newspapers scanned by fact finding reports. While the Ministry of Home Affairs (MHA), Government of India has stopped publishing the statistics regarding communal violence. The statistics pertaining to communal violence are revealed only as a reply to the starred question in the Parliament.
Prime Minister Narendra Modi, "as the leader of India", is yet to speak up against the recent, and growing calls for genocide of Muslims. Global human rights watchdogs Amnesty International USA and Genocide Watch, have said, "Indian Prime Minister Narendra Modi's Islamophobic policies and tolerance of open incitement by Hindu extremists for a genocide of Muslims are pushing India towards mass violence against and massacres of Muslims." It is perhaps for the first time that such a direct 'prediction warning' has been sounded at a global level, even as headlines continue to report the regular targeting of Muslims, Christians and other minorities.
Related:
PM Modi not speaking up against calls for genocide of Muslims: Amnesty International, Genocide Watch