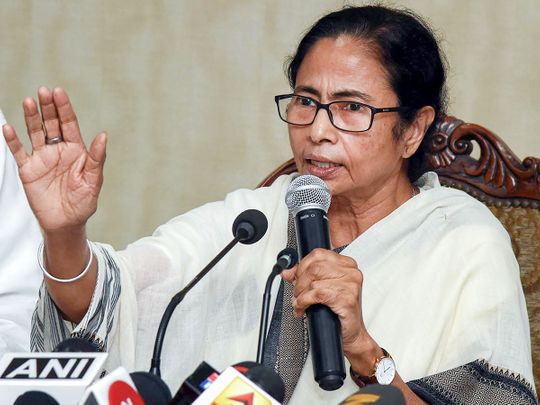 West Bengal CM Mamata Banerjee on Tuesday announced that her state government would provide a one-time assistance of Rs. 1,000 set to benefit nearly 60 lakh workers of unorganized sectors to help them tide by the coronavirus induced lockdown, reported The Telegraph India.
Speaking to the public from Nabanna she said, "We are ready with a scheme – Prochesta – to help the workers of unorganized sectors, who might face trouble earning their livelihood during this tough time. The workers can apply for a one-time assistance of Rs. 1,000 each between April 15 and 30."
"We do not have a lot of money because we have not received any assistance from the Centre. Despite that, we have launched a new scheme for those in the unorganised sector who earn on a daily basis. If they can't make their ends meet, the government will give them a grant of Rs 1,000" The Indian Express reported her as saying.
The scheme is set to cover, both, domestic workers as well as migrant labourers many who returned to Bengal after the scare of the virus. The scheme will potentially benefit the sectors of construction and transport which employ a large number of unorganized workers. While cost of living is lower in rural West Bengal as compared to metropolitan centers like Delhi and Mumbai, Rs 1000/- still appears to be a meager amount. The disbursal mechanism has also not been clarified yet.
A senior official said, "Even agriculture work has come to a halt in the state. It is a tough time for wage labourers. The financial assistance would help lakhs of people in the state."
Another official said that the government's move would also help people stay at home and self-isolate. He said, "As people were anxious about their livelihood in villages and some parts of urban areas, they were coming out of homes in search of work during the lockdown. The government wants to achieve the target of social distancing through the lockdown. The scheme will help the state keep people at home, particularly in the rural areas."
Earlier the CM had announced a Rs. 5 lakh insurance scheme for over 10 lakh workers battling the virus from the frontlines.
An official from the Labour department said that Mamata's move might help her collect some political gains too. The official said, "The decision to grant financial support to workers of unorganized sectors would have maximum impact in rural areas, where the BJP had developed a strong foothold in the past couple of years."
West Bengal's not-so-near neighbour, Meghalaya too announced a similar package. However, they were a little more considerate announcing that building and other construction workers would get Rs. 1,000 per week on account of the lockdown. The financial assistance will help about 34,000 registered workers.
This order will be applicable for the present from 23 March, 2020 onwards till 29 March, 2020 and will be reviewed further on the 30 March, 2020. This is as per notification issued by Principal Secretary in charge Labour department, DP Wahlang.
Related:
Covid-19: Modi's lockdown speech skips critical info, causes panic
Delhi Pogrom victims need your help more than ever
Latest guidelines on COVID-19 simplified