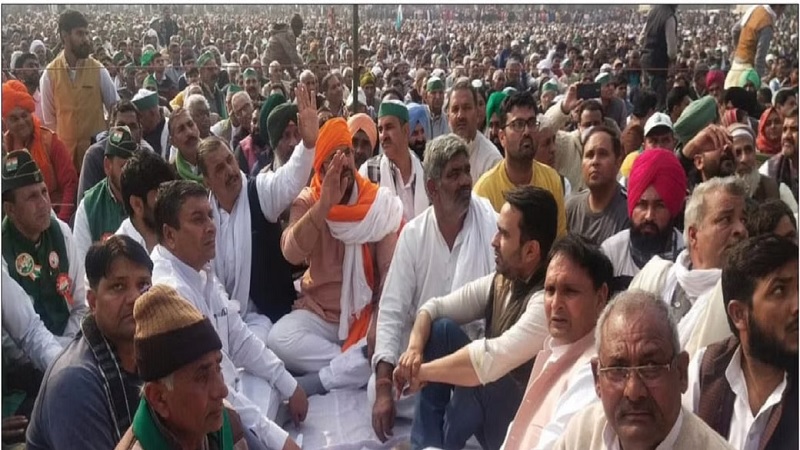 Image Courtesy:nationalheraldindia.com
The news of Lakhimpur Kheri-accused Ashish Mishra getting bail shocked many farmers in India, especially in Uttar Pradesh where the first phase of Assembly elections began on the same day. Farmer leaders condemned the judgement as a political move to influence Assembly elections in UP and other states. However, according to Sanyukta Kisan Morcha (SKM) leader Ashish Mittal, the resolve of western UP's farming community has indeed left the ruling regime in an uncertain position.
The Lakhimpur Kheri massacre, the farmers struggle and the Bharatiya Janata Party's (BJP) performance in the last five years left many farmers disillusioned. Mittal said that Jat farmers, especially, were disappointed with the government that failed on most of its 2017 performances. "No party manifesto has assured a legal guarantee to MSP [Minimum Support Price] as per the Swaminathan commission formula. Although the Samajwadi Party [SP] promised MSP for potatoes, tomatoes and onions," said Mittal.
As mentioned, the SP does mention MSP at C2 + 50 percent but it does not provide a legal guarantee. Similarly the Rashtriya Lok Dal (RLD) appeals to sugarcane farmers and talks about public distribution of potatoes and other rations.
Still, the anger against BJP is palpable in the Jat community that has widely supported the farmers struggle as well as Dalit groups in UP. Intead of the dispute about mandir-masjid and other communal matters, UP's peasantry is worried about issues like unemployment and adequate prices for crops. This mentality is likely to vary between western and eastern UP with the former side being relatively more prosperous in its agriculture activities.
However, accounts from Shamli district tell a different story. Farmer and Bharatiya Kisan Union (BKU) member Ompal Malik said that Jat farmers there had lost confidence in the BJP after it failed to procure sugarcane from farmers and faltered on its promises on electricity and irrigation. "Before the BJP-government electricity was around ₹ 400. Now, under the BJP administration, electricity is around ₹ 700," he said.
As per the party's 2022 manifesto called the 'Lok Kalyan Sankalp Patra', farmers have been assured free electricity for irrigation if the state government retains power for the next five years. However, Kairana farmer Ravinder Malik told SabrangIndia that even this is undesirable for farmers. "We would prefer it if the government subsidised electricity for six months of farming rather than making it free altogether," he said, asking, "Also, even though, both Haryana and UP have the same ruling party, the electricity rates are different. Why not make it uniform?"
While he agreed that the BJP government has made some good decisions over the years, Malik said the main contention of sugarcane farmers was regarding the meagre increase for ₹ 25 for a quintal of cane in five years. Additionally, there was also the problem of stray animals that has become a state-wide hazard but remains wholly ignored by the Yogi-government.
Leaders said that the Jat community greatly favoured the BJP until 2017 but lost confidence after the Lakhimpur Kheri attack on October 3, 2021. One such Jat farmer from Rampur district's Bilaspur region was particularly critical of the BJP. Gurjeet Singh Kotia condemned the state government for protecting the alleged accused in the Lakhimpur Kheri attack. He said that aside from failed procurement assurances, farmers were angered by the treatment of the three contentious farm laws despite nation-wide protests and the martyrdom of more than 750 farmers. Particularly, the death of Navreet Singh at the ITO in Delhi on January 26, 2021 greatly affected the community. "Few know that Navreet was part of the Bilaspur community here. Obviously, when a son dies, the entire family will be angry. It's for this reason that more people are leaning towards SP and other parties. No Jat will vote for BJP," he said.
While the Jats expressed their anger towards the ruling regime, Muslim farmers wondered which party will address their additional concerns about education, security, health and livelihood. Moradabad farmer Ashkar Ahmad said that most farmers in his region – that enjoys a large Muslim population – do not think that the government can help with livelihood. He lamented how politicians and party candidates were using religion, caste and local familial relations to get votes. Due to this, Ahmad said that only 40 percent of the people in his region understood the larger issues and politics although he did not suffer any Hindu-Muslim discrimination within the farming community. "Even in the field, when I was dropping off the cane crop, I and other farmers were discussing how to preserve the Nehru-Indra legacy in this election," he said.
However, farmers in his area hesitate to join farmer protests for fear of getting arrested by the police. As such, Ahmad agreed that the communal influence remains even in cities like Moradabad where people do not have a hand-to-mouth existence. Similarly, Amroha's Mohammad Wakar said said that all parties used the communal divide to their advantage. For example, he said that barring BJP, all parties sent Muslim candidates in their area that has a large Muslim community. This causes a divide in votes that inevitably benefits the BJP. "No party has any unique stand on communalism," said Wakar.
He said that the issue of Muslim education in particularly ignored in his region. Some time ago, Wakar said a nearby village Rampur established a university that allowed many Muslim folk to send their children there for further studies. However, once the BJP gained more influence, it filed many cases against the institution and closed down its library. This is one of the reasons, said Wakar, why people in the farming community were leaning towards other alliances like the SP-RLD coalition.
Related:
UP Assembly Elections: Over 57 percent turnout in Phase 1
Lakhimpur Kheri case: Ashish Mishra gets bail!
SKM denounces BJP manifesto
Punish BJP! SKM's resolve for Mission UP