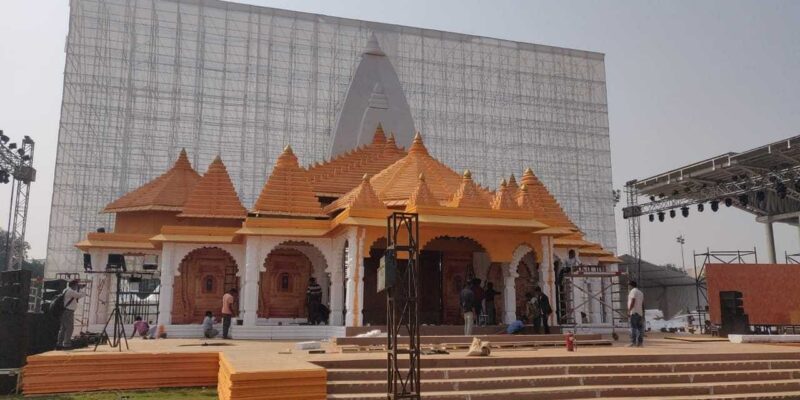 Uttar Pradesh chief minister Adityanath, who is an ordained monk and the Mahant or head priest of the Gorakhnath Math, the famed temple of Gorakhpur, seems to have inspired his counterpart in Delhi. Arvind Kejriwal, is now doffing his hat at one of the biggest milestones of the Bharatiya Janata Party, the under construction Ram Temple at Ayodhya, by building a replica in Delhi.
Kejriwal, will lead his cabinet colleagues and then perform the Diwali puja there on November 4. The Delhi government performed a similar puja last year for the biggest Hindu festival celebrated in India and abroad. Delhi of course has a mixed population of all religions, however the government has now chosen to organise its second Diwali puja, as the only religious festival celebrated publicly by the government using public funds.
Delhi government building a replica of Ayodhya's Ram temple at Thyagaraj Sports Complex as part of its 'Dilli ki Diwali' celebrations.

CM Arvind Kejriwal along with his cabinet ministers will perform Diwali puja here on November 4 pic.twitter.com/X8B5lqhUHX

— ANI (@ANI) November 2, 2021
Last year RTI activist and now TMC member Saket Gokhale, had cited an RTI reply to claim that Delhi's Aam Aadmi Party (AAP) government had spent ₹ 6 crore on its Laxmi Puja event in November 2020. The event was telecast live on November 14, 2020. Similar plans may be afloat this year too, hoardings have already come up in the city to signal a 'sarkari' or Government Diwali, as it were. And as is known, the government revenue is also the money generated from taxpayers.
The Delhi government's replica of Ayodhya's Ram temple is being set up at Thyagaraj Sports Complex as part of its 'Dilli ki Diwali' celebrations, stated news report.
Wooing Goans for 2022
Chief Minister Arvind Kejriwal who is also AAP national convener has already promised the people of Goa "free pilgrimage" to various religious centres, including Ayodhya and Ajmer Sharif, if his party is voted to power. Eyeing Goa as its next Assembly polls project the AAP boss has decided that Goans need to travel to religious sites and he is the one who will arrange it. All for free. Free as in on Taxpayers money.
Of course there was some talk of corruption in Goa etc and he said, "When we announce the poll guarantees, people ask me from where will I get funds. Former governor Satya Pal Malik has given a reply to it," the Delhi chief minister was referring to Gov Malik's recent interview to a news channel. The governor has reportedly said that he saw large scale corruption in Goa, during his one-year tenure, Kejriwal said, "Satyapal Malik is a very mature man. He is not a light-hearted man. The Governor has his own system under which he gets a lot of information," adding, "Since 1947, it has not happened that any Governor has accused the Chief Minister of his party."
However, first pack your bags to claim pilgrimage promise
For Goans, "If AAP comes to power, we will arrange for free darshan of Lord Ram in Ayodhya. Christian brothers and sisters will be taken to Velankanni and Muslims to Ajmer Sharif. Many people also have faith in Sai Baba, and will arrange trips for Shirdi for them," said Kejriwal. Goans now have the choice of AAP, Trinamool Congress, BJP, Congress and the Maharashtrawadi Gomantak Party, apart from independent to vote for. Now it is yet to be seen if any other party has offered a better pilgrimage packet. Meanwhile, Delhi residents, who are spending a second Diwali under Covid protocol, and cracker ban, just have to switch on their TV sets and see the CM and other ministers to a Laxmi puja at the Ram Mandir replica. No travel needed.
Related:
Challenges of 'hyper-nationalism' highlighted in Vatican's Diwali message