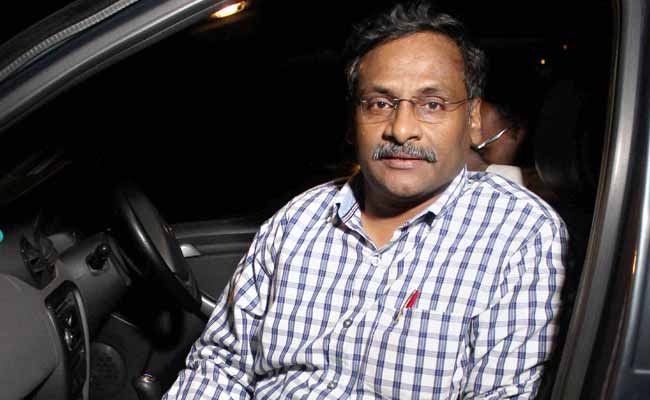 The Committee for the Defence and Release of Dr. GN Saibaba has expressed deep shock and dismay that the Ram Lal Anand College of Delhi University has terminated his service as an Assistant Professor. The termination has come to effect from March 31, 2021. According to a statement issued by the committee, the College had been given "a clear directive from the University of Delhi to send a second Show Cause Notice to Dr Saibaba, regarding the termination of his services, in June 2019".
The College wrote to Dr Saibaba's wife Vasantha in November 2020, giving him 15 days to reply. According to Vasantha, she told the college authorities that "Dr Saibaba was unable to reply because of extreme ill-health." The, she stated that, without waiting for Dr. Saibaba's reply to this second notice, the College has "arbitrarily, and in complete violation of all principles of natural justice, proceeded to terminate his services."
According to the committee this action from the college comes despite the fact that Dr. Saibaba has appealed his conviction in the Nagpur High Court. He is also still recovering from Covid-19 infection which has added to his already fragile health. Such a termination of service is "nothing short of inhuman" stated the committee, which has demanded that "the college and Delhi University immediately reverse their decision, and reinstate Dr. Saibaba in service, until his appeal against his conviction is disposed off."
The Indian Express had reported that college principal Rakesh Kumar Gupta, in a memorandum stated, "The services of Dr. G N Saibaba, Assistant Professor, Ram Lal Anand College are terminated with immediate effect from the afternoon of March 31, 2021. Three months' salary has been paid in his Savings Bank Account." Saibaba had joined the college in 2003 and was suspended in 2014 when he was arrested by the Maharashtra police. Since his suspension, his wife and daughter have received half of his salary. The family now faces even more challenges without that income. Vasantha is a homemaker, her daughter is pursuing an MPhil from Jamia Millia Islamia.
Meanwhile, it was reported that the University's Dean of Colleges Balaram Pani maintained that the college governing body had taken the call based on rules: "University has given the approval to the governing body decision which was taken because the said professor is under life imprisonment. This [the termination notice] is the rule. The governing body would have kept legal implications in mind and taken the decision accordingly. As far as an appeal to a higher court is concerned, we will see what the court says." Delhi University teacher Nandita Narain, who is affiliated with the Committee for the Defence and Release for Saibaba, told media persons, "In the case of S.A.R. Geelani (who was convicted in connection with the parliament attack case), his services were suspended, not terminated. When he got exonerated, he was able to join work again."
Dr. Saibaba, who taught English Literature at Delhi University, was arrested on May 9, 2014 as he left the university campus. Police raided his home and claimed to have found documents and correspondence allegedly proving his connections with the banned CPI (Maoist) group. On March 7, 2017, Dr. Saibaba was convicted and sentenced to life imprisonment under the Unlawful Activities (Prevention) Act on a charge of "being a member of a terrorist gang or organisation."
Related:
Telugu community in Canada raises voice for GN Saibaba
Prof. Saibaba's health worsening after Covid-19: Wife Vasantha demands his release
Professor G N Saibaba tests Covid-19 positive in Nagpur jail
Why did Nagpur Central Jail refuse to accept essentials sent for Professor Saibaba?
Concerned about GN Saibaba's frail health after his hunger strike: Vasantha Kumari
Wheelchair-bound paralysed prisoner GN Saibaba was on a hunger strike for 10 days!