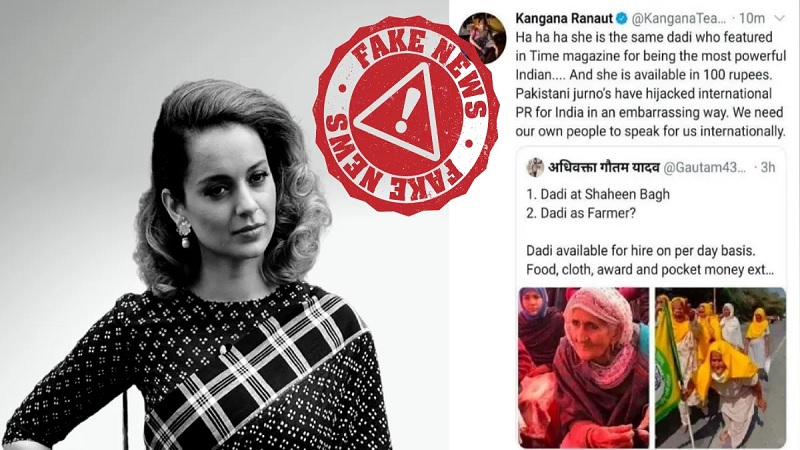 Image Courtesy:platocast.com
While India's farmers have reached a major milestone in their months long struggle against the passing of the Farmers' Produce Trade and Commerce (Promotion and Facilitation) Act, 2020, the Farmers (Empowerment and Protection) Agreement on Price Assurance and Farm Services Act, 2020 and the Essential Commodities (Amendment) Act 2020 — by Parliament in the Monsoon session, right wing affiliated trolls have been busy vilifying them.
The protesting farmers are demanding that the laws be repealed, and replaced with a new Act that ensures a Minimum Support Price (MSP) for all agriculture produce in the country. They have so far faced the physical might of the states, which have ordered massive police and paramilitary deployment across all border areas of Haryana, Uttar Pradesh, Delhi, and all roads leading to the national capital are now under surveillance.
Images of farmers being hit with lathis, water cannons, being met with razor wire barricades and marches by paramilitary forces seem to have inspired the self declared 'nationalist' right wing affiliated online influences to begin trolling. They have begun spinning fake news theories in the same way they did when the Shaheen Bagh protests were underway in December 2019. This time too they have begun with abusing the eldery women farmers who were seen marching alongside the men.
Leading this online onslaught was actor Kangana Ranaut, who shared fake news that the old Punjabi woman farmer (seen in a month old photo) was Bilquis Daadi of Shaheen Bagh. For Ranaut, all old women look alike. And all old women who wear dupattas are Muslim, a community she has no love lost for. Her myopia and lack of information also lead her to believe and amplify the fake news that these women protestors were available for 'hire'. Similar fake news of 'pain protesters' had been floated by the right wing during the anti-CAA protests at Shaheen Bagh. After thousands called out her fake news laden tweet, the actor was forced to delete the tweet. However many took screenshots and fact-checked Ranaut.
Ranaut's fake news was shut down thousands of times.
What a fall @KanganaTeam!
Shame on u for amplifying this baseless & false claim by trolls.
Have some respect for old dadis fighting for their rights.
Why do u think both are same. Also, So what if both are same? Not everyone award winner is available for money. #FarmerProtest pic.twitter.com/UrVHfPrDbx

— Mohammed Zubair (@zoo_bear) November 28, 2020
She has now deleted her tweet. But here is Archive link https://t.co/UVZSoZEB2l

— Mohammed Zubair (@zoo_bear) November 28, 2020
Also, Dadi's pic is not from yesterday. It was shared a month back. pic.twitter.com/viZZ5Y4Qhe

— Mohammed Zubair (@zoo_bear) November 28, 2020
Amit Malviya, the Bharatiya Janata Party's top IT man, as expected also shared a freeze frame from a viral clip that showed an elederly sick farmer being hit with a baton by a policeman in riot gear. Congress leader Rahul Gandhi had shared that image along with thousands of others. Malviya, decided to use the freeze frame and clip taken from the cop's POV of the laathi mid air, and implied that the old man was not even hit. He then launched a taunt at Rahul Gandhi calling him the "most discredited opposition leader India has seen in a long long time".
Rahul Gandhi must be the most discredited opposition leader India has seen in a long long time. https://t.co/9wQeNE5xAP pic.twitter.com/b4HjXTHPSx

— Amit Malviya (@amitmalviya) November 28, 2020
However, he too was served the cold facts by alert social media users who revealed that Amit Malviya has posted an edited video "to prove the old farmer wasn't beaten up by police" They shared the entire video clip that revealed the truth.
CIC of #NarendraModi's fake news factory & pet poodle AmitMalviya has posted a edited video to prove the old farmer wasn't beaten up by police & to discredit @RahulGandhi .
Here's the full video, in fact police abused them too, watch & share, don't let this serial liar get away. https://t.co/b3kWiBMMtE pic.twitter.com/li4E29khN9

— thakursahab (@65thakursahab) November 28, 2020
Shameless that you are,you expect farmer to be starving,half naked and illiterate so that people like you master and his masters may exploit him.Why am I not surprised that a creepy character like you supports Modi Government? As they say Birds of the same feathers flock together

— Sadaf Jafar (@sadafjafar) November 28, 2020
The laziest troll of the day however was reserved for Vivek Agnihotri, who laughed at a man speaking in English at the farmers' protest. Agnihotri probably believed that all farmers were illiterate, spoke only one native language, were poor and landless. He too was given a sharp lesson by social media users.
Hahahahaha. The poor landless farmer for whom WOKES are crying. pic.twitter.com/yjl592EuqX

— Vivek Ranjan Agnihotri (@vivekagnihotri) November 27, 2020
Some disclosed that the English speaking farmer was in fact a cousin of actor turned BJP politician Sunny Deol. In fact, Deol's actor-politician father Dharmendra, has often prided himself on nurturing his own farms. And Dharmendra's wife actor-politician Hema Malini has in the past posed pics with farmers on social media.
Upr jo Admi bol reha hai uska nam Deep Sidhu hai sunny Deol ka cousin ???? pic.twitter.com/IlLhswf43k

— Gurdeep guru (@Gurdeepgurus) November 28, 2020
Meanwhile, many mosques and gurudwaras continued sharing food and water with the farmers, and the Sikh community members have been feeding langar to the policemen on duty.
Khalistanis providing Langar to Police pic.twitter.com/BXDosww4Jr

— ਸਰਬਜੀਤ ਸਿੰਘ (@nihang) November 27, 2020
Yes, really. Food na milega apko few years bad ,hopeu read the bills, thodi to shame krlo???? pic.twitter.com/Xo5x68PSIy

— Bandhana Suman (@b_suman1997) November 28, 2020
Related:
Agri Minister should meet farmers ASAP: Why wait till December 3?
Top 10 Moments of November 27, 2020
Second peasant strike in two months garners even bigger support!
LIVE Updates on All India General Strike and Peasants' Protest 2020