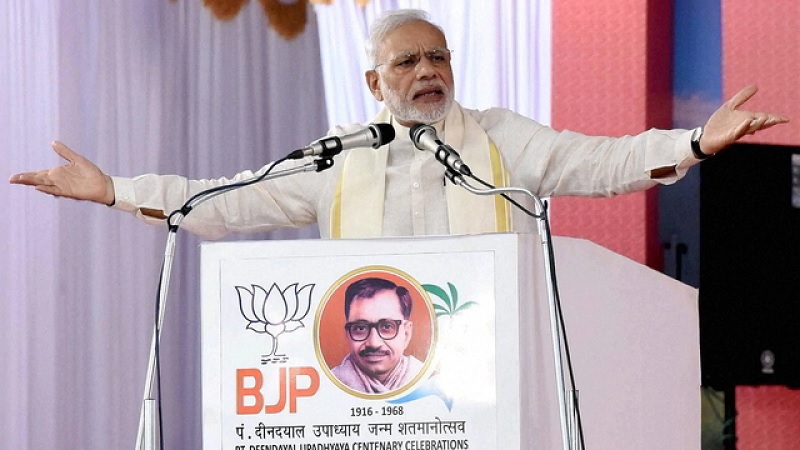 Image Courtesy:dnaindia.com
Lakhs of Indian farmers took to the streets, sat under the scorching sun, put their bodies on railway tracks, to demand what are their basic rights. Fair price for the crop they grow, rights over the land they till. They marched, sat on dharnas, courted arrest, and protested throughout the country, and were supported by secular politicians, civil rights activists, even film stars, sporting heroes, and pop singers, both on the ground and on social media. Global media including the BBC, and Reuters, covered the protest, the first of its kind in the world since the Covid-19 pandemic hit.
The Essential Commodities (Amendment) Bill, 2020; The Farmers' Produce Trade and Commerce Bill, 2020; and The Farmers Agreement on Prices Assurance and Farm Services Bill, 2020, all laws now, have unified the farmers, to protest and demand that they be withdrawn. These legislations passed through without discussion or debate in the Indian Parliament last Sunday made a mockery of parliamentary democracy too.
How did the union government respond? It celebrated the birthday of Deendayal Upadhyaya, one of the most prominent ideologues for those aligned with the right-wing ideology. He was a co-founder of the Bharatiya Jana Sangh, that later gave birth to the Bharatiya Janata Party. Hence Narendra Singh Tomar, Union Minister Agriculture and Farmer Welfare, Rural Development and Panchayat Raj, Government of India, was busy in his role as primarily a BJP worker. He remained busy with the birthday celebrations.
आज पंडित दीनदयाल उपाध्याय जी की जयंती के पर ग्वालियर में आयोजित महाजनसंपर्क अभियान में शामिल हुआ।#MahaJansamparkAbhiyan #gwalior @BJP4MP pic.twitter.com/d8duzUiYpv

— Narendra Singh Tomar (@nstomar) September 25, 2020
Not that the farmers of India actually expected that the Agricultural minister would spare some time to address them, and listen to their concerns. They continued to protest the three controversial agricultural bills that became Law, once they were passed in the Rajya Sabha, despite lacking the required number of votes on September 20. That act of the ruling Bharatiya Janata Party (BJP) completely affronted the essence of democracy and disregarded Parliamentary rule and procedure. Incidentally, as reported by SabrangIndia earlier, the Ministry of Agriculture and Farmers Welfare had admitted to the agrarian crisis on September 18 when it said that more than 10,000 farmers, cultivators had died by suicide in 2019. This is part of the staggering 42,000 suicide deaths in the informal sector in that year. With the new "reforms" things are likely to just get worse.
However on September 25,the agriculture minister chose to quote Prime Minister Narendra Modi's words from the BJP's event celebrating Deen Dayal Upadhyaya's birth anniversary that "Some people were misleading farmers and, people are spreading rumors, because of political interests.
किसानों से हमेशा झूठ बोलने वाले कुछ लोग अपने राजनीतिक स्वार्थ की वजह से किसानों को भ्रमित करने में लगे हैं।

ये लोग अफवाहें फैला रहे हैं।

किसानों को ऐसी किसी भी अफवाह से बचाना भाजपा कार्यकर्ताओं की जिम्मेदारी है।

हमें किसान के भविष्य को उज्ज्वल बनाना है।

– PM @narendramodi

— Narendra Singh Tomar (@nstomar) September 25, 2020
He also spent most of his time, as shown in his various social media posts, with party work, and among other things also dedicated to the public, the Atal Bihari Vajpayee International Convention Center of Jiwaji University Gwalior, which he said was made at a cost of Rs 23 Crore.
जीवाजी विश्वविद्यालय ग्वालियर के अटल बिहारी वाजपेयी अंतर्राष्ट्रीय कन्वेंशन सेण्टर का आज लोकार्पण हुआ।
इस अवसर पर जीवाजी विश्वविद्यालय परिवार और ग्वालियर के सभी नागरिकों को हार्दिक बधाई। इस संरचना को बनाने में लगभग 23 करोड़ रूपए का खर्च आया है। pic.twitter.com/LlaVvn66nh

— Narendra Singh Tomar (@nstomar) September 25, 2020
His junior minister Parshottam Rupala too seemed to have a similar schedule. No time to speak of, for, or to the indian farmers who are still protesting, against the new Acts, they feel will harm their future.
ગુજરાત સરકારના શિક્ષણમંત્રી શ્રી @imBhupendrasinh જીને વર્ષ 2020 માટે શ્રેષ્ઠ ધારાસભ્ય એવોર્ડથી સન્માનિત કરવામાં આવ્યા તે બદલ તેમને ખૂબ ખૂબ અભિનંદન….
આપનું વર્તન, વિચાર, વાણી તથા પ્રજાના પ્રશ્નોને વાચા આપવાની સક્રિયતા હંમેશા સૌ માટે માર્ગદર્શક અને પ્રેરણા રૂપ બની છે. pic.twitter.com/APv7RDN5qS

— Parshottam Rupala (@PRupala) September 25, 2020
He was merely following the leader it seems. Prime MInister Narendra Modi too had a busy day, addressing his party workers on the birth anniversary celebrations.

Addressing @BJP4India Karyakartas on Deendayal Ji's Jayanti. https://t.co/UgKJlUOR0O

— Narendra Modi (@narendramodi) September 25, 2020
He also spoke to Japan's new prime minister Yoshihide Suga
管義偉首相閣下ととても良い電話会議をした。
近年の印日関係の著しい成長、そして印日特別戦略的グローバル・パートナーシップの今後の方向性について意見を交わした。@sugawitter

— Narendra Modi (@narendramodi) September 25, 2020
It was only the BJP ally, Shiromani Akali Dal (SAD) chief Sukhbir S Badal who joined the afters, but only to say that his wife, and former minister Harsimrat Kaur Badal's resignation had "shaken up Modi. For the past two months, there was no word on farmers, but now 5-5 ministers speak on it" The former ally is now planning a major protest march on October 1 and says it "will shake up the throne in Delhi as well the one in Chandigarh.
#WATCH "During World War II, the US shook up Japan with an atomic bomb. Akali Dal's one bomb (resignation of Harsimrat Kaur Badal) has shaken up Modi. For past two months, there was no word on farmers, but now 5-5 ministers speak on it,": SAD's Sukhbir S Badal in Muktsar, Punjab pic.twitter.com/8ikbh093ii

— ANI (@ANI) September 25, 2020
Related:
Farmer Protests: From streets to social media
MSP for farmers: Exposing the lies of the Modi government
Amendments to agricultural laws, dangerous for farmers: National Unions
Harsimrat Kaur Badal's resignation, a public warning from Punjab farmers?Over 42,000 workers from informal sector allegedly die by suicide
Oppn boycotts Lok Sabha over farm Bills, Dharna by suspended MPs on