The US' acting ambassador to the United Kingdom Lewis Lukens did the customary and decent thing last weekend when, in a series of tweets he reached out to grieving and terror-hit London. " It is with a heavy heart I offer my condolences and support to the people of the United Kingdom. America grieves with you," tweeted acting ambassador Lewis Lukens. "The response from emergency services, law enforcement & officials in Ldn-as well as ordinary Londoners-has been extraordinary," Lukens continued.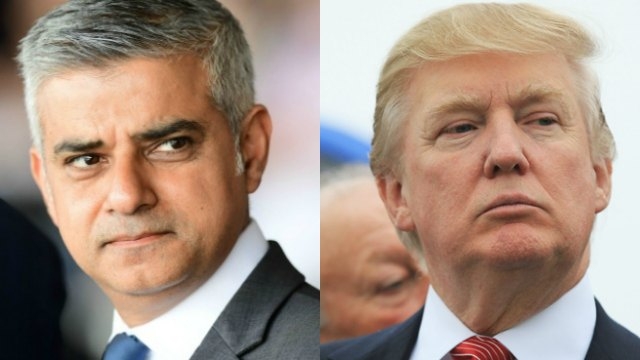 He concluded by praising Khan's leadership, tweeting , "I commend the strong leadership of the @MayorofLondon as he leads the city forward after this heinous attack."
What these tweets did (embarrassingly for the US, a big time ally of the UK), however, was to directly contradict US President Donald Trump's Twitter attack on London's mayor.
Trump, known to take to twitter at very early hours each morning, first used the terrorist attacks to tout his travel ban and even push the courts to reinstate it, took the opportunity to mis-represent what Sadiq Khan, Mayor of London had said after the attacks, "At least 7 dead and 48 wounded in terror attack and Mayor of London says there is 'no reason to be alarmed!'" Trump tweeted . Many commentators pointed out that Trump had taken Khan's words out of context – the mayor said on Sunday that Londoners have "no reason to be alarmed" about the increased police presence in the city in the days following the attack.
"We are all shocked and angry today – but this is our city," Khan tweeted on Sunday. "We will never let these cowards win and we will never be cowed by terrorism."
Saturday's attack at London Bridge and Borough Market killed seven people and left dozens injured. All three attackers were fatally shot shortly after carrying out the attacks. Police conducted a series of raids following the incidents and arrested 12 people from the East London neighborhood, which is home to many Muslims. The identities of the attackers have not yet been released.
I commend the strong leadership of the @MayorofLondon as he leads the city forward after this heinous attack. – LLukens 3/3 https://t.co/p4dDZuCpyO
– U.S. Embassy London (@USAinUK) June 4, 2017
Trump's bluster this time could make his ideological sister, Conservative leader and UK Prime Minister Theresa May's life difficult.
Kate Maltby is a regular broadcaster and columnist in the United Kingdom, who writes a weekly column on politics and culture for The Financial Times had this to say,
"Executive Order 13769 is headed to the Supreme Court; the President's lawyers are arguing it does not constitute a "travel ban," so the President immediately undermined his own team by labeling it just that on Twitter. (Deputy press secretary Sarah Huckabee Sanders repeated the phrase "travel ban" at a news conference Monday afternoon.)
Numerous leaks in recent days claim the President is at odds with most of his senior team, allegedly deliberately countermanding their best advice like an obstreperous toddler. And fired FBI Director James Comey is to testify to a congressional committee later this week. Perhaps it was inevitable that Trump would look for a distraction.

His choice of distraction is unfortunate for all of us, British and American. First thing in the morning after Saturday night's killings in London, Trump decided to renew an old fight with Sadiq Khan, the mayor of London.

Khan gets under Trump's skin for the same reason lawyers have been this week: When the President first publicly insulted Khan, earlier this spring, it was in response to his criticism of Executive Order 13769. Back then, Khan was merely the most popular politician in the UK and its most senior elected Muslim.

By the time of Trump's latest verbal assault, Khan had become the figurehead of a city in mourning. Not just any city: the capital of one of the United States' most important allies. Imagine if Theresa May, the UK Prime Minister, had responded to last year's homophobic attack in Orlando, Florida, by launching a sustained attack on the policies of Orlando Mayor Buddy Dyer."

Are Trump's tweets merely in bad taste or downright racist?

Read Kate Matby on this here.

Matby also saus, " If Trump meant to damage Sadiq Khan, he's mistaken. Being marked as an enemy by the former "Apprentice" star is about the surest-fire way to cult popularity in Britain short of personally masterminding a One Direction reunion. By contrast, the people Trump will damage are his supposed conservative allies in Britain. Theresa May, the Prime Minister, is reported to be exasperated.

"May comes from the Conservative Party, which she is leading in an election campaign against Sadiq Khan's Labour Party. This should make them opponents, but Khan is not the leader of the Labour Party, and has used the unique position of the London mayoralty to assert his independence from both the federal government and his own party leader, Jeremy Corbyn.

She adds

"This comes at the worst possible time for May. Terror attacks usually result in a spike of support for Conservative parties perceived to prioritize law and order: Saturday's attack, coming only five days ahead of the general election, might still have that effect. But Brits don't like being seen to give in to fear.

"Labour leader Corbyn, despite his rocky record of supporting far-left terrorist groups himself, has taken the spike in extremism as an excuse to attack Britain's foreign policy and American alliance. Many are buying it: The easiest way of signaling virtue in post-Tony Blair Britain is still to attack the war in Iraq or the American government.
Follow CNN Opinion."