On his 99th birth anniversary, read how noted Hindi film lyricist and poet Majrooh Sultanpuri got arrested for reciting poetry against Jawaharlal Nehru at a meeting organised for mill workers in Mumbai and how his left leanings often got him in trouble.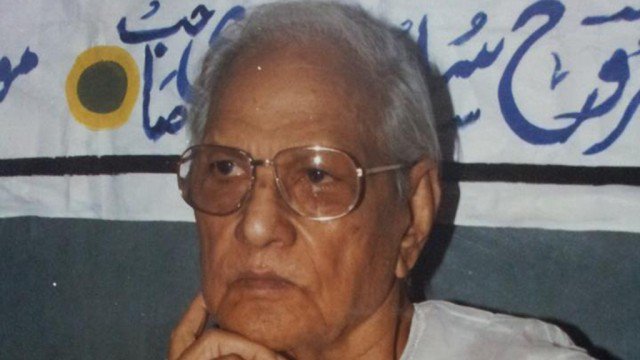 October 1 is the birth anniversary of famed poet and lyricist Majrooh Sultanpuri. "Majrooh" is an Urdu word which means wounded or injured. Besides writing many popular songs for Bollywood in a career spanning half a century, Sultanpuri was a Leftist communist who read Marx and Lenin and was also jailed for two years in Mumbai for reciting poetry against Jawaharlal Nehru.

Just a year before his 100th birth anniversary, a national seminar on Majrooh Sultanpuri's life and achievements has been organised in the Kalina Campus of Mumbai University on September 30 followed by a music show celebrating his greatest hits.

Sultanpuri was born in 1919 as Asrar ul Hasan Khan to a police officer who did not want English education for him. He was sent to a madrasa where he completed a seven-year course of Dars-e-Nizami (religious affairs) along with Arabic and Persian. He studied Unani medicine (Greek school of medicine and was a struggling hakim (physician.) As luck would have it, his poetry recitation was much appreciated at a Mushaira in his hometown. He became famous Urdu poet Jigar Moradabadi's 'shagird' (disciple) who brought him to Mumbai to write songs for Hindi films.

In 1945, he got his first break in A R Kardar's "Shahjehan". To think that he was reluctant to join the film industry at first, only to write more than 3000 songs for about 700 films. He was the first lyricist to receive the Dadasaheb Phalke Award in 1994, that too at the age of 75 after spending more than 50 years in the industry. He was the only lyricist who wrote in all the styles right from a Qawwali, bhajan, mujra, cabaret to Ghazals and folk songs.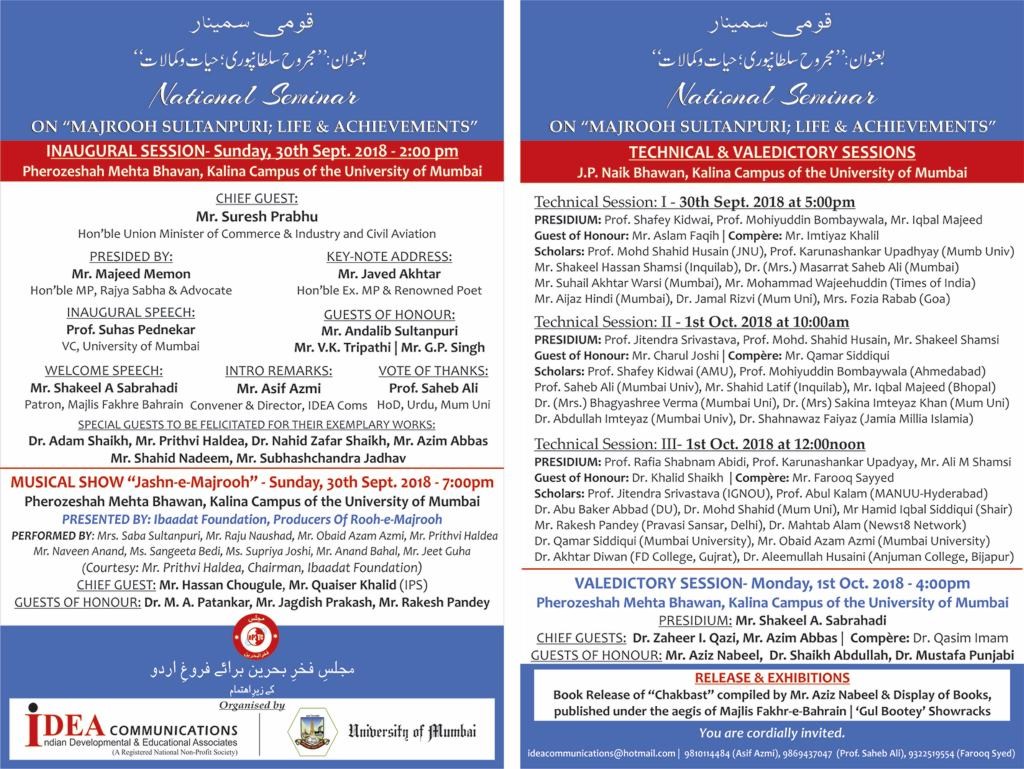 "Other than being a great lyricist, Majrooh was also a noted Urdu poet and had written many books. He was also an important figure in the Progressive Writers' Movement. While he was establishing himself as a lyricist, his Left leanings got him into trouble. During one of the meetings organised for the mill workers, he recited a poem that was written against Jawaharlal Nehru. He refused to render an apology for the same and was jailed in 1949 along with actor Balraj Sahni. During his two years in prison, he continued to write meaningful songs and poems," reported Indian Express.

Here are the lines that got him in trouble:

मन में जहर डॉलर के बसा के
फिरती है भारत की अहिंसा
खादी के केंचुल को पहनकर
ये केंचुल लहराने न पाए
अमन का झंडा इस धरती पर
किसने कहा लहराने न पाए
ये भी कोई हिटलर का है चेला
मार लो साथ जाने न पाए
कॉमनवेल्थ का दास है नेहरू
मार ले साथी जाने न पाए

(The non-violence in India has filled its heart with the poison of the dollar. Let this snake-skin not disguise itself in khaadi. Who said the flag of peace cannot be raised on this land? This looks like an acolyte of Hitler. Nehru is Commonwealth's slave. Kill him, companion, make sure he doesn't escape- translated here)

The order to arrest him was given by none other than Morarji Desai, the then governor of Bombay and later Prime Minister of India.

"A workers' agitation was on in Bombay in those days. In one such labour rally, Majrooh recited a poem and called Jawaharlal Nehru 'a slave of the Commonwealth' and 'a Hitler'. An arrest warrant was issued for Majrooh by the government of Bombay State. Majrooh went underground and eluded the police. But when a meeting of progressive writers was organised in 1951 to protest the incarceration of fellow communist writers Sajjad Zaheer and Faiz Ahmed Faiz in Pakistan's Rawalpindi conspiracy case, the fiery poet came out of hiding. His was a strong voice in the meeting, and he was arrested as soon as he descended from the stage. Majrooh was lodged in Bombay's Arthur Road Jail for a year," reported Dawn.

"In 1962, during the Sino-Indian war, Prime Minister Jawaharlal Nehru initiated a crackdown on communist sympathisers, among them, famous Urdu poet Majrooh Sultanpuri, who was forced to go underground. "But his weakness was mushaira. One day, there was a mushaira planned at Nagpada, to which Sultanpuri was invited," said Zubair Azmi, 52, a Madanpura resident, who is president of the Bhendi Bazaar Research Academy in Mumbai to Mumbai Mirror.

He recollected how Sultanpuri was arrested. "Sultanpuri could not resist, and arrived at the venue in a burqa to avoid prying eyes, Azmi said. Called on to stage, he recited his famous poem, `Teraa haath haath mein aa gaya' to a packed venue. When he was descending the stage, Sergeant Huzur Khan, a fearsome-looking Pathan, arrested Sultanpuri. But then Khan went on recite the same verses Sultanpuri had recited at the gathering right back at him," he said in the report.

"Years later the Communist Party would split, and Majrooh, now disillusioned, would give Urdu literature some unforgettable lines: "Hum ko junoon kya sikhlate ho/ hum the pareshan tumse zyada (Don't teach me madness and revolution/ I was always ahead of you)," reported India Today magazine.

"His revolutionary zeal still evident when he says: "Yeh azadi fraud hai. That is why I never take part in any Independence Day function." The anger at Nehru is still intact – "instead of agrarian reforms, he started us on a destructive industrialisation. But of all his pain, nothing perhaps cuts as sharp as the horror of the 1993 Bombay riots. For a week, the man whose words are part of our popular culture paced the floor of his terrace, gun in hand, afraid his family would be attacked. His own words, penned for Dev Anand's Bambai ka Babu, best describe his pain: "Galiyan hain apne desh ki/ phir bhi hai jaise ajnabi/ kis ko kahe koi apna yahan (These are the streets of my country/ but they are almost unknown to me/ who can I call my own in this place?)," the report from 1996 said.

He could express deep and complicated emotions in the language of the masses. Considered as the film poet of the millennium, Majrooh Sultanpuri died of respiratory failure on May 24, 2000.

He won his only Filmfare best lyricist award for the song "Chahunga mai tujhe saanjh savere" for the film 'Dosti' in 1965.

"Among his memorable songs were "Inhi logo ne le liya dupatta mera" (Pakeezah), "Teri bindiya re" (Abhimaan), "Nanhi kali sone chali" (Sujata), "Yeh lo main hari piya" (Aar Paar), "Kitna pyara vada hai" (caravan) and "Papa kehte hai bada naam karega" (Qayamat se qayamat tak). He penned lyrics for over 74 films for R D Burman with the most famous being 'Teesri Manzil', the evergreen blockbuster of the '60s starring Shammi Kapoor and Asha Parekh and 'Mela' starring Sanjay Khan and Mumtaz," reported Indian Express.

He was one of the most creatively productive lyricists of his time second only to Anand Bakshi. Perhaps nothing does more justice to his life than his own lyrics, from the film Khamoshi- "Aaj mein upar/ asmaan neeche/ aaj mein aage/ zamana hai peechhe (Today I am on top/ the sky's below me/ today I am ahead/ the world's behind me)."