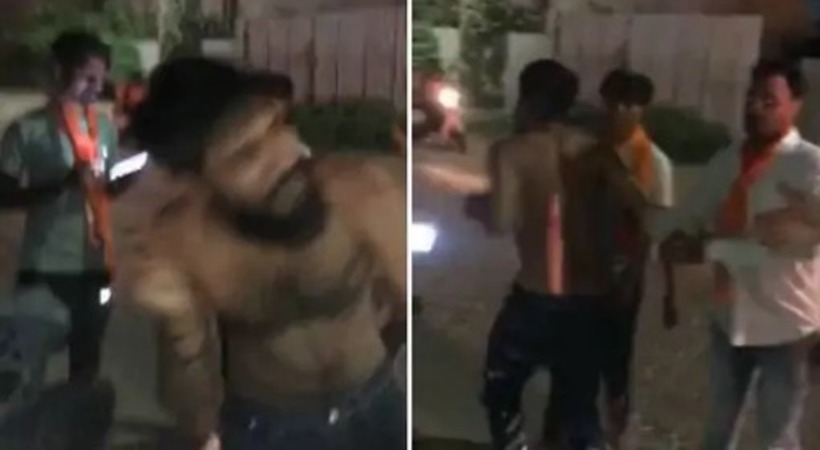 The 9-day dance revelries began on September 25 as did the moral surveillance. Ask young Muslims in Gujarat if they are enjoying the tradition garba-raas and they say 'we cannot even if we wanted to.' As governance by a Hindu majoritarian party, the Bharatiya Janata Party (BJP) enters its 25th year in the western Indian state of Gujarat, brazen instances of extra-constitutional exercise of authority are reported every other day in the media.
A spurt of instances can be recounted. On September 25, the Indian Express reported that "Hindu organisations in Bharuch have submitted a memoranda to the district collector and superintendent of police demanding that 'non-Hindus should not be allowed to play garba in pandals or grounds during the upcoming Navratri festival'. Grounds? Basis?
The organisations have also demanded that even advertisements of non-Hindu firms should not be displayed at garba venues and bouncers or orchestra teams also shouldn't be from non-Hindu communities. Not surprisingly, the SP of the district who wears a uniform who's service rules are governed by the Indian Constitution, declined any comment on the memorandum by Hindu organisations. The newspaper reported that the Bajrang Dal South Gujarat prant president Sejalbhai Desai said, "We have taken this decision due to the rise in incidents of love jihad. Our volunteers will visit garba venues and will take action if any non-Hindus are found playing garba."
One of the events was an event organised by the police. The Bharuch police was organising a Navratri event at its headquarter ground for the families of policemen, government officials and others, preparations for which are in the final stage. Talking to the Indian Express, Bharuch district superintendent of police Dr Leena Patil said, "Such an event is being organised for the family members of the policemen on duty during the festival. There is no entry fees and we have extended invitation to all government departments. The event will start at 9 pm and will end at 12 noon."
While the same newspaper reported how garba dance venues would play songs extolling the virtues of the present prime minister, there was no comment from any state government officials to take action against the extra-constitutional acts of the Bajrang Dal.
September 29-30
The most violent and unlawful assault, unsurprisingly came from the city of Ahmedabad, from where a series of videos showing Bajrang Dak workers brutallyassaulting, stripping, humiliating and thrashing four Muslim youths at a garba venue on Sindhu Bhavan Road went viral last week and were widely reported by Times of India, Indian Express, TimesNow News and the Deccan Herald. The city police, known for their hasty actions under executive watch otherwise, were in the first instance, yet to register a complaint in the case even as the right-wing organization took "responsibility" for the incident.
Hitendrasinh Rajput, the spokesperson for Gujarat VHP, said that Bajrang Dal volunteers vocally claimed credit for the violent acts. He said they carried out checks at two venues on the night of September 29, to prevent people from other religions from participating in Navratri."Despite being warned, four youths from another religion were spotted at a venue. Our volunteers grabbed them to prevent love jihad." Rajput admitted that the four youths were beaten up.

Violent attacks on Muslims
The content of the videos that went viral on social media are telling: one of the videos shows Bajrang Dal men holding placards displaying messages against "love jihad" outside Sky Universal Garba venue on SBR on Tuesday night. The video also shows that youth were recorded making abusive comments against Muslims in one of the videos. They were also seen applying tilak on the foreheads of male garba enthusiasts purportedly to ensure that no man from the minority community 'dared' enter the venue.
In another video, some Bajrang Dal workers were seen chasing a man and abusing him. They were recorded asking the man why he entered the venue despite being a Muslim and accused him of entrapping Hindu girls. One more recording on a video showed, shockingly, a man bleeding severely from his head was being abused and thrashed by around 30 Bajrang Dal men. The man, whose clothes were torn, identified himself as Salman Shaikh and pleaded to be spared. The Bajrang Dal workers forced him to apologize, and he was seen running away from the venue in the video. Even as the Bajrang Dal members circulated the videos, the cops were unaware of the incident.Bajrang Dal has also warned hotels against renting rooms to "people from other religions" accompanied by girls. In a tweet tagging the Hotels and Restaurants Association of Western India, Rajput said that it had been observed that hotels are used in cases of exploitation of girls in instances of love jihad.

The police had a predictable reaction. DCP (Sector 7) B U Jadeja told TOI, "No complainant has come forward. No complaint has been filed in the case." He added, "We are aware of the videos and in the process of verifying those. As of now, there is no case filed since no one has come forward to lodge a complaint," B U Jadeja, Deputy Commissioner of Police, Zone 7, Ahmedabad told media houses.
The Indian Expressalso reports shocking comments from office-bearers of the VHP. "The non-believers (vidharmis) have no reason to attend such events. Garba is not only a cultural event, but also religious. If a non-believer attends it, it makes it clear about their intentions as to why they want to attend the event," said Vinod Bansal, the national spokesperson of Vishwa Hindu Parishad (VHP), an organisation which the Bajrang Dal is associated with."There were various instances of physical assault, rapes, love jihad, and kidnapping during such events before ," added Bansal.
"It is our duty to protect our sisters. When the celebration of Navratri started we even requested the non-believers to not attend our events, through our social media handle. The recent case which happened in Ahmedabad (September 29), where a case of a non-believer entering one of the garba venue, happened because we want to protect our sisters. We got to know about the event, we keep doing rounds of different venues, and keep a check on such activities. Each venue is guarded by 5-7 of our volunteers, who keep doing rounds," said Rajesh Patel, a Bajrang Dal worker.
"Either these non-believers should restrict themselves from attending such events, or the law enforcers should stop them. Their venue identity cards should be checked by the venue organisers before entering the events," said Bansal.
VHP, Bajrang Dal news sources
The source of the news, for the media, ironically were also the VHP and Bajrang Dal: according to Bajrang Dal, the incident happened at R K Party Plot at Sindhu Bhavan Road in Ahmedabad on Tuesday night while they were "checking" identities of revellers in order to keep non-Hindus away from 'garba' venues. The propaganda of the majority supremacist groups that non-Hindu groups and individuals going to 'garba' is nothing but part of "love jihad". The organisation has submitted memorandums to district authorities in various parts of Gujarat for not allowing non-Hindus into 'garba' venues.
Interestingly, the owner of the R K Party Plot, Nirav Patel was clueless. He was quoted by newspapers like the Deccan Herald saying that he was not aware of the incident as he had only rented his plot to an event management firm — Sky Events. When contacted, Vedik Shah, who runs Sky Events, said that he did come to know about some fights last night but "it didn't occur at his event".
Police Complaint a day later
A day later, on September 30, Sarkhej police filed a complaint against "unknown persons" for beating "a minority youth". The FIR has been filed under the IPC Sections 323 (causing hurt), 143 (member of unlawful assembly), 147 (rioting), 294b (uttering of abusive words) and 153-A (promoting enmity between different groups on grounds of religion, race, place of birth, residence, language, etc., and doing acts prejudicial to maintenance of harmony) against unknown men.

The Sarkhej police station officer reading the contents of the FIR to the media said, "The accused persons formed an unlawful assembly went to a garba venue near Rangoli Party Plot on Sindhu Bhavan Road and assaulted a person from a minority community on Tuesday night."

The impunity enjoyed by such outfits is evident. While office-bearers of the Bajrang Dal have proudly taken "responsibility" for the assault incident, the police have taken the easy way out: they have filed an omnibus FIR not naming anyone. The more serious charge of causing grievous hurt was also not invoked. The Times of India reported that the Sarkhej police inspector V A Desai was not available for comment on this issue.
Kheda, Gujarat
The 9-day Navratri Garba revelries often spill over until Sharad Purnima in Ahmedabad and even Gujarat. But the fag end of this year's revelries, October 4, saw violent attacks on those enjoying the festivities. PTI reportsthat"Six persons were injured. We have deployed police force in the village and efforts are underway to arrest the accused," Kheda SP Rajesh Gadhiya said.Police had been deployed at Undhela village in Matar tehsil following the incident on Monday night, said an official.
"A group of people led by two men identified as Arif and Zahir entered the Navratri Garba venue and started causing trouble. They even pelted stones," said Kheda Superintendent of Police Rajesh Gadhiya.
Madhya Pradesh
Not to be outdone by the systemic seasonal violence engaged in by the Bajrang Dal and the VHP in Gujarat, in the neighbouring central Indian state of Madhya Pradesh too, the Bajrang Dal was hyperactive. As reported by The Times of India, the outfit 'caught eight Muslim youths' at 'garba' venues in Indore in Madhya Pradesh over three days for alleged involvement in "immoral activities", a functionary of the right-wing Hindu outfit claimed on September 29.
Incidentally, the dog whistles to the outfit (Bajrang Dal) was given by ministers in the BJP-led government in the state, also reports PTI. It was after Madhya Pradesh's home minister first raised 'Love Jihad' concerns on September 27, and the MP government asked Garba organisers to check ID cards at pandals to 'prevent love jihad' that the Bajrang Dal got into action. Before this, another state minister,Usha Thakur had also said ID cards should be checked at Navratri venues to prevent "love jihad" incidents.
Undeterred by any hampering of movement by the authorities, and emboldened by the statements of the ministers, spokesperson for the Bajrang Dal also said that over 400 activists have been deployed at Navratri venues here to check "love jihad". Denying this, however, a senior Indore police official said the situation at all these venues was peaceful and no "love jihad" activity was underway in any of them."Love jihad" is a vilifying term used by right-wing groups and activists to allege a concerted effort by Muslim men to convert Hindu women to Islam through marriage.PTIalso quotes, Bajrang Dal Indore unit coordinator Tannu Sharma alleged these eight youths had entered the garba venues by hiding their identities.
"We have deployed our 400 workers in various garba pandals to check love-jihad. It is their duty to check whether any person is entering these premises by hiding their real identities and indulging in immoral activities," he said.
"In the last three days, after getting information about immoral activities, these workers have caught eight Muslim youths from different localities. They had entered the venues by hiding their identities. We handed them over to the police," Sharma claimed.He alleged these youths were shooting videos of women without permission and were also indulging in other "immoral activities".Some purported videos of Bajrang Dal activists handing over such youth to the police have gone viral on social media.
Indore Additional Commissioner of Police Rajesh Hingankar said, in order to ensure peace, these youths were arrested under section 151 the Code of Criminal Procedure (CrPC).This section allows a police official to arrest a person without orders of a magistrate or without a warrant if it appears that the commissioning of an offence cannot be prevented without such arrest.
Hingankar, however, added, "The situation in all the garba pandals of the city is peaceful. No activities like alleged love jihad is going on in them." Meanwhile, the state Congress spokesperson Santosh Singh Gautam said any person irrespective of religion must be subjected to appropriate legal action if he or she indulges in any wrongdoing.
Related:
No Garba for non-Hindus: Right-wing in MP
'Check Aadhaar card to keep out Non-Hindus': Bajrang Dal to Garba organisers