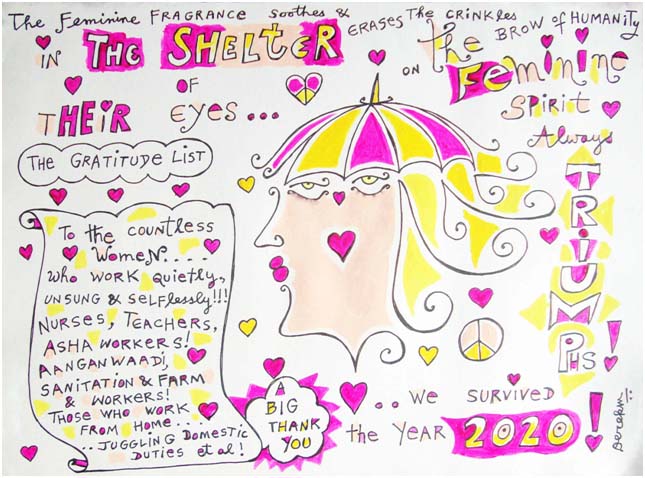 Illustration Credit: Derek Monteiro

The first clue came from the way a bunch of women occupied a space called Shaheen Bagh towards the end of 2019. The very next clue that the Year 2020 was going to be special came not from the bug that derailed our lives, but in the way certain people dealt with it. They displayed a sense of balance in the way they processed data & scientific evidence, the transparency with which they connected with people, the calmness with which they engaged with them, the poise and resolve with which they rallied people around and got things done. Jacinda Ardern, Angela Merkel, Tsai Ing-Wen and our very own Shailaja Teacher showed compassionate and effective leadership in the face of extreme pressures and challenges. Indeed, this period has been a revelation to one entire gender of the human race how priceless and generally unrewarding is the silent work done by an entire other. The countless homemakers (still uncharitably referred to as housewives), Asha workers, teachers, nurses, hygiene and sanitation workers, Anganwadi workers, farmers and farm workers, members of various cooperatives and self-help groups – mostly women – who toil way for little or no wages and keep the wheels of the nation running. Let's celebrate a few who remained distant from the spotlights.
The Shaheen Bagh Nani, Bilkis Bano, made it to the list of The Time's 100 most influential people of the world. She along with thousands of other women, clad in their traditional dresses and veils, concerned about the dubious citizenship laws that threatened to discriminate and render their kin as lesser citizens, showed the nation how responsible, constitutionally minded citizens must act in the face of oppression. Close behind them were Devangana Kalita and Natasha Karwal, the Pinjra Tod activists, Safoora Zargar, Gulfisha Fatima who represented a spirit of defiance and dissent against the "silent, giving, docile" stereotypes associated with women. Three of them have spent most of the pandemic behind bars allegedly for their role in the Delhi violence, which took more than 50 lives, while the leaders, who were caught on camera shouting slogans to incite violence, remain free, untouched by the long hands of the law!
In India, the land is Maati, or the Mother. Can women farmers be far behind in the protests against the 3 new farm laws? These laws threaten to enslave millions of farmers and farm workers in the hands of large corporations. Kavitha Kuruganthi is a key member of the Mahila Kisan Adhikar Manch (MAKAAM), an organisation that works in the interests of women farm workers, unites various organisations towards the legal recognition and rights of women farm workers. It is a travesty that despite doing 75% of farm work, women folk own just 12% of the farm land, remain unrecognised legally as "farmers" and get lower daily wages for similar work in comparison to men. Kuruganthi is the sole woman in the 40 member All India Kisan Sangharsh Coordination Committee (AIKSCC), that is negotiating with the Indian government on the repeal of the 3 laws.
Jyoti Shinoli is a reporter at PARI, the People's Archive of Rural India. She won two of her three journalism awards this year for PARI, an online resource for news and content related to Rural India. Her stories have included diverse themes – from social stigma faced by Bhil women suffering infertility issues to Pardhi Adivasis who are compelled to beg away just to stay alive as the lockdown has denied them even this opportunity. She has also covered students staying in slums who are struggling to balance online classes with the need to support their families with additional income to cope with the aftermath of the epidemic and the harsh lockdown.
The coverage of the heinous rape in Hathras exposed how low the Indian mainstream media has fallen. In the midst of the media circus, Tanushree Pandey stood tall. Taking on a brutal, repressive law and order machinery gone rogue, she exposed all attempts by the state to throttle the truth through her vigilant, courageous reporting. She was one small ray of hope in a year when India ranked 142 out of 180 in the Global Press Freedom Index. Another journalist of calibre and integrity was Arfa Khanum Sherwani, winner of several awards and a keen defender of human rights. She was at the forefront – unflinching, unafraid of asking tough questions. Her coverage of both the anti-CAA and the farmer's protests as well as the Bihar elections provided valuable on-the-ground perspectives.
The Hathras crime also brought into focus the daily oppression and discrimination faced by Dalits and Dalit women in particular. Even after decades of independence, the apathy, the hostility, the violence faced by Dalits remain a black mark on the moral character of our nation. Saying it like it is, were several Dalit women of substance – notable among them Kiruba Munusamy, a Supreme Court Lawyer, Meena Kandasamy, a poet and novelist, Cynthia Stephen, a researcher on gender and poverty, Divya Malhari, a teacher and writer. Their writings and webinars ranged from doing "Caste 101" to explaining why almost every crime and violence in India has caste at its roots and how this systemic oppression has been normalised in a way that it appears "invisible" to the urban sensibility. A key point made by them was the need for Dalit leaders to claim their space in not just Dalit issues but broader universal issues as well.
One would have imagined that a pandemic year would provide the State with an opportunity to be thoughtful in the way it deals with Environment issues and have a calibrated approach to sustainable development. The draft EIA 2020 paper rang the first alarm bell. Then came the three road, rail and electrification projects in Mollem in the cradle of the Western Ghats of Goa to create a national coal hub. These projects will cause irreversible ecological damage to Goa's largest protected forest reserve and a part of a larger Tiger landscape . They threaten the survival of several endemic Schedule 1 species, Goa's natural ability to counter climate change and the state's water security. Again, women were at the forefront. The Amche Mollem campaign was spearheaded by a majority women's team. One of the team members was Dr Nandini Velho, a distinguished wildlife scientist. Taking charge of all matters scientific, she also played a vital role in a 30 member scientific team, to review the state sponsored EIAs of these projects to provide an independent perspective. She was detained by police recently, on her way to the Goa Liberation Day celebrations, for carrying roses, a sanitizer and a camera! Sherry Fernandes , a 21 year old journalist leading the youth campaign for Mollem, was invited to speak on Faye D'souza's show. Valerie Afonso, is part of the Chicalim Youth Famers Club. She actively campaigned and mobilized Goa's youth on ground, through creative ways like song and dance and led delegations to local MLAs and government officials (forest dept) to get to them to listen to their concerns about Mollem. The teams led by these women and supported by thousands from Goa's civil society created an impactful campaign that reverberated throughout the nation and beyond. They have created an awareness among youth in particular, on the long term damage that reckless, unplanned, corporate driven projects can cause on the ecology of sensitive natural habitats.
Ravish Kumar, Editor, TV anchor and Magsaysay award winner, recently commented that "Cartoonists did what 24 hour news channels and 20 pages of newspapers couldn't achieve". They gave the brutal edginess that one normally expects from investigative journalism in showing truth to power. Rachita Taneja of @sanitarypanels , through her pencil line illustrations covered a range of everyday themes that would make one squirm, constantly scratching the surface to unravel default settings of our prejudiced minds. Her satire has provided a backbone of support to the various protests that have taken place in the country this year. Another satirist, Agrima Kaur Khan, reinforced the point that "no subject is off limits for a comic, not even that of a popular king or a supreme leader"
Majority of the trans community in India is engaged in sex work, as they struggle to find other means. While the migrant workers, during lockdown, returned to their homes without jobs after considerable struggle, the trans people neither had jobs nor any homes to return to. Meera Sanghamitra, a trans activist and convenor of the National Alliance of People's Movement and other activists took up their cause for sustained assistance from the Ministry of Social Justice and Empowerment. Supreme Court recently directed all states to give sex workers dry rations without insisting on identification papers.
Dr Soumya Swaminathan, among India's leading Infectious Disease experts was in the spotlight as the Chief Scientist at WHO in the year when a pandemic took nearly 2 million lives. Not only did she do her bit in maintaining transparency around the way the disease was evolving and the efforts needed to counter it, she was equally forthright about how patriarchal Indian public institutions were, particularly in the areas of research. Addressing a conference of Women Leaders, she said "It is more difficult for women researchers to get their grants approved, significantly smaller portion of research grants go to women, and women also have difficulties in getting their results published if you are from developing countries in journals because of perceived biases. I have faced those kinds of challenges and biases"
Ranaa Ayub is no stranger to fearless reporting and has received awards for journalistic courage. She won a few this year too. Now a regular in international journalism conferences, holding her own on the New India and Acche Din, she showed her compassionate, human side in raising funds and personally helping out thousands of migrant families through their most difficult times during the lockdown.
The CPI(M) in Kerala won a thumping majority in the recent local body elections. They have gone about creating history by nominating many youth leaders to lead these local bodies. A sterling example that made headlines is that of Arya Rajendran, India's youngest mayor from Thirivananthapuram. She is the state committee member of the Students Federation of India and is pursuing a graduation in Mathematics.
One woman, Tara Krishnaswamy, continued her battle to establish equal representation for women in electoral politics. Shakti – Political Power to Women, a nonpartisan collective founded by Krishnaswamy, engaged on the ground and in SM to campaign for more women in national and state legislatures and to bring back the focus on the long pending Women's Reservation Bill. Their presence was felt in the run-up to the Delhi and Bihar elections.
Jayati Ghosh, a leading, globally acclaimed development economist, provided invaluable insights into how the pandemic is likely to impact the nation's economy, the migrant crisis and the triple impact of demonetisation, poor GST implementation and the pandemic on the very fabric of the nation. Equally useful was her acumen in interpreting a maze of economic numbers, often cleverly portrayed as truthful data. She continues to offer pragmatic solutions on how the government can expand the fiscal deficit to fund essentials for the poor and create a path for demand-led bounce back of the economy.
Binalakshmi Nepram, a writer from Manipur, continued to champion women's rights and led initiatives to arrest the gun and drug menace invading the North-East, a geo-strategic area having border with five countries. She has made considerable efforts in reducing the information deficit about the region, expanding awareness about its culture, its identity, the absence of a caste system and the conflicts it faces due to its geography and history.
While the nation continued to remain in the grip of a macho, muscular, petty and anti-people governance mindset, these women were role models of feminist thought, of a principled, organised, non-violent, non-patriarchal way of reclaiming spaces, freedom of expression and dissent and protecting our Constitutional values. There is a sense of renewed energy and hope. 2021 promises to be eventful.
Chandru Chawla has a normal day time job and writes at night to keep his insanity intact
Derek Monteiro is a laidback artist, poet and composer, who dabbles in jazz to annoy and disperse pesky pigeons on his windowsill
(The views expressed here are personal)