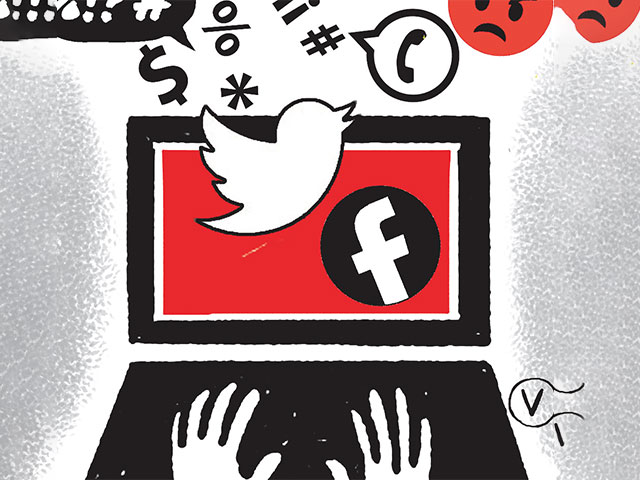 The Kavi Nagar Police, Ghaziabad, Uttar Pradesh registered a case on September 28, 2020 against two men and booked them under section 501 of the Indian Penal Code and section 67 of the Information Technology Act for sharing objectionable photo of Modi and Shah. Section 501 of the Indian Penal Code lays down that "Whoever prints or engraves any matter, knowing or having good reason to believe that such matter is defamatory of any person, shall be punished with simple imprisonment for a term which may extend to two years, or with fine, or with both.
What does section 67 say?
Section 67 says that "Whoever publishes or transmits or causes to be published or transmitted in the electronic form, any material which is lascivious or appeals to the prurient interest or if its effect is such as to tend to deprave and corrupt persons who are likely, having regard to all relevant circumstances, to read, see or hear the matter contained or embodied in it, shall be punished on first conviction with imprisonment of either description for a term which may extend to three years and with fine which may extend to five lakh rupees and in the event of second or subsequent conviction with imprisonment of either description for a term which may extend to five years and also with fine which may extend to ten lakh rupees."
Often Misused
This is not the first instance where people have had to face legal ramifications based on their social media activity. Abdul (45) and his son (Rehmat) were booked under Indian Penal Code sections 153A (promoting enmity between groups), 505 (public mischief) and 506 (criminal intimidation) on April 6, 2020 for sharing objectionable photo of Prime Minister Modi on WhatsApp groups.
There are problems associated with this: What is literal interpretation of the term 'objectionable' and how does one establish that an objectionable image defames a person to such capacity, that penal action becomes inescapable?
A technical loophole also arises in such cases of defamation. Section 501 of the Indian Penal Code provides punishment for printed or engraved defamatory content. In the given scenario, an FIR was registered under the same section. But a Division Judge Bench of Dipak Misra and Prafulla Chandra Pant of the Supreme Court in Subramanian Swamy vs Union of India (2016) 7 SCC 221, observed while upholding the constitutional validity of Section 499 (Defamation) of Indian Penal Code that "another aspect requires to be addressed pertains to issue of summons. Section 199 CrPC envisages filing of a complaint in court. In case of criminal defamation neither any FIR can be filed nor can any direction be issued under Section 156(3) CrPC".
Rajesh Kunte, a Rashtriya Swayamsevak Sangh (RSS) worker, had complained that Rahul Gandhi's remarks (made during the election campaign in 2014) that RSS people had killed Mahatma Gandhi were defamatory. Rahul Gandhi wanted the Supreme Court's intervention to quash the proceedings, as the Bombay Court had refused to do so in May 2015. Eventually, a Bench of Justices Dipak Misra and R. F Nariman had held that "Police has no role in criminal defamation…a magistrate cannot seek an inquiry report from police,". So, a defamation complaint cannot be made directly to a police officer but only through a private complaint made to a Judicial Magistrate under Section 200 of the Code of Criminal Procedure.
So, in this instance, the FIR registered in Kavi Nagar Police Station in Uttar Pradesh could be invalid as police officials are not empowered to book people under section 501 of the Penal Code.
Awakening of a dead provision– Section 66A of the IT Act
In a curious case in West Bengal, one Priyanka Sharma was arrested in May, 2019 for sharing a meme of Mamata Banerjee under a section that had already been struck down by the Supreme Court of India in Shreya Singhal Vs Union of India in 2015. That section is 66A of the Information Technology Act, 2000 which was added by an amendment in 2009. It read "Any person who sends, by means of a computer resource or a communication device any information that is grossly offensive or has menacing character; or any information which he knows to be false, but for the purpose of causing annoyance, inconvenience, danger, obstruction, insult, injury, criminal intimidation, enmity, hatred or ill will, persistently by making use of such computer resource or a communication device; or any electronic mail or electronic mail message for the purpose of causing annoyance or inconvenience or to deceive or to mislead the addressee or recipient about the origin of such messages, shall be punishable with imprisonment for a term which may extend to three years and with fine." Nowhere in the Act, there is an explanation on what entails grossly offensive which becomes open to wide interpretations and potential misuse.
The Supreme Court rightly considered that this could be used as a tool of harassment and Justice Rohinton Fali Nariman correctly observed that it is quite clear that the expressions used in 66A are completely open-ended and undefined." "We, therefore, hold that the Section is unconstitutional also on the ground that it takes within its sweep protected speech and speech that is innocent in nature and is liable therefore to be used in such a way as to have a chilling effect on free speech and would, therefore, have to be struck down on the ground of overbreadth", he said.
Section 67 replacing section 66A of the IT Act
A study done by Point of View, a Non-Profit Organization working on digital rights of women explores the rampant abuse of the provision 67 and how it is replacing the old unconstitutional provision of 66A.
Bishakha Datta of Point of View has also confirmed that "Section 67 is leaning suspiciously towards Section 66A. We found that crimes of consent are being treated as obscenity crimes. When someone takes a nude photo of a woman without asking her, her consent is violated- That is primary harm, not obscenity. When someone takes a rape video, its violation of consent, not of obscenity. Unfortunately, many of these cases are filed under the anti-obscenity provision of section 67." Between 2015 and 2017 the data collected by Point of View suggested a rise in the number of cases and types of cases categorized as obscene: from 30 in 2015 it jumped to 35 in 2016 and 34 in 2017. Datta has also pointed out that between 2015-17, out of 99 such cases of obscenity that were registered and analysed, 28 were non-consensual production of images or videos. However, those cases were not registered under 66E (dealing with privacy violation), but instead under Section 67 (dealing with obscenity).
Interpretation of the term "Obscenity"
A historical background is attached to the understanding of the term obscenity in the Indian legal context. In Ranjit D Udeshi vs State of Maharashtra 1965 AIR 88, authored by Justice Hidayatullah, the 5 judge Bench of the Supreme Court accepted the test provided in Queen v Hicklin (1868) which said
"Whether the tendency of the matter charged as obscenity is to deprave and corrupt those whose minds are open to such immoral influences, and into whose hands a publication of this sort may fall'.
The issue at hand was to determine whether the appellant's book was obscene under section 292 of the Indian Penal Code. The Court observed that "The word obscenity is really not vague because it is a word which is well understood even if persons differ in their attitudes to what is obscenity and what is not". However, the Court went on to admit that obscenity has been understood in the following terms:
(1) That which depraves and corrupts those whose minds are open to such immoral influences.
(2) That which suggests thoughts of a most impure and libidinous character.
(3) That which is hard-core pornography.
(4) That which has a substantial tendency to corrupt by arousing lustful desires.
(5) That which tends to arouse sexually impure thoughts.
(6) That which passes the permissive limits judged of from our community standards.
Eventually in the two-Judge Bench of the Supreme Court in Director General, Directorate vs Anand Patwardhan (2006) 8 SCC 433, authored by Justice Dr. Ar. Lakshmanan observed that Hicklin was the only test of obscenity in India. However, without explicitly rejecting it, the Court laid down a three-step test: "One can observe that, the basic guidelines for the tier of fact must be:
(a) whether " the average person, applying contemporary community standards" would find that the work, taken as a whole, appeals to the prurient interest.;
(b) whether the work depicts or describes, in a patently offensive way, sexual conduct specifically defined by the applicable state law; and
(c) whether the work, taken as a whole, lacks serious literary, artistic political, or scientific value."
Finally, in 2014, a Division bench of the Supreme Court in Aveek Sarkar v State of West Bengal (2014) 4 SCC 257, rejected the Hicklin Test and accepted the one laid down in Anand Patwardhan in 2006. "We are also of the view that Hicklin test is not the correct test to be applied to determine "what is obscenity". We have, therefore, to apply the "community standard test" rather than "Hicklin test" to determine what is "obscenity". This creates further confusion because in a diverse country like India, different communities might have different standards to determine what is acceptable and what is not. Having said that, the Supreme Court in Navtej Singh Johar v Union of India (2016) 7 SCC 485, has expressed the binding principles that should direct the Courts. "It is expected from the courts as the final arbiter of the Constitution to uphold the cherished principles of the Constitution and not to be remotely guided by majoritarian view or popular perception. The Court has to be guided by the conception of constitutional morality and not by societal morality."
Section 67 of IT Act V/s Section 292 of Indian Penal Code
Section 67 of the controversial IT Act provides for different penalties than section 292 under the Indian Penal Code that also deals with obscenity. Section 292 embodies "A book, pamphlet, paper, writing, drawing, painting, representation, figure or any other object, shall be deemed to be obscene if it is lascivious or appeals to the prurient interest or if its effect, or (where it comprises two or more distinct items) the effect of any one of its items, is, if taken as a whole, such as to tend to deprave and corrupt persons who are likely, having regard to all relevant circumstances, to read, see or hear the matter contained or embodied in it". While the jail term and fine under IPC Section 292 for first time offenders are two years and Rs 2000 respectively, under Section 67, it is five years and Rs 5 lakh. The jail term and fine on second conviction is three years and Rs 5000 under IPC Section 292, but five years and Rs 10 lakh under Section 67. Also, section 67 is stricter than section 292 for the same offence of obscenity as section 292 provides exceptions for scientific, literary, artistic or religious purposes but these are not allowed under the IT Act.
Section 66A which was responsible for eroding the fundamental right of Free Speech under Article 19 of the Constitution is unabashedly being used despite the Apex Court striking it down.
On March 30, 2017 an 18-year-old Zakir Ali Tyagi, noted in a Facebook post that the Chief Minister Yogi Adityanath had 28 cases pending against him, of which 22 were serious and was eventually booked under section 66A. In July, 2016, one Ajay Hatewar was booked under Section 67(A) of the IT Act for a "defamatory" comment against Maharashtra Chief Minster Devendra Fadnavis's picture with his family on a yacht. A youth from Tamil Nadu was arrested under Section 67 on October 30, 2017, for allegedly making abusive comments about Prime Minister Narendra Modi on Facebook.
In 2015, the online comedy group All India Bakchod was charged under section 67 of IT Act along with other provisions for a roast following an uproar across the nation. In 2016 again, DNA reported that Tanmay Bhat, a member of the All India Bakchod core team, made a Snapchat video poking fun at Sachin Tendulkar and Lata Mangeshkar. He faced a lot of flak and public pressure was building to arrest him and charge him under section 67 of the IT Act, again for 'obscene' content. The video could have possibly hurt the sentiments of Indians who hold Lata Ji and Sachin Tendulkar in high regard but that doesn't make it fall under the ambit of obscenity. In 2015, Deccan Herald reported that a couple famously known for their Kiss of Love protest image were arrested as a part of a sex racket but section 67 applicability was not clear. The only usage of technology in the overall crime was to provide the contact information on a classifieds site called Locanto and this is not covered under the provision. So, clearly section 67 is being exploited and misused in cases of no obscenity. This is highly problematic in a democratic nation like ours, where freedom of speech is being curtailed by provisions that no longer hold value as they have been struck down and misusing other irrelevant provisions replacing the old draconian ones.
Related articles:
https://sabrangindia.in/article/2-youths-arrested-sharing-objectionable-photos-pm-modi-and-shah
https://sabrangindia.in/article/criticising-bjp-leaders-crime
https://www.sabrangindia.in/article/professor-arrested-after-students-file-fir-against-him-insulting-pm-modi