Among the police officers injured in the attack was an Assistant Sub Inspector, who reportedly suffered a head injury.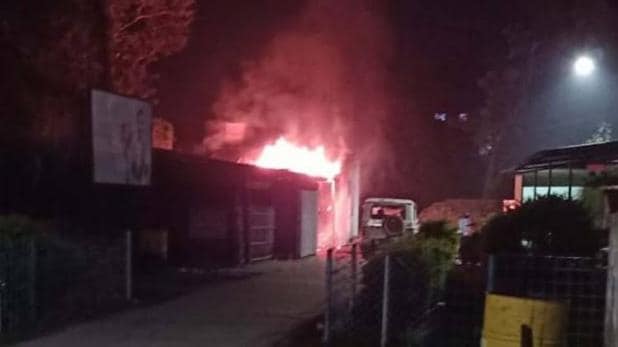 Image Courtesy: Aaj Tak
Enraged with police atrocities, last week, hundreds of villagers attacked Milki outpost about 327 km to the north of Kolkata, following the death of a middle-aged man after he was allegedly beaten up in custody.
"The mob damaged one police vehicle and assaulted the officers", said District Superintendent of Police AlokRajoria. "They also set the outpost on fire, which led to the damage of important documents."
According to the police, eight men, including Ainul Sheikh, 50, were arrested on Sunday night from gambling dens in the area. Ainul Khan reported feeling unwell and was taken to a Primary Health Centre located near the Milki Police Station.
Doctors at the PHC, believing he was suffering from a heart attack, referred him to a hospital in Malda, which was about 15 kilometres away.
At this point, Ainul Sheikh's family and locals surrounded the police station and alleged he had died while in police custody and the trip to Malda was a ruse. At 11 pm, when Ainulactually died, the mob turned violent and attacked and torched police vehicles.
Speaking to the Hindustan Times, a local, on the condition of anonymity, said that Ainul was just passing through the area when the police raided the gambling den. He alleged, "Suddenly a civic police grabbed him and beat him with a stick. When Sheikh protested, some policemen pushed him inside a police vehicle and took him to the outpost. He was beaten at the outpost for daring to challenge and pick up a quarrel with the policemen,"
Sheikh Babur, the deputy head of BarbariaGram Panchayat said, "Ainul is innocent and he wasn't gambling. When the police went to raid a den, Sheikh, who was nearby, tried to flee and fell on the road after stumbling. The police then started beating him, took him to the outpost and thrashed him again."
Custodial Violence in India
A report put together by Human Rights Watch shared the findings of the National Crime Records Bureau, which showed that between 2010 and 2015, 591 people died in police custody. Police blame most of the deaths on suicide, illness, or natural causes. For instance, of the 97 custody deaths reported by Indian authorities in 2015, police records list only 6 as due to physical assault by police; 34 are listed as suicides, 11 as deaths due to illness, 9 as natural deaths, and 12 as deaths during hospitalization or treatment. However, in many such cases, family members allege that the deaths were the result of torture.
On an average there were about five custodial deaths per day during April 1, 2017 and February 28, 2018 in India. Uttar Pradesh saw the most number of deaths at 374, followed by Maharashtra and Punjab at 137 and 128 respectively.
The "Campaign Against Torture in India" while releasing "India: Annual Report on Torture 2018" on the United Nations Day Against Torture stated that during 2018, a total of 1,966 custodial deaths were reported to the National Human Rights Commission (NHRC) including 147 deaths in police custody and 1,819 deaths in judicial custody.
Police in India fail to abide by arrest and detention rules which puts suspects in a more vulnerable position with regards to mistreatment. The rules require arrested persons to be medically examined after being taken into custody, with the doctor listing any pre-existing injuries, since any new injuries will point to police abuse in custody. Another important check on police abuse is the requirement that every arrested person is produced before a magistrate within 24 hours.
While Dalits and other minorities are extremely vulnerable to custodial torture, there is also a significant rise in custodial rape among women from the backward sections of society. Even juveniles are not spared of the torture.
The armed forces deployed in armed conflict situations and border areas also resorted to torture. The Border Security Forces (BSF) personnel were accused of kicking on testicles of the male victims including juveniles.
Yet, even if these procedures take place as mentioned, it will not lead to a reduction in custodial deaths. Suspects, out of fear, mostly never mention the ill-treatment they've been subject to.
If there is a custodial death that takes place, the police are supposed to initiate an inquiry into it. HRW reports that out of the 97 custodial deaths reported in 2015, an inquiry was initiated only in 31 of them. In 26 cases, there was not even an autopsy of the deceased.
Another challenge that comes up in conducting these inquiries is the propensity of government doctors to back police claims. Autopsy and forensic reports frequently support the police version of events even where there is no apparent basis.
It is obvious with the number of custodial deaths that the police have no regard for the human dignity of prisoners. The lack of a national anti-torture law have led to an increase in custodial and judicial deaths in the country.
The failure of the GoI to present before the Parliament two Prevention of Torture Bills, drafted by the Parliamentary Select Committee of the RajyaSabha in December 2010 and the Law Commission of India in October 2017, among other false assurances, has led to this unchecked growth and silent support of the real criminals with regards to custodial violence in India.