The accused revealed in his interrogation that they had conspired to burn the Constitution with the intent to catch the government's attention regarding the amendments to the SC/ST Act.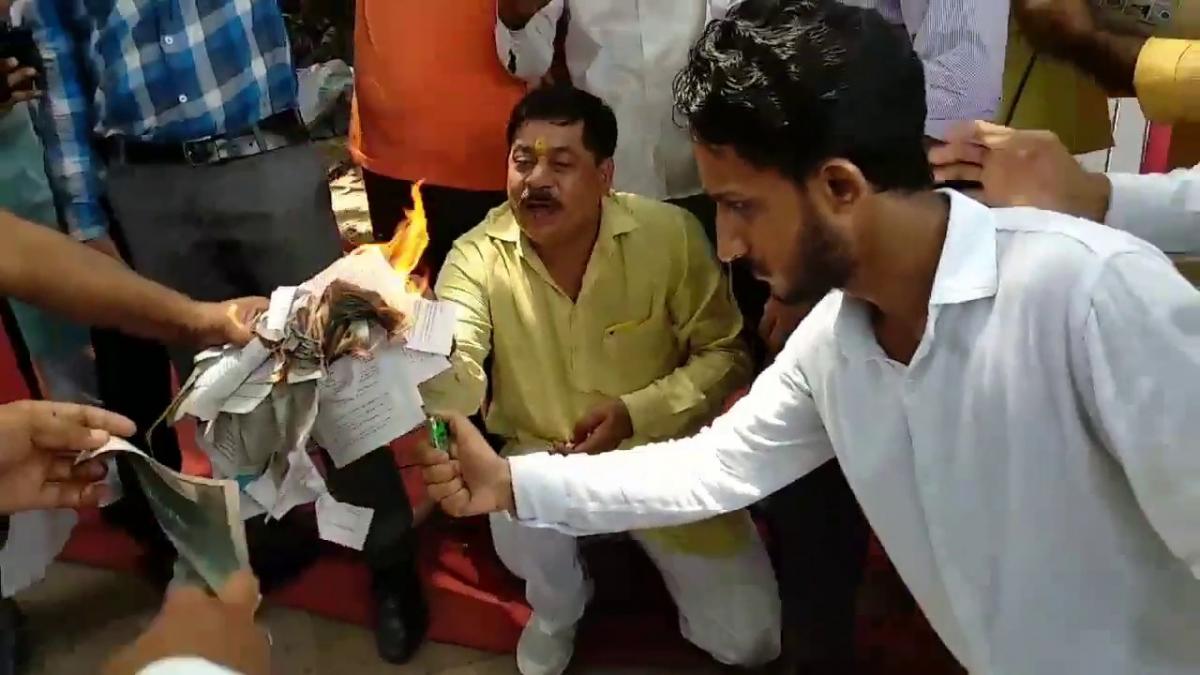 New Delhi: Deepak Gaur of Aarakshan Virodhi Party (AVP) and Abhishek Shukla of Youth Equality Foundation, have been accused of burning the Constitution at a protest against the reservation system in Delhi.

A viral video caught everybody's attention on August 10, five days before the Independence Day. In the video, the accused were seen tearing pages of the constitution and burning them. Gaur was arrested for organising a Constitution burning protest, which was held on August 9 at Delhi's Parliament Street. Gaur has been booked under the Prevention of Insults to National Honour Act.

Gaur belong to a party which was registered by the Election Commission of India before the 2014 Lok Sabha Elections. He fought the LS polls from Faridabad constituency while AVP's National president, Sanjay Sharma fought the Haryana state elections from Ballabhgarh constituency.

Abhishek Shukla, alleged to be one of the founders or spokespersons for Youth Equality foundation, also known as Azad Sena, was unanimously elected as the Convenor for AVPs national forum in July 2018. In an article by Dainik Jagran, it was said that AVP will fight the upcoming 2019 elections united from Rajasthan, Madhya Pradesh and Chattisgarh.

In July 2018, AVP Uttarakhand state president, Mahesh Chand Pant participated in a protest demanding 70% reservations for Brahmins and Kshatriya castes. "The meeting was organized by Brahmin Kshatriya Reservation Movement Committee, in Buddha Park of Haldwani. Committee chairman Sushil Bhatt said that the person who earns 40 per cent marks, gets a job due to reservation but the person who scores 905 still doesn't get a job and has to starve. There are no opportunities for Brahmin, Kshatriya castes because politicians use reservation in education, employment and job promotion as vote bank. Therefore, the committee has raised its voice to demand 70 per cent reservations for Brahmins and Kshatriya castes. If the government cannot give reservations to Brahmins and Kshatriyas, then caste reservation has to be stopped and should be instead given to economically backward people," a Hindi report by Dainik Jagran said.

AVP claims to have 50 lakh supporters in India. Preliminary research suggests that no party members currently hold an elected office. Their Wikipedia page says, "The main agenda of AVP to removal caste-based reservation from the Constitution of India and to provide equal opportunity to every citizen of country." On their facebook page, they have defended Deepak Gaur and said that he has been falsely accused.


Sabrang India had reported that after his arrest, Gaur agreed to burning the constitution. "Gaur reportedly revealed in his interrogation that he and Shukla had conspired to burn the Constitution with the intent to catch the government's attention regarding the amendments to the SC/ST Act. They supposedly played a role in ensuring that the video of the protest went viral, and also issued press statements, according to the police," the report said.

Their facebook page has more than 25,000 likes and followers. The cell phone number given on the page as contact information belongs to Gaur. The page consistently spews hatred against Dalits, SC/ST and OBC groups and want to abolish the reservation system based on caste in India.
To drum up support for themselves in the upcoming LS polls, they write statements on their page like, "Elections are coming, all the political parties use the same formula, this time we have to remember that BJP, Congress, SP, BSP, Trinamool, Shiv Sena and Akalis are the group that voted 100% to scrap Supreme courts SC Act verdict. that this is the same group which is the supreme court of the SC Act. What should be the decision in the upcoming elections, you decide what will it be, the anti-reservation party or a party that imposes SC act and reservation."

The Azad Sena facebook page has few numbers and video by Abhishekh Shukla that doesn't play. It is shown that the Facebook page first became active in 2015. Abhishek Shukla is known for his rabid hate speeches through his Facebook profile where he calls Dalits "Neele rang ke aatankwadi aur Haraamzaade" (Blue coloured terrorists.) He was also a part of Rail Roko where people from his group stopped trains in their tracks and their banner said "Stop the black law from victimizing Savarna people." His Facebook profile has more than 18,000 followers.

In a video speech right after the Aug 9 incident, he clarified saying that they did not burn the constitution and that the videos were doctored by anti-social elements to attack them. "We burned the copies of a privately published work which spoke about the poison of SC/ST Act in Indian Constitution," he said in his video. It is odd that he said that because if they are promoting an anti-reservation agenda, they should have been sharing free copies of that book instead of burning it.
Even the RSS stance on reservation has been problematic since before Independence in 1947. In 2017, Rashtriya Swayamsevak Sangh (RSS) ideologue Manmohan Vaidya had said, "The caste-based reservation in jobs and educational institutions must end soon. There should be enough opportunities for jobs and education instead of this system. It only promotes separatism," at the Jaipur Literature Festival.

A post was shared by Shukla which had a statement by Vikas Mishra, another member of the Azad Sena/ Youth Equality Foundation, saying that he will boycott all support to BJP if reservation was not removed from the constitution before 2019.
The emergence of such parties in small numbers across northern states is a worrying trend pointing towards a future of immense caste-class struggle and violence. Shrujana Niranjini Shridhar, illustrator and curator of the Dalit Panther Project archives commented, "Dominant castes want reservation in jobs and education, and the blame is pinned on the most oppressed of the society. This happens when education and jobs are privatised. It's easy to blame the reservation when you don't want to hold your government accountable for lack of jobs and education opportunities. After all, it's easier to channel your internalised hatred towards SCs, STs, OBCs rather than demand answers from the government."

Many contact numbers given for AVP members were unavailable and could not be reached for comments.