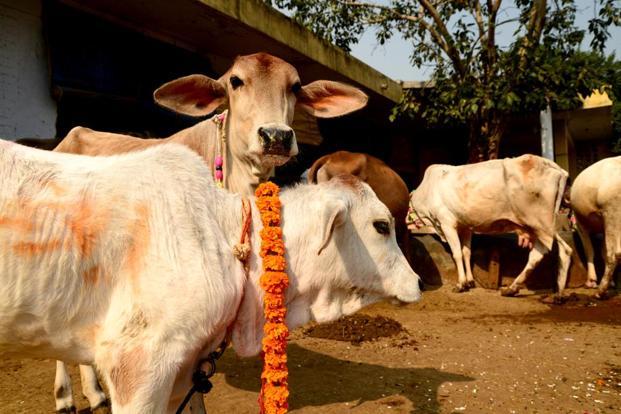 Question: Who loves the 'Gau Mata' most of all? Pick any one of the following:
(a) Yogi Adityanath, whose top priority as Chief Minister of Uttar Pradesh is to go after not only those who dare kill a cow or its progeny (that in any case was banned in UP) but even those selling mutton and chicken?
(b) Vijay Rapani, Chief Minister of Gujarat, whose government successfully piloted an amended law in the state prescribing life in prison for anyone engaged in cow slaughter?
(c) The Vishwa Hindu Parishad (VHP) which has demanded that the BJP government in Maharashtra replicates the new Gujarat law?
(d) The BJP ruled states of Uttarakhand, Rajasthan, MP or Jharkhand who, took their cue from the Yogi of UP promptly started a crackdown on slaughter houses and retail shops in their respective states.
If you picked any one of the above, you could be mistaken. Perhaps no one loves the holy cow more than Raman Singh, Chief Minister of Chhattisgarh. Granted, he was a bit late on the uptake. But when he spoke on Saturday, he seemed to leave all others behind in his love for the bovine. Anyone who kills a cow in his state will be hanged, he declared.
Responding to a question from reporters whether his government was contemplating a tougher against cow slaughter, he queried in turn: "Is cow slaughter happening anywhere in the state? Have any cows been killed in our state in the last 15 years?" Then, with a smile, he said: "Jo gai ko marega, unko latka denge (We will hang those who kill a cow)."
Rubbishing the CM's claim, the state Congress general secretary, Shailesh Nitin Trivedi said cow slaughter is rampant even in places close to the state capital but no effective action seems to have been taken.

Trivedi even alleged that people associated with the ruling BJP were involved in the transportation of cattle for slaughter.
"The talk about hanging those who kill cows is just an attempt by the chief minister to go with the flow of BJP", he remarked.