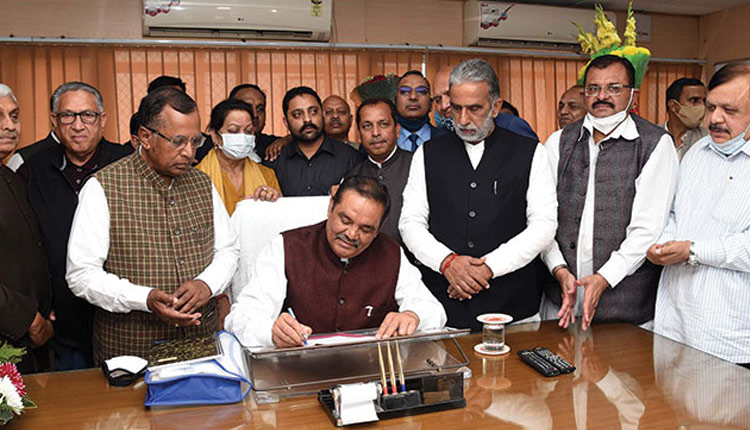 Image: Twitter

The Union government has appointed former Union Minister of State (Social Justice) Vijay Sampla as Chairperson of National Commission for Scheduled Castes (NCSC). The post has remained vacant for 10 months and even a petition had been filed in January before the Supreme Court seeking appointment. The post was formerly held by BJP leader and former MP Ram Shankar Katheria whose term ended in May 2020.
Sampla said he would adopt a "three-tier priority to resolve all the issues being faced by the Dalit community". NDTV reported that Sampla said his focus would be on resolving the social issues being faced by the Dalit community. "I will work to ensure that Dalits get justice in government departments, whether at the state level or at the central level, that they are not subjected to any sort of exploitation in these departments," he added. He also said that NCSC will engage to participate and advise on the planning process for the socio-economic development of the scheduled castes, and to prevent atrocities against them.
Sampla, soon after his appointment, hit out at an Indian Institute of Technology (IIT) panel's recommendation to exclude SC/ST reservation in faculty hiring. "The IIT panel must not forget that the holy Ramayana and the Constitution of the country were written by Dalits," he said in an interview with The Print.
Other members of the Commission have also been appointed. Arun Halder, national executive member and BJP state secretary of West Bengal, has been appointed as vice-chairman of the commission. Anju Bala, a former MP from Misrikh constituency in Uttar Pradesh, and BJP leader Subhash Pardhi, have been approved as members.
Who is Vijay Sampla?
Sampla who belongs to the Dalit community of Ravidassia joined RSS in the 1990s and in 2014 emerged as Punjab's first Dalit BJP MP as also he first BJP Dalit sarpanch of Doaba. Sampla is considered an influential Dalit leader in Doaba region of Punjab where Dalits comprise 37% of the electorate and is seen as a ground-level worker who managed to rid BJP of the "upper class" tag in Doaba region.
In 2014, he contested from Hoshiarpur constituency and won, and was given the portfolio of MoS Social justice and Empowerment. In 2016 he was appointed as Punjab's BJP chief but eventually he had a downfall as in 2018 this post was taken away from him and also as he was not given the candidacy for the 2019 Lok Sabha election.
He has also been former chairman of the state khadi board and vice-chairman of the state forest department.
Media reports suggest that Sampla has mostly refrained from making any controversial statements on crucial matters and for the past 2 years was lying low after he lost his Lok Sabha election ticket in 2019.
The Indian Express reported that Sampla had brought several projects to Hoshiarpur and Doaba including a daily train from Hoshiarpur to Delhi, Jaijon, last village of Punjab, to Amritsar train, Bombay Stock Exchange professional course to DAV college Hoshiarpur, Adampur Domestic Airport, several road projects, Aao Khelen Multipurpose project to Hoshiarpur.
Sampla was detained by the police in October 2020 in Faridkot. for holding a dharna (sit-in protest) terming the agitating farmers anti-Dalit as he was not allowed by protesters to go visit a Dalit family in Jalandhar.
Media reports have suggested Sampla to be a man with humble roots who rose within the ranks and eventually faced a glitch by losing important positions within the party and his candidature. By appointing Sampla as the chairperson of NCSC, the BJP seems to have revived his role.
Related:
Where are the country's SC/ST Commissions headed?
Punjab and Haryana HC grants bail to Nodeep Kaur
Jailed labour rights activist Shiv kumar has multiple injuries: Medical report