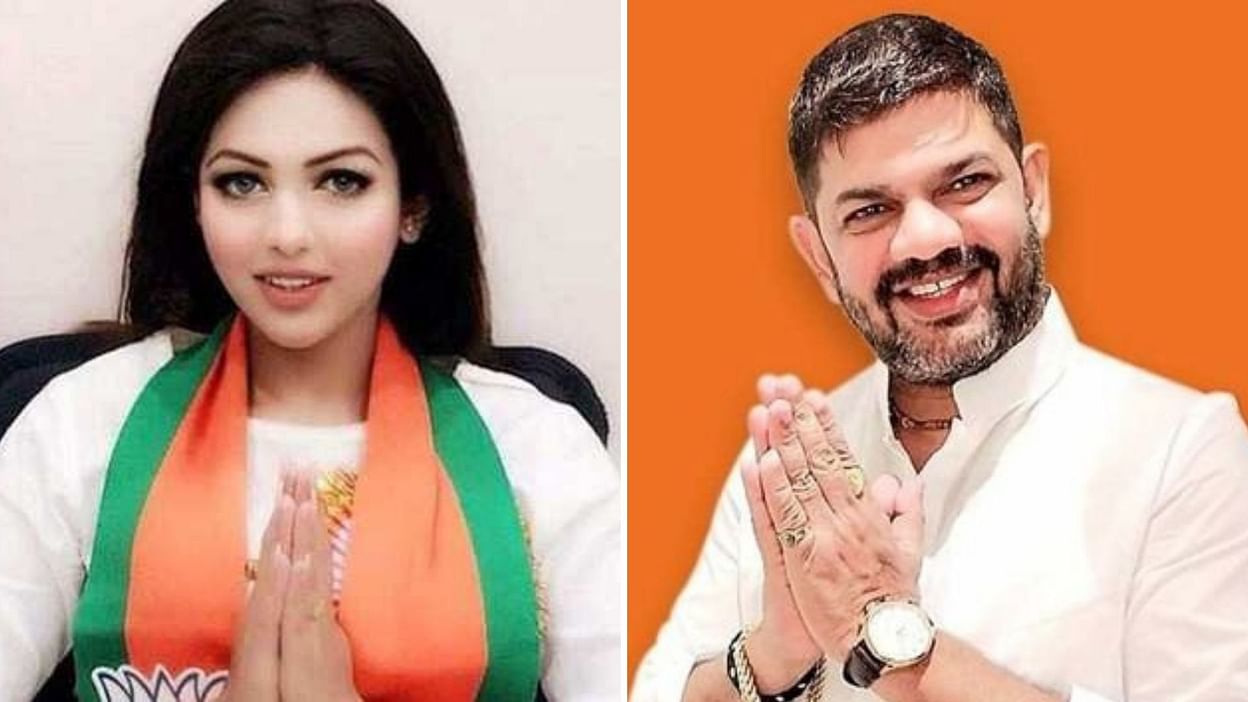 One is held for possession of cocaine, the other has just been accused of what appears to be harassment. The conundrum Bharatiya Janata Party (BJP) will now face in West Bengal is if it should even 'speak up' for its Bharatiya Janata Yuva Morcha (BJYM) secretary Pamela Goswami, who was arrested on February 19, from Kolkata for possessing 100 gms of cocaine, or another BJP leader, Rakesh Singh who was arrested on Tuesday? According to a report in India Today, on Thursday Goswami claimed that she was 'framed in the case' by Singh after she rejected his 'advances'.
The Kolkata Police had picked up BJP leader Rakesh Singh on Tuesday, from East Burdwan after a raid at his Kolkata residence following the allegations leveled by Goswami, reported The Print. Goswami has demanded Singh's arrest, and maintains that he 'had conspired to frame her'.
According to the IT report Goswami also alleged that Singh "physically harassed" her and even "threatened to attack her with acid". The serious criminal allegations against both these BJP politicians, are likely to affect the party's image, even as it is on overdrive to woo voters in West Bengal and to establish itself as a political alternative with its 'nationalist' narrative. Rakesh Singh, is also a co-accused in the same case as Goswami, who appeared before an NDPS court after as her five-day police custody ended, and reiterated that she had fallen victim to a conspiracy hatched by the Bengal BJP leader, reported IT.
All this comes at a time when the BJP campaign in the state, led by Prime Minister Narendra Modi has promised "Asol Poriborton" or real change. The BJP's minder for Bengal, Kailash Vijayvargiya on Saturday had said, "West Bengal's equation! Pirzada Abbas Siddiqui is TMC's deputy chief minister. The chief minister of the Congress-CPM alliance is Abdul Mannad. Calcutta's mayor is Firhad Hakim. Which way is Bengal heading? Bengal's people will have to think!"
According to India Today report, Goswami has identified Rakesh Singh, as an aide of Kailash Vijayvargiya. Goswami has alleged that an accomplice of Rakesh Singh had planted the drugs in her car. She has reportedly claimed, "I knew that such a conspiracy had been going on against me since the starting of February. I did not know that I will be framed in a drug case, I thought I will be framed in a firearms case. I want a CID investigation." It is yet to be seen if BJP even attempts to 'defend' either of them, or will it disown both.
Media reports stated that Goswami was chanting 'Bharat Mata Ki Jai' as she exited the court, adding that the truth will come out, and claimed that she "fell victim to a conspiracy." Goswami asked "if Rakesh Singh is not at fault then why was he fleeing? Why was he caught from Galsi?" According to her Rakesh Singh was 'interested in her' however, when she rejected his 'advances', he was angry and alleged that he conspired to falsely implicate her. "Rakesh Singh has been interested in me for a long time. When I didn't care for him, he became more furious and aggressive," Pamela Goswami told the media. "He hatched various conspiracies against me and also physically harassed me. When I went to the police station to complain, he started threatening me in various ways — saying that he would throw acid on my face and would kill my people," she alleged.
This is what has happened so far:
February 19: Bharatiya Janata Yuva Morcha (BJYM) state secretary, Pamela Goswami is arrested in possession of cocaine worth lakhs of rupees. She was arrested from South Kolkata's posh New Alipore area. According to India Today, Goswami, was in a car with her friend, Prabir Kumar Dey, and both of them were picked up. Twitter users begin announcing the arrest with photos that show her with senior BJP leaders. Goswami is remanded to police custody till February 25.
BJP Yuva Morcha Leader Pamela Goswami has been arrested in Bengal with 100 grams of Cocaine

Will NCB probe the Drug Mafia of BJP now?

Expect Darnab Goswami and Kachra Navika to maintain pin-drop silence about this sensational case! pic.twitter.com/Wh4l6oH6oN

— Srivatsa (@srivatsayb) February 19, 2021
Pamela Goswami accuses BJP colleague Rakesh Singh of conspiracy, and harassment. Singh responded to the allegations, and according to India Today he has said: "It is very easy to make a complaint but it is difficult to prove it. She [Pamela] will be able to tell why she took my name. All I can say is that it is a conspiracy to discredit me. I don't trust in this kind of dirty politics."
February 23: Rakesh Singh is arrested from the Galsi area of West Bengal's Purba Bardhaman district in connection with his alleged involvement in the case, reported IT adding that the police claimed that Singh was caught while he was "trying to flee the state." He has been sent to police custody till March 1.
February 25: A New Alipore court extended Pamela Goswami's police custody till March 4.
Related:
Battleground Bengal: From bomb blasts to 'bandobast'
Will Rajbanshis play kingmaker in West Bengal assembly polls?