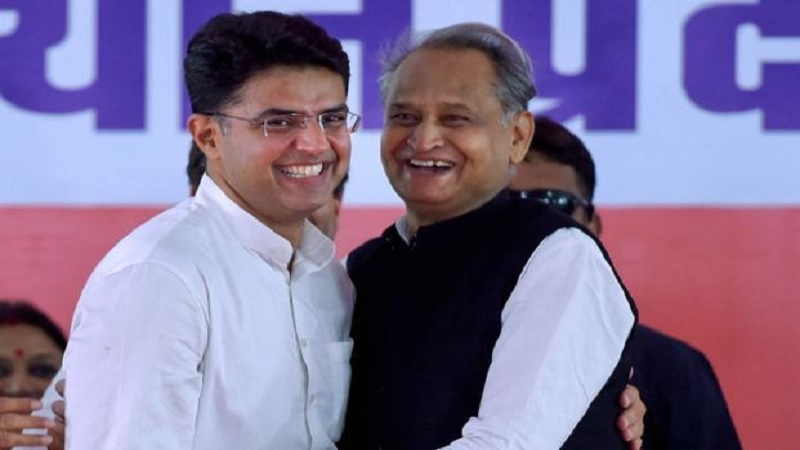 Image Courtesy:thefederal.com
It has been more than 32 days since the political crisis in Rajasthan played out in full national glare but it may still not be a happy ending. The red hot chili peppers that were firing up the Rajasthani political thali, have been doused by promises of sweeter days ahead by the Congress leadership.
The men on two sides of the fight, that could have turned dangerous and eventually led to the end of the Congress government, are at their most guarded at the moment. This was to be expected of course, but the complete turn around from the angry tone and the sharp words is interesting.
As soon as the Congress's decision to form a committee to listen to, and address issues raised by Sachin Pilot, was announced, the 'other' camp turned thoughtful. To be fair, the Sachin Pilot, known for his urban suave mannerism had not really attacked his party senior Ashok Gehlot below the belt. Chief Minister Gehlot had of course famously called Pilot a 'nikamma (useless fellow)' without naming him directly, and given the opposition Bharatiya Janata Party (BJP) and the media, talking points for days.
Sachin Pilot had of course kept the focus on himself, therefore maintaining his public image. On Tuesday, he spoke to multiple news channels, and once again spoke of his achievement as the state party chief, and the deputy CM, both portfolios that were taken away from him when he rebelled. He told NDTV that he kept the flock together and ensured a win for the Congress in the state as the party chief for over six and a half years. "I spoke for the honour and self respect of those who had worked for the party, and I had raised these issues and how to work on promises made to people…," he told NDTV, adding tha he was "happy" that the Congress chief Sonia Gandhi, Rahul Gandhi, had now put a plan in place to solve issues raised "in a phased manner."
While he said he was confident his concerns would be addressed, he did add that words like 'nikkama' and being slapped with Section 124 a, etc was harsh. "Issues, and principles are important. I think personal attacks, using strong/ tough words, are not apt and I will not do it. I have never used any personal attacks/ comments on any leader, or party. I will not react to this," he said this could set an example in front of people. "There was no reason for sedition. There were many things which were avoidable. I have put my issue forth. Party will decide. I am confident," he said.
I thank Smt Sonia Ji, @RahulGandhi Ji, @priyankagandhi Ji & @INCIndia leaders for noting & addressing our grievances.I stand firm in my belief & will continue working for a better India, to deliver on promises made to the people of Rajasthan & protect democratic values we cherish pic.twitter.com/kzS4Qi1rnm

— Sachin Pilot (@SachinPilot) August 10, 2020
"We are all congress MLAs, I have always tried to bring people together. That is why we were able to form the government. It is easy to blame.. The results are in front," he said. Even though the face mask hid the expression it was clear that Pilot may not overlook the unfavourable reactions he got from Gehlot and majority of the MLAs. Instead, he diplomatically added that the concern today should not be just the party, but the people of Rajasthan saying, "Think about the seven crore people who brought us to power. We need to work for them, he said refusing to comment at all on Ghelot's sharp words for him, "we have worked together. There is no space for personal hate and ill will in politics."
However, Pilot was not forthcoming on how he will clear the air and once again 'work together' with the party which has already replaced him as chief. For now he maintains a diplomatic silence and says "I do not want a post. I took a stand. And laid it in front of the party. There is a roadmap in place now. Three member committees will take up issues."
Of course it is too early in the post reconciliation phase of Rajasthan Congress to predict if Sachin Pilot will be rehabilitated to work in the party headquarters at Delhi, or will he be made to go back to Rajashtnan?
On the other hand, though dangerously unmasked in the times of Covid-19, Ashok Gehlot, chief minister of Rajasthan, looked and sounded relieved though he too kept his plans at 'reconciliation' a secret. He has said that what has happened in the recent past, "is now history". Instead he has now focussed on the BJP, and the fact that the saffron party could not "topple" the elected Rajasthan government. "Over a 100 people stayed together. Not one left. The BJP tried their best to make the government fall. As long as I am alive, I will be their guardian…," he said of his MLAs and supporters, "They have trusted me, high command. We will uphold their trust."
Gehlot too remained at his best diplomatic behaviour, smoothly ignoring all questions on how his 'nikamma' remark sounds now and instead spoke about addressing issues raised by those who rebelled. "If they are angry it is my responsibility to win them back," he said.
5 साल तक सरकार चलेगी। सरकार बहुमत में पहले थी, आज भी है, कल भी रहेगी।

:Talked to media in Jaipur today pic.twitter.com/UOLSNXVtRL

— Ashok Gehlot (@ashokgehlot51) August 11, 2020
Instead he put the spotlight on how the Congress finding its own solution was in fact a drubbing for the BJP. The BJP he said has been exposed and has lost face, he said, adding that some sections of the media also stood exposed. "The way they (media) projected my letter to the MLAs! I wrote 'listen to your inner voice. Ask your soul, family, voters, ask them and then take a decision.' Media did not give that the importance it deserves."
The BJP government at the Centre, said Gehlot was indulging in religion based politics, and alleged that it was dividing people on communal lines. "The BJP tried every trick in the book, but failed to break us," he said the Rajasthan MLAs resisted all alleged offers of money, posts, etc but they did switch over to the BJP.
Here he has an ally in Sachin Pilot who had always maintained that he would leave Congress and join BJP, despite obvious encouragement from his friends who had done that .
"The BJP has fallen flat on its face. Our members foiled their conspiracy," Gehlot however has warned that the political crisis is not over. "The crisis now is to save democracy. There is a misuse of CBI, ED, you can see what is happening in Rajasthan, the selective targeting. This [BJP] government is shameless, it does not care what people will say. Because they do politics on religion. Divide on communal lines…" said Gehlot, who seems to have had the final word for now.
Meanwhile on the legal front, it is being reported that the arguments on the plea challenging the merger of six BSP MLAs with the Congress remained inconclusive on Tuesday. The Jaipur Bench of the Rajasthan High Court is to resume the hearing on August 13.
It was this merger that is being credited with strengthening the Congress majority in the state Assembly. However, BJP MLA Madan Dilawar had challenged it and sought a stay order on the merger. The Rajasthan Assembly is expected to meet on August 14. The focus had also been on the State Governor Kalraj Mishra, who was also one of the major names as the political storm intensified over the past month. However, no official reaction has come from him after the reconciliation.
The Tribune has reported that the reconciliation between Sachin Pilot and Ashok Gehlot could also be due to a possible intervention by former BJP CM Vasundhara Raje. It is a known fact that Rajasthan has almost always seen the government alternating between the two political parties.
However, for now it is fair to say that the immediate political crisis has blown over. For how long? In the paraphrased words of both the politicians involved in this one, "we shall wait and see what the future holds."
Related:
'Say Modi Zindabad', order criminals as they thrash old Muslim man
Delayed Assembly session leading to Constitutional crisis in Rajasthan
Rajasthan political crisis and the intervention of the courts
Remember when Rajasthan Gov Kalraj Mishra protested at UP Raj Bhavan?