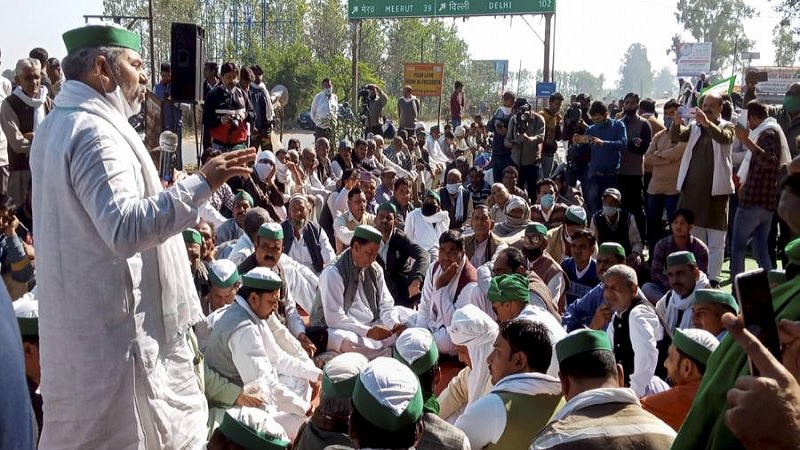 Image Courtesy:newindianexpress.com
Farmers from Uttar Pradesh, a BJP governed state, have been saying that they have been coming to Delhi in solidarity with those protesting here for nearly a month. However, so far, they are doing so in smaller numbers, in private vehicles, as the tractor trolleys ferrying larger groups and food supplies are being stopped at different places in the state. According to some farmer leaders and khap panchayat leaders, who wished to remain anonymous fearing for their safety, said they had reached the Ghaziabad-Delhi border on December 18, in private vehicles leaving behind tractor trolleys, as police 'advice' them not to go.
"Police visited us and have asked us not to go to Delhi," said a Khap panchayat member from Muzzafarpur, speaking to SabrangIndia in Ghaziabad. "We will not stay the night, but are ready to come and camp in large numbers once our leaders tell us to do that," added another from Pilibhit. The UP farmers say they are planning to join the protests in a strategic manner, in large numbers as soon as they get the signal from the leadership. For now they are closely monitoring the government's response to the ongoing agitations on Delhi's borders.
However, that has not stopped the Uttar Pradesh state administration from slapping a Rs 50 Lakh notice on the farmers for protesting. According to a report in the Indian Express now the UP police say they will revise the sum demanded from the farm leaders, who mostly hail from the Chandausi and Singhpur areas. It is alleged by the UP administration that these leaders "have been calling for protests since November 26. On the first day of the protest, nearly 400 people had gathered at a chowk in Sambhal."
Notices were sent by the Sub-Divisional Magistrate in UP's Sambhal asking farm leaders to submit "personal bonds of Rs 50 lakh each" to prevent them from "inciting" farmers to join the ongoing farmers' protests on the Delhi borders. According to the farm leaders such a notice is an attempt to "throttle democratic protest". Those who were sent the notices to pay Rs 50 lakh each are office-bearers of Bhartiya Kisan Union (Asli). According to IE, more notices seeking bonds of Rs 5 lakh each were sent to six others issued on December 12 and 13 under section 111 of the CrPC, which authorises the magistrate to send a show-cause notice under a bond.
However, now the police have said "there will be fresh notices following the error," Sambhal SP Chakresh Mishra was quoted by IE. The report also quoted Arun Kumar Singh, Circle Officer, Sambhal adding that, "The SDM is currently on leave and once he comes back we will look to issue a bond of Rs 50,000 since the earlier one was a clerical error".
But the farm leaders said they "would rather be in jail than give in to these tactics". According to Rajpal Singh Yadav, district president of BKU (Asli), who is among those asked to give Rs 50 lakh in personal bond, "Why is the administration so afraid of farmers protesting? They have mentioned Rs 50 lakh as if we are terrorists. They know that we do not have that kind of money."
According to the leaders, some farmers were also taken into preventive custody for a day prior to protests. "Protests are taking place in the entire country but nowhere will you hear that the administration is threatening them with Rs 50 lakh. This is sheer harassment," Rajveer Singh of Rashtriya Kisan Mazdoor Sangharsh, who was also served with the notice, told IE.
The report quotes the notice issued by Sambhal SDM Deependra Yadav: "In the context of what is happening in Delhi and other farmer agitations, six persons are going village to village and inciting the farmers with false information, which can lead to the breakdown of peace in the region. We are satisfied with the report of the local police station in this regard. It is hereby directed to furnish a reason as to why the farmers should not be providing a guarantee of worth Rs 50 lakh and a bail amount of the same money to maintain peace for one year."
All this when even the Supreme Court on Wednesday put on record that the farmers' right to protest peacefully, and added that the massive farmers' protests on the Delhi borders "will soon become a national issue".
Related:
Exclusive: The farmers movement is here to stay: Rakesh Tikait
Farmers call the peasant struggle a national patriotic movement
Engage in talks instead of implementing the three farm laws: SC to GoI
Union government announces sugarcane subsidy, farmers remain unimpressed
Karnataka's peasant organisations to go on strike till December 31
Gurudwara priest sacrifices life for farmers' struggle