Kamala Khan is a Muslim, Pakistani-American teenager who fights crime in Jersey City. Marvel Comics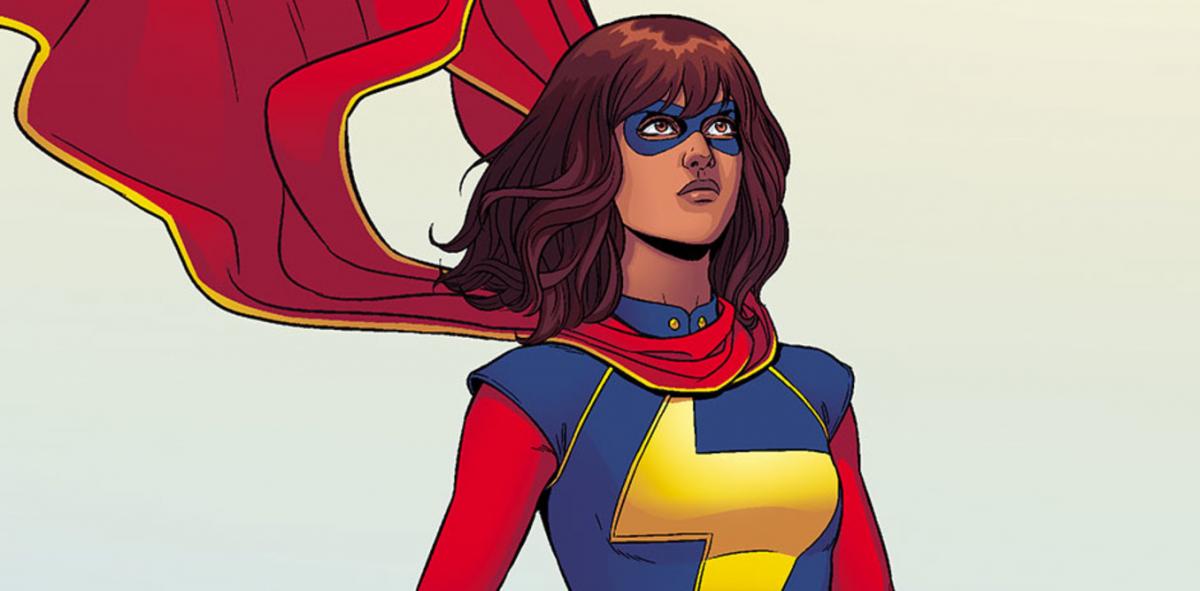 Marvel Comics Superhero Kamala Khan
During the first few weeks of the Trump administration, we've seen increased pressure on Muslim and immigrant communities in the United States.
In the face of these threats, which Marvel superhero might be best equipped to defend the people, ideals and institutions under attack? Some comic fans and critics are pointing to Kamala Khan, the new Ms. Marvel.
Khan, the brainchild of comic writer G. Willow Wilson and editor Sana Amanat, is a revamp of the classic Ms. Marvel character (originally named Carol Danvers and created in 1968). First introduced in early 2014, Khan is a Muslim, Pakistani-American teenager who fights crime in Jersey City and occasionally teams up with the Avengers.
Since Donald Trump's inauguration, fans have created images of Khan tearing up a photo of the president, punching him (evoking a famous 1941 cover of Captain America punching Hitler) and grieving in her room. But the new Ms. Marvel's significance extends beyond symbolism.
In Kamala Khan, Wilson and Amanat have created a superhero whose patriotism and contributions to Jersey City emerge because of her Muslim heritage, not despite it. She challenges the assumptions many Americans have about Muslims and is a radical departure from how the media tend to depict Muslim-Americans. She shows how Muslim-Americans and immigrants are not forces that threaten communities – as some would argue – but are people who can strengthen and preserve them.
Superhero-in-training
After inhaling a mysterious gas, Kamala Khan discovers she can stretch, enlarge, shrink and otherwise manipulate her body. Like many superheroes, she chooses to keep her identity a secret. She selects the Ms. Marvel moniker in homage to the first Ms. Marvel, Carol Danvers, who has since given up the name in favor of becoming Captain Marvel. Khan cites her family's safety and her desire to lead a normal life, while also fearing that "the NSA will wiretap our mosque or something."
As she wrestles with her newfound powers, her parents grow concerned about broken curfews and send her to the local imam for counseling. Rather than reinforcing her parents' curfew or prying the truth from Khan, though, Sheikh Abdullah says, "I am asking you for something more difficult. If you insist on pursuing this thing you will not tell me about, do it with the qualities benefiting an upright young woman: courage, strength, honesty, compassion and self-respect."
Her experience at the mosque becomes an important step on her journey to superheroism. Sheikh Abdullah contributes to her education, as does Wolverine. Islam is not a restrictive force in her story. Instead, the religion models for Khan many of the traits she needs in order to become an effective superhero. When her mother learns the truth about why her daughter is sneaking out, she "thank[s] God for having raised a righteous child."
The comics paint an accurate portrait of Jersey City. Her brother Aamir is a committed Salafi (a conservative and sometimes controversial branch of Sunni Islam) and member of his university's Muslim Student Association. Her best friend and occasional love interest, Bruno, works at a corner store and comes from Italian roots. The city's diversity helps Kamala as she learns to be a more effective superhero. But it also rescues her from being a stand-in for all Muslim-American or Jersey City experiences.
Fighting a 'war on terror culture'
Kamala's brown skin and costume – self-fashioned from an old burkini – point to Marvel Comics' desire to diversify its roster of superheroes (as well as writers and artists). As creator Sana Amanat explained on "Late Night With Seth Meyers" last month, representation is a powerful thing, especially in comics. It matters when readers who feel marginalized can see people like themselves performing heroic acts.
As one of 3.3 million Muslim-Americans, Khan flips the script on what Moustafa Bayoumi, author of "This Muslim American Life," calls a "war on terror culture" that sees Muslim-Americans "not as complex human being[s] but only as purveyor[s] of possible future violence."
Bayoumi's book echoes other studies that detail the heightened suspicion and racial profiling Muslim-Americans have faced since 9/11, whether it's in the workplace or interactions with the police. Each time there's been a high-profile terrorist attack, these experiences, coupled with hate crimes and speech, intensify. Political rhetoric – like Donald Trump's proposal to have a Muslim registry or his lie that thousands of Muslims cheered from Jersey City rooftops after the Twin Towers fell – only fans the flames.
Scholars of media psychology see this suspicion fostered, in part, by negative representations of Muslims in both news media outlets and popular culture, where they are depicted as bloodthirsty terrorists or slavish informants to a non-Muslim hero.
These stereotypes are so entrenched that a single positive Muslim character cannot counteract their effects. In fact, some point to the dangers of "balanced" representations, arguing that confronting stereotypes with wholly positive images only enforces a simplistic division between "good" and "bad" Muslims.
Unbreakable
Kamala Khan, however, signals an important development in cultural representations of Muslim-Americans. It's not just because she is a powerful superhero instead of a terrorist. It's because she is, at the same time, a clumsy teenager who makes a mountain of mistakes while trying to balance her abilities, school, friends and family. And it's because Wilson surrounds Kamala with a diverse assortment of characters who demonstrate the array of heroic (and not-so-heroic) actions people can take.
For example, in one of Ms. Marvel's most powerful narrative arcs, a planet attacks New York, leading to destruction eerily reminiscent of 9/11. Kamala works to protect Jersey City while realizing that her world has changed – and will change – irrevocably.
Carol Danvers appears to fill Kamala in on the gravity of the situation, telling her, "The fate of the world is out of your hands. It always was. But your fate – what you decide to do right now – is still up to you … Today is the day you stand up." Kamala connects the talk with Sheikh Abdullah's lectures about the value of one's deeds, once again linking her superhero and religious training to rise to the occasion. In both cases, the lectures teach Kamala to take a stand to protect her community.
Arriving at the high school gym now serving as a safe haven for Jersey City residents, Kamala realizes her friends and classmates have been inspired by her heroism. They safely transport their neighbors to the gym while outfitting the space with water, food, dance parties and even a "non-denominational, non-judgmental prayer area." The community response prompts Kamala to realize that "even if things are profoundly not okay, at least we're not okay together. And even if we don't always get along, we're still connected by something you can't break. Something there isn't even a word for. Something … beautiful."
Kamala Khan is precisely the hero America needs today, but not because of a bat sign in the sky or any single definitive image. She is, above all, committed to the idea that every member of her faith, her generation, and her city has value and that their lives should be respected and protected. She demonstrates that the most heroic action is to face even the most despair-inducing challenges of the world head on while standing up for – and empowering – every vulnerable neighbor, classmate or stranger. She shows us how diverse representation can transform into action and organization that connect whole communities "by something you can't break."
(Katie M. Logan is Assistant Professor of Focused Inquiry, Virginia Commonwealth University).
This story was first published on The Conversation.