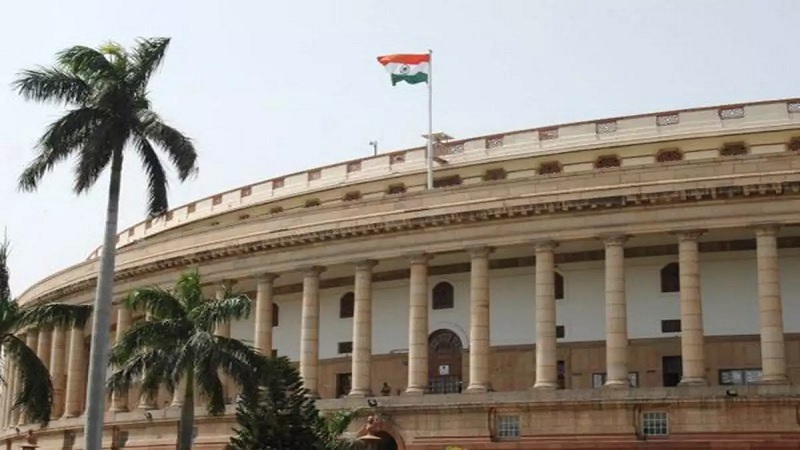 Image Courtesy:timesofindia.indiatimes.com
Correspondents, editors and photojournalists, who have been covering both Houses of Parliament, have called for a protest meeting on December 2, at the Press Club of India. The media fraternity is protesting the various restrictions on the entry of journalists into Parliament and the Press Gallery. The protest has been endorsed by Press Club of India, Editors Guild of India, Press Association, Indian Women's Press Corps, Delhi Union of Journalists, Working News Cameraman Association and many other associations and unions of journalists.
The journalists will also submit a memorandum to the Speaker Lok Sabha and Chairman Rajya Sabha. The entry of mediapersons in Parliament has been restricted since early 2020 due to Covid-19. However it continues even now, even though all commercial spaces, including malls, restaurants, cinema halls, markets etc are now open to the public. Journalists can't have any access to media galleries in the Lok Sabha, Rajya Sabha and the Central Hall. Restricted entry is allowed for two days in a week, but journalists can only be on the Parliament premises, and have no access to the proceedings.
On November 27, journalists wrote an open letter to political leaders, and protested the restrictions on the media's access to Parliament. According to the journalists, the Lok Sabha Speaker, had stated in a press conference in July, that there will be no restrictions imposed on the media's entry.
We are concerned that there is a depressing trend emerging to isolate parliament and parliamentarians from media gaze.
The trend augurs ill of parliamentary democracy and much against the spirit of our parliamentary democracy.
Once again we have written to @loksabhaspeaker pic.twitter.com/zxFsfCLXTH

— Press Club of India (@PCITweets) November 29, 2021
.@adhirrcinc, leader of the @INCIndia in Lok Sabha, has written to @loksabhaspeaker once again pic.twitter.com/aAzO9s389R

— Press Club of India (@PCITweets) November 29, 2021
"We are concerned that there is a depressing trend emerging to isolate Parliament and parliamentarians from media gaze," stated the letter.
In the largest democracy of the world, the entry of journalists in the Parliament is regulated through "lottery system". This seems to be a ploy to censor transmission of news and the information to people. This is a very dangerous trend in a parliamentary democracy like India

— Press Club of India (@PCITweets) November 30, 2021
The media fraternity has demanded that the entry of all journalists having permanent passes to the Parliament complex and the Press Gallery be restored as announced by the Speaker, Lok Sabha, in July 2021. They have also asked that entry of veteran journalists into the Central Hall of Parliament be restored along with "the L&D [long and distinguished service] category for senior and veteran journalists as a mark of honour of their long services in the profession."
"Reconstitute Press Advisory Committee at the earliest," is another major demand. According to the media bodies, the restrictions now in place have "played havoc and made the situation much more difficult for media persons in carrying out their professional duties/responsibilities and had led to large-scale retrenchments in the fraternity."
Congress leader Adhir Ranjan had also backed the journalists seeking entry to Parliament. He had written to Lok Sabha Speaker Om Birla on Sunday asking that the restrictions imposed on media be lifted "to ensure free and fair coverage of proceedings during the Winter Session." According to reports, he said that most of the media people was "denied access to the Press Gallery and interactions with parliamentarians on the pretext of pandemic guidelines," adding that even though most public places are now open after Covid-19 curbs were lifted, restrictions on journalists covering the proceedings of the Parliament is continue. "It is definitely against the spirit of parliamentary democracy. I am concerned that there is a dangerous trend emerging to isolate parliament and parliamentarians from media scrutiny," he wrote.
The winter session of Parliament that began on Monday and will continue till December 23. Earlier, the Lok Sabha Secretariat (Press & Public Relations wing) had issued its advisory on media access to the Parliament House Complex and Lok Sabha Press Gallery during the Winter Session, 2021. The arrangements stated that "Only one pass each will be given to accredited newspapers" and "only 60 Correspondents will be allowed inside the Lok Sabha Press Gallery on any given day of sitting" however, 11 of those seats are reserved in the Press Gallery of Lok Sabha for "official media and news agencies" which include "PTI, PTI Bhasha, UNI, Univarta, AIR, Doordarshan, Sansad TV, PIB, ANI, IANS, and Hindustan Samachar."
It added that "a maximum of two Correspondents from each of the aforementioned official media/news agencies will be allowed inside the Parliament House complex on any given day" and "two Camerapersons/Photographers each DD, ANI, Photo Division, Sansad TV, PTI and UNI will be issued passes for coverage at Media Stands". Ten "select photographers of Lok Sabha Press Gallery accredited newspapers" would also be "allowed, on rotation basis, on the basis of passes to be issued."
Journalists are not allowed to use their mobiles to take bytes/shots of Members of Parliament or Parliament House Complex. Media persons are also not allowed to "interact/interview/photograph anyone other than Ministers/Members of Parliament" and they too can only be interviewed at the designated media stands.
However, on the first day of the Session, November 29, 2021, all accredited electronic channels and agencies were allowed to cover the interaction with the Prime Minister outside the building. It added that journalists "who have not got two doses will have to get RTPCR test for Covid-19 seventy two hours each time prior to coming to the Parliament House for covering the proceedings of Lok Sabha on their allotted day. Such media persons have to carry a negative report to be shown at the Parliament House Reception for entry into the Parliament House Complex and RTPCR test may be repeated after 2 weeks."
Most importantly, it says, "Access of media person to the Central Hall will remain suspended until further orders." Veteran journalists who have covered Parliament for decades do not recall such massive restrictions. On the first day of the Winter Session on November 29, 2021, the Farm Laws Repeal Bill was passed by the Parliament without any debate. It was done with a voice vote even though Opposition party Members of Parliament (MPs) from Congress, TMC and DMK had demanded a discussion of the laws.
Related:
SKM decries Centre's tyranny in disallowing debate on farm laws
Parliament repeals farm laws sans discussion, but what's next?