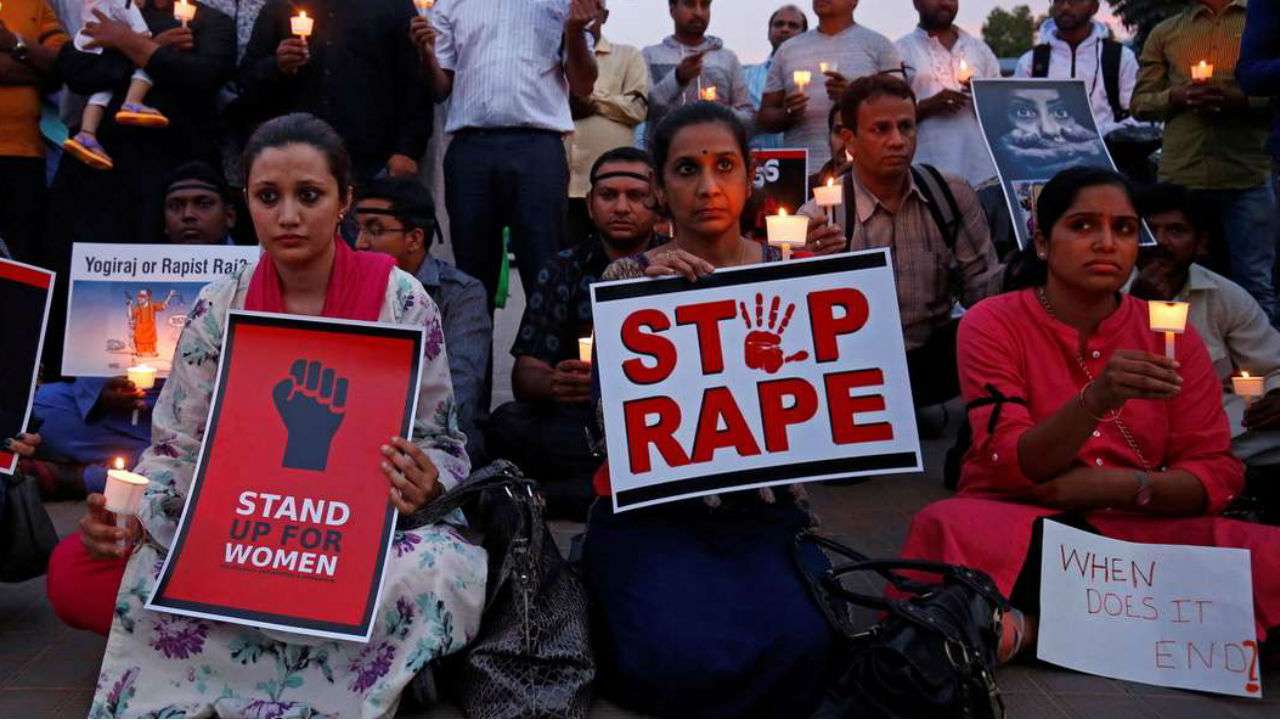 Rapists and barbaric torturers seem to be on an unchecked hunt in parts of Uttar Pradesh. Just hours after the Hathras horror shook the nation, another 22-year-old Dalit woman was raped, and killed in Balrampur.
News broke last night and horrific details kept getting shared on social media till dawn. Various versions of the victim being tortured were also shared. The victim's mother was seen in a video clip recalling the horror she alleged was unleashed on her daughter. The area police told mediapersons that the rapists had lured the woman to accompany them, and raped her. They then apparently took her to a doctor, but when her condition deteriorated, sent her home. Her mother recalled her daughter arriving home in that condition, and then getting sicker complaining of a "burning sensation" in the stomach.
According to the Indian Express, senior police officers have said that the two accused, identified as Shahid and Sahil, have been arrested. The police added that the accused had called the victim to their place "on the pretext of friendship". The police were reportedly told by the victim's family that she worked at a private firm and she did not return till late night on Tuesday. The family added that they could not reach her on the phone either. However she came home, later in the night, "on a rickshaw in a bad condition, with glucose drips attached to her arms. She was rushed to a hospital, but died on the way," said Balrampur SP Dev Ranjan Verma, adding that an FIR had been registered and a probe was underway.
"In the complaint, the family members have alleged that two youth raped the girl and then took her to a doctor. When her condition deteriorated, instead of taking her to a hospital, they sent her home. We have arrested both the accused," he is quoted by IE. While social media posts claimed that the victim's arms and legs had been broken, and that she may have been injected with a 'poison', Balrampur police, however, put out several tweets denying this. Police have said the postmortem report did not find such injuries. An Additional SP level officer has been given charge of the investigation of the case.
Even though the horrific rapes, and murders, have been reported, the news has failed to touch many in power. More people are now questioning MPs, especially Dalit and women leaders who were voted to power from the state on their lack of outrage on the issue. Once again Smriti Z Irani, Union Cabinet Minister for Women & Child Development, MP of Uttar Pradesh's Amethi Lok Sabha Constituency, is yet to make a statement on the case.
https://twitter.com/smritiirani
The Prime Minister is busy promoting the National Education Policy 2020
MyNEP Competition is an interesting way of sharing unique aspects about the National Education Policy 2020.

Participate in the competition at https://t.co/IoxjJvaXdL.

Be a part of the educational transformation of India! #NewNEPNewIndia pic.twitter.com/ihV682wmVl

— Narendra Modi (@narendramodi) October 1, 2020
And UP CM is talking about paddy procurement starting in the state from today.
आज से प्रदेश में धान की खरीद शुरू हो रही है।

आदरणीय PM श्री @narendramodi जी की नीतियों के अनुरूप धान खरीद MSP के अनुसार ही होगी।

प्रदेश में धान क्रय हेतु लगभग 4000 केंद्र खोले गए हैं, इसके अतिरिक्त आवश्यकतानुसार क्रय केंद्र स्थापित किए जाएंगे।

अन्नदाताओं का स्वागत है।

— Yogi Adityanath (@myogiadityanath) October 1, 2020
However, his office has informed that the CM had spoken to the father of the victim and "assured strict action against the culprits and directed the administration for all possible help."
मुख्यमंत्री श्री @myogiadityanath जी ने बच्ची के पिता से बात करते हुए दोषियों के खिलाफ सख्त कार्रवाई का भरोसा दिया और प्रशासन को हर संभव मदद के निर्देश दिए।

— CM Office, GoUP (@CMOfficeUP) September 30, 2020
But that the law and order situation in Uttar Pradesh continues to get worse should raise more alarms as yet another case of rape was reported on Wednesday, this time from Azamgarh district. The latest victim is an eight-year-old girl who was allegedly raped by her 20-year-old neighbour, on Wednesday. According to the police the man has been arrested. He was a regular visitor at the child's house. On Wednesday, he reportedly coaxed the child to accompany him and raped her, the Hindustan Times stated that this was confirmed by Azamgarh's superintendent of police, Sudhir Kumar Singh.
The child told her parents what happened after the man dropped her back home. The child's mother filed a complaint at Jiyanpur police station, and he was eventually arrested, stated the HT. The child was sent for a medical examination.
These two crimes have been reported just after the Uttar Pradesh Cheif Minister announced that he had set up an SIT to probe the brutal gang-rape, murder of a Dalit woman at Hathras, and the forced cremation and ill treatment that followed as alleged by her family.
For the past two days Uttar Pradesh, Delhi, Mumbai, and other parts of the country are witnessing public outrage, protests and calls for justice. Major political leaders, and activists have also questioned the law and order in the Bharatiya Janata Party-led government and called for the resignation of Chief Minister Adityanath. The CM set up an SIT, and ordered a fast track investigation, 15 days, after the Dalit teenager's rape and torture by 'upper caste' men was reported, and over 24 hours after the victim in a Delhi hospital earlier on Tuesday, September 29.
The system failed her, and her family once again, and she was cremated around 3 AM on Wednesday, September 30. Her family was kept away. Citizens, women's groups, and secular parties had begun protesting on the streets of Delhi, and Uttar Pradesh demanding action and the resignation of the UP CM. The All India Progressive Women's Association ( AIPWA) called this the "Hathras Caste Supremacist Atrocity".
Even Congress general secretary Priyanka Gandhi Vadra, lashed out at Adityanath and his response and said, "What kind of a CM are you,? Where were you sleeping for the last 14 days? Why didn't you act?"
हाथरस की बेटी के पिता का बयान सुनिए।

उन्हें जबरदस्ती ले जाया गया। सीएम से वीसी के नाम पर बस दबाव डाला गया। वो जांच की कार्रवाई से संतुष्ट नहीं हैं।

अभी पूरे परिवार को नजरबंद रखा है। बात करने पर मना है।

क्या धमकाकर उन्हें चुप कराना चाहती है सरकार?

अन्याय पर अन्याय हो रहा है। pic.twitter.com/6lIW1hdvDc

— Priyanka Gandhi Vadra (@priyankagandhi) October 1, 2020
She is now on her way to Hathras, along with Rahul Gndhi, to visit the grieving Dalit family at their home.
Shri @RahulGandhi, Smt. @priyankagandhi and senior Congress leaders, flanked by protestors enraged by the BJP govt, are on their way to Hathras. #JusticeForIndiasDaughters pic.twitter.com/9eQiqZc2Fz

— Congress (@INCIndia) October 1, 2020
Ahead of the visit by Rahul and Priyanka Gandhi, another political face off may have been ignored. The state administration has banned large gatherings citing coronavirus situations in the area, and as reported by NDTV, barricades have been put up and the borders sealed.
Related:
Hathras Dalit girl rape: Why are Smriti Irani, PM Modi, UP CM Adityanath quiet
No dignity even in death for Dalits
Hathras rape a case of Caste Supremacist Atrocity: AIPWA
Do the dead have rights in India?
Lynched, raped, left for dead: Dalits, women remain easy targets for criminals in UP
How many rapes and murders will it take before the UP govt takes action?