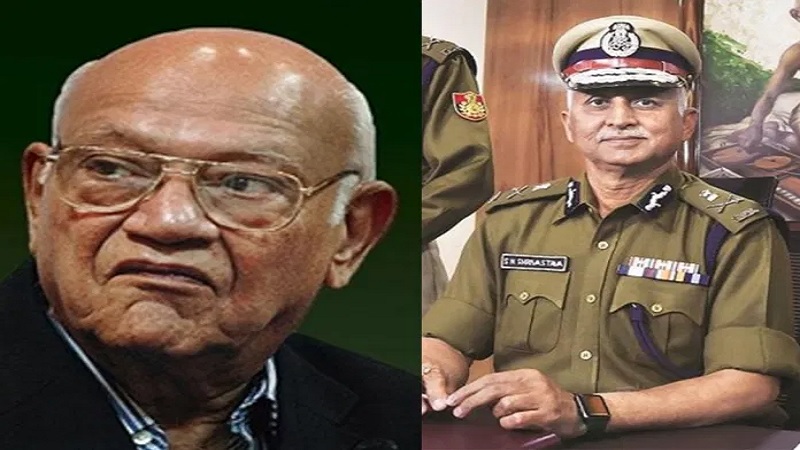 Image Courtesy:opindia.com
Like a few others before them, another group of retired Indian Police Service (IPS) officers, have written to oppose their brother officer Julio Ribeiro's letter to the Delhi Police Commissioner in connection with the investigation into the February 2020 communal violence in Delhi. Ribeiro had written to the Delhi Police Commissioner urging a fair probe and received an uninspiring response from the top cop, following which Ribeiro had schooled him in another letter on his duties as a police officer.
Meanwhile, allegations of police complicity in exacerbating the violence continue to grow, even as police have gone on an arrest-spree targeting activists like Dr. Umar Khalid, who had spoken at rallies and demonstrations against the Citizenship Amendment Act (CAA), National Register of Citizens (NRC) and National Population Register (NPR). The latest letter by the IPS officers alleges that by writing to the Police Commissioner, Ribeiro, is 'supporting' Dr. Khalid!
A couple of days ago, 26 retired IPS officers wrote a letter saying Ribeiro, who was former Mumbai Police Commissioner, DGP Gujarat and Punjab, "is supporting Umar Khalid", reported the Indian Express. According to these 26 retired officers Umar Khalid allegedly "raised anti-India slogans" and that they "condemn" what they have called "anti-India expression and communal narrative".
Soon after the arrest of Dr. Khalid, a PhD scholar from Jawaharlal Nehru University (JNU), Ribeiro had written to Delhi Police Commissioner S N Shrivastava stating that police were cracking down on "peaceful protestors" while ignoring senior Bharatiya Janata Party (BJP) politicians who had made provocative, communal public speeches. Ribeiro's letter to the Delhi Police Commissioner had pointed out loopholes in the ongoing probe into North East Delhi communal violence. Shrivastava, however, defended the investigation and said no arrests were made on the basis of religion or party affiliation. He has now found support in this group of retired officers, who wrote as stated in the IE, "A section of former police officers can't declare anyone innocent and try to put the police force in a bad light. These officers have no right to suspect or question the integrity and professionalism of their successors in the Indian Police Service, and in turn demoralise them."
Those who signed the statement are: R S Gupta, former Delhi CP; P C Dogra, former Punjab DGP; M G Raman, former Kerala DGP; former UP DGPs R N Singh and Bhanu Pratap Singh; and Praveen Dixit, former Maharashtra DGP.
In his first letter to the Delhi CP that may be read here, Julio Riberio has taken Shrivastava to task for his failure to ensure a fair probe into the communal violence that broke out in February 2020 in North East Delhi. Ribeiro, a former IPS officer with a formidable reputation as a policeman and thereafter a civil rights activist, said Delhi Police took "action against peaceful protestors but deliberately failed to register cognizable offences against those who made hate speeches which triggered the riots". He ashed why BJP leaders "Kapil Mishra, Anurag Thakur and Parvesh Verma have not been arraigned before the Courts of law while deeply-hurt Muslim women, peacefully protesting against discriminations based on religion, were lodged for months together in jail!"
He was supported by nine more former police officers, who also wrote to the Delhi CP. They called the investigation 'flawed'. The letter was signed by Shafi Alam (former Director General, National Crime Records Bureau), K. Saleem Ali (former Special Director, CBI), Mohinderpal Aulakh (former Director General of Police (Jails), Punjab), A.S. Dulat (former OSD on Kashmir, Prime Minister's Office), Aloke B. Lal (former Director General (Prosecution), Uttarakhand), Amitabh Mathur (former Director, Aviation Research Centre and former Special Secretary, Cabinet Secretariat), Avinash Mohananey (former Director General of Police, Sikkim), P.G.J. Nampoothiri (former Director General of Police, Gujarat) and A.K. Samanta (former Director General of Police (Intelligence), West Bengal).
These former top cops are a part of the Constitutional Conduct Group, under the aegis of which retired officers belonging to the various services often take up matters of public interest and welfare. They wrote: "…[W]e would like to say that it indeed is a sad day in the history of Indian police that investigations and challans submitted in the court by Delhi Police in connection with riots of this year are widely believed to be partisan and politically motivated. It pains all those police officers, serving as well as retired, who believe in upholding the rule of law and our Constitution." More on this may be read here.
Ribeiro responded to Shrivastava's denial
Ribeiro had written back the doubts he raised have not been cleared at all. He had further highlighted the major flaws in the investigation and repeated that it was "impossible, to justify the licence given to the three B.J.P stalwarts I named – licence to rant, rave and threaten those who are peacefully protesting perceived wrongs. If the speakers were Muslims or Leftists the police would have surely taken them in for sedition!" Julio Ribeiro's rebuttal to the Delhi Police commissioner's reply can be read here.
Opposition leaders appealed to President, sought judicial probe
Apart from the senior cops who have raised the issue of an urgent need to investigate the riot investigation itself, several prominent political leaders met President Ram Nath Kovind and urged that he order a judicial probe into Delhi violence. They told the President that they were alarmed at the way scores of summons, questionings, and arrests under the Unlawful Activities (Prevention) Act (UAPA), and other charges, have been set into motion. The senior leaders of national Opposition parties met President Ram Nath Kovind, on Thursday, and gave him a memorandum, putting on record their demand for a judicial probe by sitting or retired judges, into the investigations that are now underway, probing Delhi communal riots of February 2020.
The three page memorandum has been signed by Congress' Ahmed Patel, CPI's D Raja, CPI(M)'s Sitaram Yechury, DMK's Kanimozhi and RJD's Manoj Jha. "There are, however, serious questions about the role played by the Delhi Police itself, during the violence, and also the manner in which police is harassing and attempting to falsely implicate activists and young people who took part in the anti-CAA/NRC/NPR movements, as perpetrators of violence," stated the memorandum. The detailed article, and the memorandum may be read here.
Brinda Karat altered Commissioner, on recent illegal processions in communally sensitive areas
Another, and most alarming letter has been written by CPI(M) Polit Bureau Member Brinda Karat who wrote to the Commissioner of Delhi Police, SN. Srivastava, to draw his urgent attention to these disturbing incidents. Brinda Karat asked the Commissioner to act against communal activity in Shiv Vihar where non festive, aggressive processions sloganeering 'Jai Shri Ram, Har Har Mahadev' were taken out after dark. This is a sensitive area of North East Delhi, and Karat, a resident of Delhi was the first political leader, to have alerted the Commissioner about these disturbing processions, and shared the the videos were the groups are heard screaming 'Jai Shri Ram, Har Har Mahadev' aggressively as they can be seen walking down the lanes of Shiv Vihar, North East Delhi, after sundown on September 15. She asked the commissioner to take appropriate action against such moves which can have dangerous consequences if they flare up into communal confrontations. Her letter can be read here.
It is not yet known if the President has responded to the memorandum given by Opposition leaders, or if the Delhi Police commissioner has responded to Brinda Karat's urgent letter, proactively. However, so far, no political leader, or retired IPS officer has written to oppose them.
Related:
Dialed 100 repeatedly, got no answer: Delhi riot survivor
North-East Delhi Riots: Minorities Commission investigations reveal role of Delhi Police, politicians
The ruling is surprising and disappointing: Brinda Karat on Hate Speech Case