73rd NIGHT IN PRISON!

BONOJIT HUSSAIN ON FASCIST INCARCERATIONS OF #AKHILGOGOI BY BJP GOVT. IN #ASSAM
Tonight, 13th of December 2016, would be the 73nd night that Akhil Gogoi, the maverick 40 years old leader of Krishak Mukti Sangram Samiti (KMSS) would spend in prison. For the uninitiated – KMMS has been the largest social movement in Assam after the turn of the century – that too a left-leaning social movement. This is not the first time that Gogoi has been in prison since KMSS was launched in 2005, but what sets apart the last 72 nights compared to previous incarcerations is the blatant misuse of the criminal justice system and police by the BJP Government in Assam.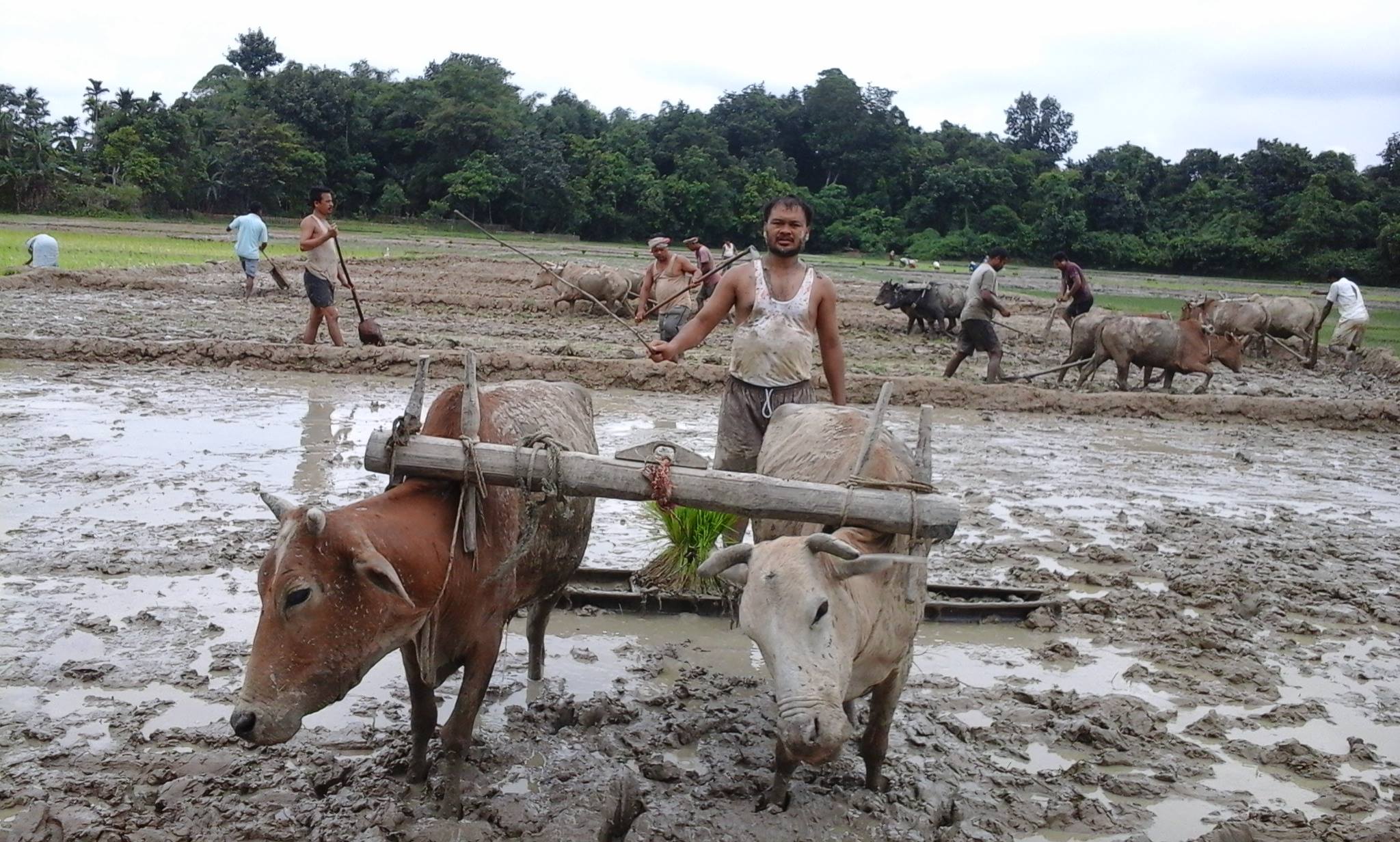 Expectedly, there has been no media coverage (electronic, print or social), and civil society 'hallabol' in mainland India over Akhil's continued incarceration. And one can grant it to the lack of mainland media's OB van in Assam, and dependence of mainland social media and civil society on the 'missing' OB vans (all puns intended).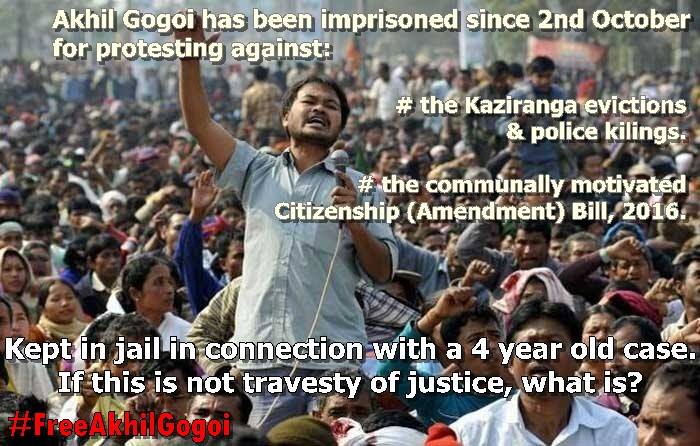 So much so that even Akhil's old comrades from NAPM (National Alliance for People's Movement) days did not know that he has been in jail for so long until few facebook memes in English went viral on the night of 7th December.
While Akhil remained in custody (shifted around 3 jails till now), I thought, to tell the story about which District/Sub-divisional Police arrested him for which cases from which years (one case dates back to 2006) and which courts granted or refused bail for which cases will require Excel Sheets or a Flow Chart.
But let me try and narrate it without a Flow Chart or an Excel Sheet.
Two cases were filed in Jakhalabanda police station in Nagaon district against Akhil allegedly for instigating protesters during the 19th September eviction drive in Kaziranga. During the eviction drive a clash between protesters and police resulted in the death of two protesters. Jakhalabanda police slapped several serious charges on Akhil Gogoi – criminal conspiracy, rioting, being armed with deadly weapons, attempt to murder, and resorting to assault or criminal force to deter public servant from discharge of duty.
Following this Akhil was arrested on 2nd October during a press conference at the KMSS headquarters in Guwahati. On 3rd October he was produced before the sub-divisional magistrate in Kaliabor, though police had asked for a week long police remand, the magistrate send him for a day in police remand. On 4th October Akhil was shifted to Nagaon central jail.
In the meantime, Lakhimpur police made a move to arrest Akhil Gogoi in connection to a case registered against him in 2013 for allegedly obstructing officials from performing duty during a KMSS led anti-dam protest in Gerukamukh near Lakhimpur. Akhil was then taken to Lakhimpur and produced before the chief judicial magistrate on 6th October. The Chief judicial magistrate sent him to Lakhimpur district jail on 14 days judicial remand which was later extended by another 10 days.
On 1st November Golaghat police sought to arrest Akhil in connection with a case that was registered on 19th December 2006 for allegedly instigating assault on a Golaghat district Youth Congress leader. In connection to this case police, in 2006, police had arrested Akhil's comrade Jiten Doley and was later released on bail. But in the past 10 years Akhil was never summoned or detained in connection to this case.
The following day on 2nd November, amidst heavy security Akhil produced before the chief judicial magistrate in Golaghat and he was sent to Golaghat district jail on 14 days judicial remand.
Then again on 15th of November Bokakhat police in Golaghat district made another move to arrest Akhil Gogoi in connection to a case registered on 15th November 2015 for allegedly inciting a mob during a protest against a proposed eviction drive on the peripheries of Kaziranga National Park in which nearly 50 people were injured in a clash between police and protesters.
On 16th November, fearing deterioration of law and order situation, Akhil was again produced before the chief judicial magistrate in Golaghat through skype video conferencing. The CJM court sent Akhil back to judicial custody till 29th November.
On 25th November Akhil was produced before CJM and SDM court in Golaghat, and the courts granted him bail for the 2015 Bokakhat case, and the 2006 Golaghat case.
Again on 29th November Gauhati High Court granted bail to Akhil in the two cases related to the September 2016 Kaziranga eviction. But he could not walk out free as he still had to get bail in the 2013 Lakhimpur case.
Finally, on 5th December Gauhati High Court rejected the bail in connection to the Lakhimpur case, and sent Akhil back to prison on judicial remand. After the dismissal of the bail plea Akhil has refused to waste scarce monetary resources by knocking at the door of Supreme Court in Delhi.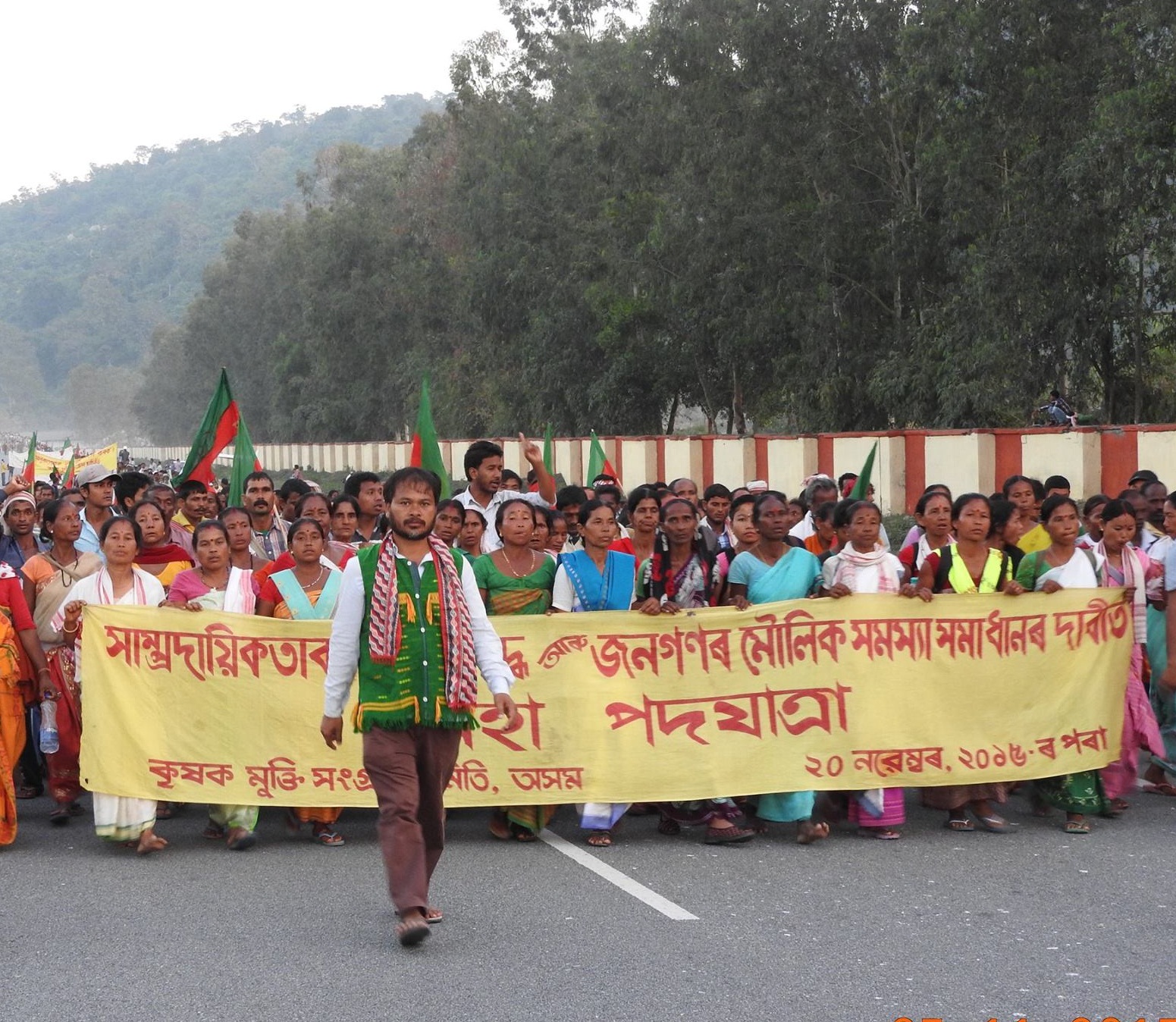 If one goes through this maze of arrests, re-arrests simply to extend Akhil Gogoi's prison term, one doesn't need to be a legal expert to figure that this is gross travesty of justice, and a blatant political misuse of police and criminal justice system by the BJP Government in Assam to muzzle voices of dissent. But still several issues need to be raised :
If Akhil Gogoi's custody was so crucial for police to investigate these cases ranging from 2006 to 2015, why was he not summoned or arrested by Assam police for all these years. Assam police has not yet issued any statement about this sudden urgency to arrest Gogoi related to old cases.
Barring one, all the cases that are been used to prolong Akhil's prison term were registered during the second and third term of the 15 year long Congress government in Assam. Now even the Congress party has raised questions on Akhil's arrests and re-arrests. Akhil was arrested on several occasions by the previous Congress. But as the opposition leader and leader of Congress Legislature Party Debabrata Saikia has pointed out even "the Congress did not impose old cases on him the way the BJP-led government is doing. The new government is working like a fascist one." Saikia in a letter to the Chief Minister Sarbananda Sonwal alleged that the "repeated arrest is an attempt to gag the voice of protest", and reminded Sonowal that "the Supreme Court had observed in a recent verdict that opposition to the policies of the government cannot be treated as an act of treason. But, the process of arresting Akhil and the bid to lengthen his jail term indicate that the State government is treating opposition to its policies as acts of treason."
It might be worth mentioning here that many allege, and not without basis, that Akhil Gogoi's rabid anti-Congressism had indirectly helped the BJP in sweeping the 2014 parliamentary elections in Assam. Though Akhil Gogoi and KMSS have been at the forefront of the fight against what he calls BJP's Hindutva fascism since later part of 2014, during the 2014 Lok Sabha elections the need to defeat the Congress took precedence and Akhil Gogoi released a list of 'who to vote for based on personal integrity of candidates' for his supporters and he also appealed to the people of Assam to consider his list. The list comprised of one CPM candidate, one CPI-ML candidate, three AGP candidates, two AIUDF candidates and 7 BJP candidates. I have explained elsewhere what led Akhil Gogoi to commit that political blunder.
One does not need to look for any further evidence to clearly see that Assam police is working overtime on behest of its political masters ie; the Sonowal led BJP government in Assam. Perhaps Assam police needs to be reminded that while arresting and re-arresting Akhil Gogoi in most arbitrary manner they are acting against several Supreme Court orders. Apart from many other judgments, in the Arnesh Kumar vs State of Bihar, Criminal Appeal No 1277 of 2014 (@ Special Leave Petition (CRL.) no. 9127 of 2013) the Supreme Court said in no uncertain terms that :
"Arrest brings humiliation, curtails freedom and cast scars forever. Law makers know it so also the police. There is a battle between the law makers and the police and it seems that police has not learnt its lesson; the lesson implicit and embodied in the Cr.PC. It has not come out of its colonial image despite six decades of independence, it is largely considered as a tool of harassment, oppression and surely not considered a friend of public. The need for caution in exercising the drastic power of arrest has been emphasized time and again by Courts but has not yielded desired result. Power to arrest greatly contributes to its arrogance so also the failure of the Magistracy to check it. Not only this, the power of arrest is one of the lucrative sources of police corruption. The attitude to arrest first and then proceed with the rest is despicable. It has become a handy tool to the police officers who lack sensitivity or act with oblique motive.
Law Commissions, Police Commissions and this Court in a large number of judgments emphasized the need to maintain a balance between individual liberty and societal order while exercising the power of arrest. Police officers make arrest as they believe that they possess the power to do so. As the arrest curtails freedom, brings humiliation and casts scars forever, we feel differently. We believe that no arrest should be made only because the offence is non-bailable and cognizable and therefore, lawful for the police officers to do so. The existence of the power to arrest is one thing, the justification for the exercise of it is quite another. Apart from power to arrest, the police officers must be able to justify the reasons thereof. No arrest can be made in a routine manner on a mere allegation of commission of an offence made against a person."
Akhil Gogoi has never been summoned or detained in connection to the relevant cases for which bails have been denied. Many keen observers of political developments in Assam have opined that Gogoi could have been easily summoned or detained briefly for interrogating him in all cases that have been racked up. Also none of the cases (in which bail have been denied) are of such grievous nature that there will be any eminent attempts at tampering "with the witnesses if left at liberty".
Under such circumstances, the recent denial of bail by Gauhati High Court itself appears to be an instance of Judicial Overreach and smacks of political intervention in a judicial process, especially when the Supreme Court itself had clearly stated that such instances are mostly in violation of the Article 21 of the Indian Constitution. The Supreme Court noted in the Sanjay Chandra vs CBI, Criminal Appeal No. 2178 OF 2011 (Arising out of SLP (Crl.) No. 5650 of 2011) that :
"In this country, it would be quite contrary to the concept of personal liberty enshrined in the Constitution that any person should be punished in respect of any matter, upon which, he has not been convicted or that in any circumstances, he should be deprived of his liberty upon only the belief that he will tamper with the witnesses if left at liberty, save in the most extraordinary circumstances. Apart from the question of prevention being the object of a refusal of bail, one must not lose sight of the fact that any imprisonment before conviction has a substantial punitive content and it would be improper for any Court to refuse bail as a mark of disapproval of former conduct whether the accused has been convicted for it or not or to refuse bail to an un-convicted person for the purpose of giving him a taste of imprisonment as a lesson … So it is desirable that the subject is disposed of on basic principle, not improvised brevity draped as discretion. Personal liberty, deprived when bail is refused, is too precious a value of our constitutional system recognised under Article 21 that the curial power to negate it is a great trust exercisable not casually but judicially, with lively concern for the cost to the individual and the community. To glamorise impressionistic orders as discretionary may, on occasions, make a litigative gamble decisive of a fundamental right. After all, personal liberty of an accused or convict is fundamental, suffering lawful eclipse only in terms of "procedure established by law". The last four words of Article 21 are the life of that human right."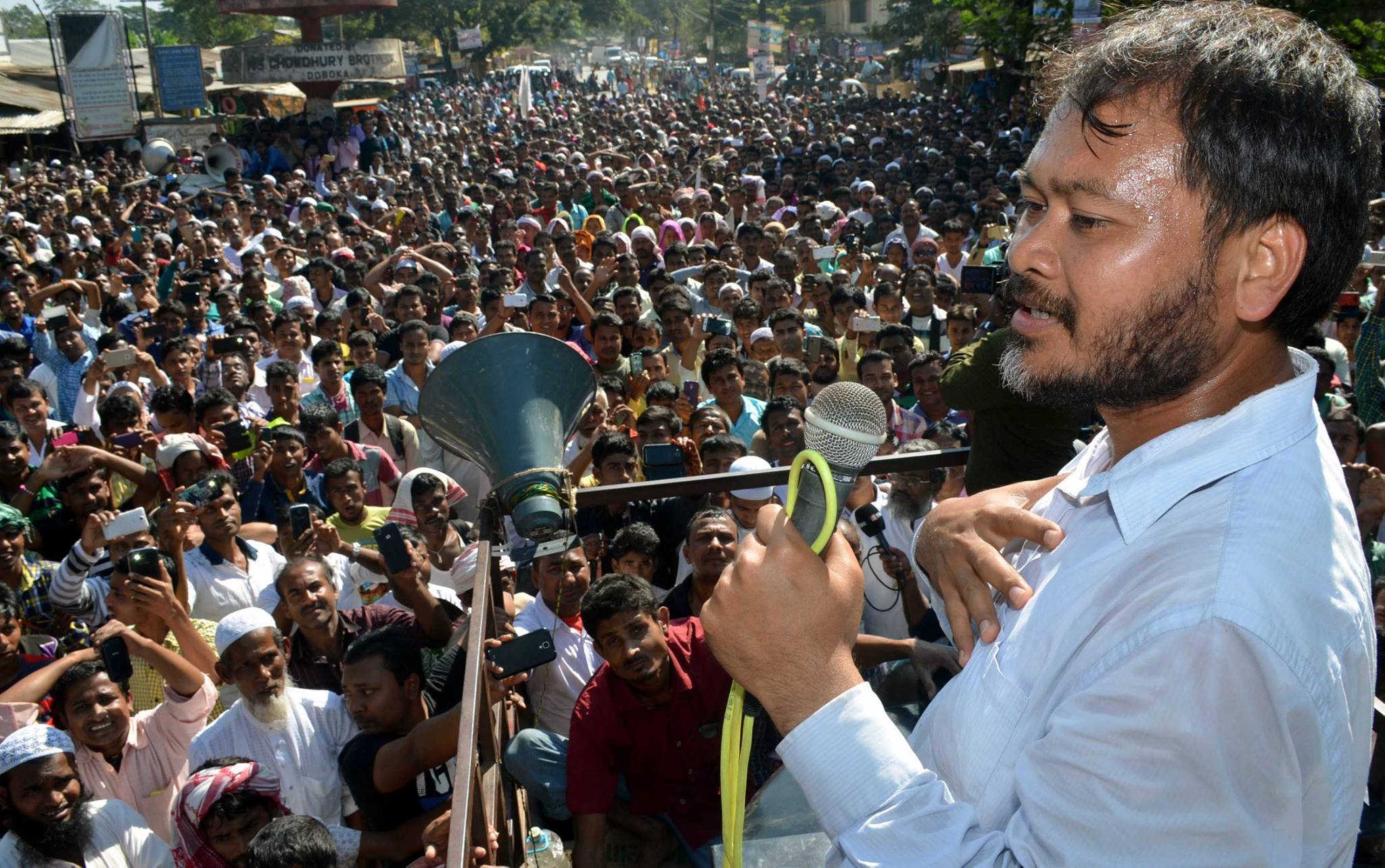 KMSS leaders have stood by their position that Akhil Gogoi's endless incarceration is a ploy by the BJP government to weaken the, largely KMSS led, people's movement against Modi government's controversial Citizenship (Amendment) Bill 2016 under which the government plan to grant citizenship to 'persecuted' Hindu+ religious minorities from neighbouring Bangladesh, Pakistan and Afghanistan. Bhasco De Saikia, the joint general secretary of KMSS, who was also recently detained by Guwahati police for campaigning against the Amendment Bill, is certain that, "Akhil's arrest and re-arrests even in a 10-year-old case proves how desperate the Sarbananda Sonowal government has become to muzzle our agitation against its move to amend the bill to grant citizenship to Hindu migrants from Bangladesh."
Akhil Gogoi wrote an open letter (written in Assamese) from Lakhimpur prison in which he asserted that :
"The BJP campaigns that the demography of Assam has changed because of migration, the number of Muslims have increased; and if the Hindu Bengalis from Bangladeshi who have and are migrating to Assam after 1971 are given Indian citizenship, the Hindus will again become the majority in Assam. Thus Assamese community will be saved from becoming the minority. This is BJP's way of collapsing our long held Assamese national aspirations (for self-determination) with the project of Hinduvta."
But the moot question that needs to be asked here is – Why is BJP government so afraid of Akhil Gogoi and KMSS?
Perhaps, one needs to ask this question to the de-facto Chief minister of Assam – Himanta Biswa Sarma – who was also the most powerful minister and a 'blue eyed boy' of Tarun Gogoi led Congress regime of 15 years.
Since the formation of KMSS in 2005, it has been a constant irritant for the Congress government – exposing corruption scams, leading movements against corporate land grab, evictions, construction of big dams bypassing environmental concerns in ecological fragile Northeast region; and also protesting for land settlement & forest rights of the working populace.
Off late since the new BJP government came to power in Assam, KMSS along with the Left-Democratic Forum of Assam has been in the forefront against privatization of (minor) oilfields, communally motivated eviction drives like that of Kaziranga in September 2016, Citizenship (Amendment) Bill 2016 etc.
Under the much hated previous Congress regime (without a worthwhile numerical opposition in the Legislative Assembly), KMSS and its leader Akhil Gogoi acted as the real opposition on the streets of 'power'.
The current BJP government in Assam is also without a worthwhile numerical opposition in the Legislative Assembly. So, is Akhil Gogoi and KMSS still the real opposition?
Himanta Biswa Sarma knows that it is the case, Akhil Gogoi and KMSS is still a worthwhile opposition.
Manjit Mahanta – veteran journalist, public intellectual and leader of Asom Sangrami Mancha- put it succinctly, "the government is well acquainted with the mass support that Akhil has and his protesting nature. So the government is afraid and hence it has left no stone unturned to stop Akhil. As a result, Akhil was repeatedly arrested and imprisoned."
Akhil Gogoi and KMSS is no longer in the good books of Assamese urban middle class; they (middle classes) shunned him and the movement he led way back. They found his politics to be way too disruptive for their class positions and their ways of (newly acquired) mall culture with parking space crunches.
If, we sitting in various parts of the world, don't raise our voices against Akhil Gogoi's incarceration, we are tacitly hammering the nails of our own incarcerations.
The point is not about whether one agrees or supports Akhil Gogoi or KMSS. The point, let me reiterate, is about our tacit approval of FASCISM being rolled in!
This Article was first published on raiot.in