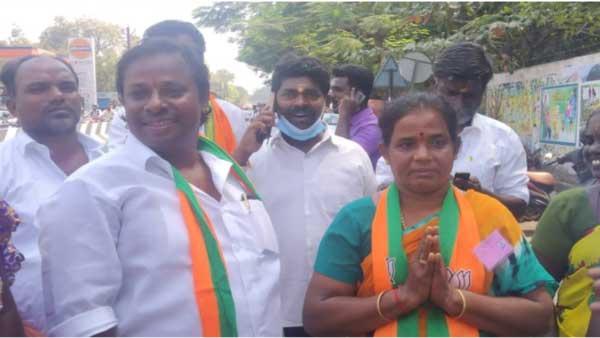 While Tamil Nadu Chief Minister MK Stalin-led Dravida Munnetra Kazhagam (DMK), with its thumping win in the state's Urban Civic Polls on Monday, proved that anti-incumbency was not a factor in these elections. The performances of the other parties in the urban local body elections, have also revealed some changes in the voting patterns.
Elections were held for 21 corporations (1,374 wards), 138 municipalities (3,843 wards) and 490 town panchayats (7,621 wards) in the state on Saturday, February 19. These were mostly won by the DMK, for example it won 153 of the total 200 wards in Chennai, the AIADMK won 15 wards, Congress in 13, BJP in one, CPI in one, and CPI(M) in four, stated news reports. The CPI(M) took to social media to congratulate the Secular Progressive Alliance comprising the DMK, INC, CPI(M), CPI, VCK and others. The CPI(M) candidates clocked a good score of 165 Wards that included 23 Corporation Wards, 41 Municipality Wards, 101 Town Panchayat Wards, and the CPI won 57 wards. All showing that secular votes won and people voted for governance and performance.
Left Emerges Victorious in Many Wards in Tamilnadu Urban Local Body Elections. CPI(M) Congratulates Comrades for Their Victory.

CPI(M) Wins 165 Wards
(23 Corporation Wards, 41 Municipality Wards, 101 Town Panchayat Wards)

CPI Wins 57 wards pic.twitter.com/KJOAFRYdlC

— CPI (M) (@cpimspeak) February 22, 2022
However, what has also made news is the Bharatiya Janata Party's sole winner in Chennai Corporation. A known Nathuram Godse supporter Uma Anandan, won from Ward 134, West Mambalam, in the urban local body polls, has spoken in support of Godse and the caste system. The BJP won just this one seat out of 200 wards in the Greater Chennai Corporation. Uma Anandan won because of anti-incumbency, her party colleagues told the media. According to news reports, the TN BJP President K Annamalai led state BJP had fielded 5,480 candidates in nearly 43% of the 12,838 seats in 649 urban local bodies (ULBs), in the state. Uma Anandan, is one of their most discussed winners now.
According to The News Minute, she has courted controversy during her campaign praising Nathruam Godse and speaking against Muslims and Christians. In a video clip that did the rounds on social media, when an interviewer asked her, "Are you saying that the majority of those who pick up knives and guns are Christians and Muslims?" she replied, "Yes." On Godse assassinating Gandhi, she asked "But why did he shoot him?… He had his own justification…I have no regrets, I am a supporter of Godse." These clips played out once more when the results came in that Uma Anandan, had won. Others pointed her defending the caste-system, standing for Brahmin supremacy, and using derogatory language against Dalit leaders like VCK chief Thol Thrirumavalavan and anti-caste activists like Periyar, stated news reports.
"I am a proud supporter of Godse, a Hindu, who killed #Gandhi quite late. Had the killer been someone else, #Gandhi could have been killed even earlier" – Lone BJP councillor Uma Anandan who won the ward 134 of #Chennai Corporation in the #TamilNadu #UrbanLocalBodyElection2022. https://t.co/yt0xrTmEGa pic.twitter.com/Pf4i5Pob9D

— சிலம்பரசன் (@chilamb_arasan) February 22, 2022
According to the Hindu, the BJP's overall contested seat share in the urban local bodies polls rose by a marginal 0.7% in 2022 compared to 2011, with 200 out of 308 seat wins coming from Kanyakumari district. However, the party could not open its account in 10 districts. Still, it has decided to celebrate anyway, hailing itself as the "third largest" or coming at number three on the winners podium. The message has to be sent to party cadres that the January 31, decision by Annamalai that the party will contest these elections alone was correct. He had told the media that BJP was "a fast-growing party, and the local body polls are also given central importance. There are many in the party who wish to contest the polls. The decision to listen to our cadres is an important one for state BJP leaders. It is a justifiable demand that a specific number of our cadre can contest, that we want to try and strengthen the party. At the same time, a large party like the AIADMK has many problems. Because of this, we have made an extremely important decision. In the upcoming local body polls, BJP will contest the elections alone."
Fighting alone in 2011 as well, the party had a seat share of 2.2% in town panchayats, which rose to 3.01% in 2022 stated the Hindu, adding in municipalities, its seat share was 1% in 2011 and it has increased marginally to 1.45%. On the whole "the party's seat share of 1.76% in 2011, across corporations, municipalities and town panchayats, rose to 2.4% in 2022. In 2011, the party had won 226 of the 12,816 seats across these segments." K. Annamalai justified his claim that the BJP was now the "third largest party" after the DMK and the AIADMK. He said, it was based on the places where his party had won and the vote share, "Let the Congress contest alone and get back their deposit at least." Whatever his analysis is, these results may have ensured the survival of his own political future in the state.
.@BJP4TamilNadu today has won in areas where we haven't had a public representative before. We are officially the 3rd largest party after DMK & AIADMK in TN. Sincerely thank our brave & hardworking Karyakarta's for their ground work and all of our leaders for their inspiration.

— K.Annamalai (@annamalai_k) February 22, 2022
Related:
This is the recognition of the Dravidian model: MK Stalin on DMK win
Madras HC commends TN gov't for new Police rules, glossary for referring to LGBTQIA+ persons
The Communalisation Project: The Tamil Nadu story
Rejection of Narayan Guru is a rejection of Indian Pluralism and Dissent