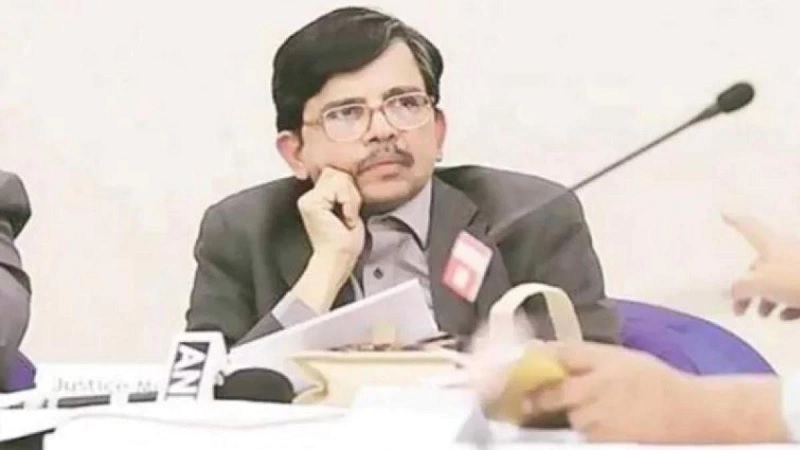 Image Courtesy: indiatoday.in
The decision of the Supreme Court Collegium to transfer Orissa High Court Chief Justice, S Muralidhar to the Madras High Court has been kept pending by the Centre bringing, the move under heavy criticism.
Former Supreme Court Judge Justice Madan Lokur, who has been very vocal about recent legal developments in the country, has today stated that the Centre is not entitled to selectively pick and choose from decisions made by the Collegium of the SC. That aside, if the last time the Centre sat on the Collegium's decision on Justice Akhil Kureishi[1] this time it is conspicuously excluding Justice Muralidhar. Why? Justice Muralidhar's tenure has been remarkable, marked both by compassionate jurisprudence and a desire to make efficient the access to justice and overall judicial accountability. Again, then as now, the Centre, flexing its muscles over the judiciary, refusing to yield to the Collegium's recommendation.
In June 2022, as Chief Justice of the Orissa High Court, Justice Muralidhar oversaw a unique experiment in judicial accountability. The Orissa High Court published a 312-page annual report evaluating its own performance, for the year 2021. This report addressed the crucial question of the digital divide over access to justice, managing the docket explosion (increasing number of cases), listing important judgments of each of its 18 judges to remembering staff who succumbed to the Covid-19 pandemic. Under the stewardship and vision of Chief Justice S Muralidhar who took office on January 4, 2021, the report is a pioneering document that showcases a practice that every court in the country needs to evaluate: it outlines the performance of the High Court and the district-level judiciary in the state.
"For any institution, introspection is necessary to overcome the drawbacks and to enhance efficiency," the report stated in a chapter titled 'Introspection and Challenges'. A detailed report on this initiative may be read here.
Apart from this report, his leadership in the Orissa High Court is recognised to have improved and launched e-services at Orissa High Court as its Chief Justice such as the launching of a mobile app, online payment system of court fees in the lower courts, live streaming of cases on trial basis, e-filing portal for cases, video conference cabins in district courts as well as e-sewa Kendras in Taluka courts.
Justice Muralidhar was appointed as judge of Delhi High Court in 2006 before which he was a practicing advocate at the Supreme Court.
February 2020, Delhi Riots Cases: Hate Speech
But it was his sudden transfer from Delhi High Court to Punjab and Haryana High Court in the midst of hearing of the case against BJP politicians Anurag Thakur, Parvesh Verma, Abhay Verma and Kapil Mishra over hate speeches which sparked the North East Delhi riots of February 2020 that had come under strong opposition from within the Delhi Bar itself. This was in 2020.
Midnight hearing during Delhi riots 2020
The intervening night between February 25 and 26, 2020 ambulances were prevented from entering minority neighbourhoods to help injured people in Mustafabad area of Delhi thus preventing people suffering from critical injuries, some of them bullet wounds, from getting urgent medical attention.
Around midnight, activist Rahul Roy moved Delhi High Court leading to a two-judge bench convening a special hearing late at night at the home of Justice S Muralidhar. He and Justice AJ Bhambhani heard the phone testimony of Dr Anwar of Al Hind Hospital who informed the court that 2 people were dead and 22 injured were at the hospital. The court then directed Deepak Gupta, DCP East Delhi to reach the hospital and ensure safe passage for the injured so that they may be transferred to GTB Hospital, LNJP Hospital, Maulana Azad Hospital or any other hospital where they can get the care they deserve.
Pulling up Delhi Police during 2020 riots
While the bench headed by Chief Justice D N Patel was on leave, plea seeking judicial enquiry and registration of FIR against three BJP leaders Anurag Thakur, Parvesh Sahib Singh, and Kapil Mishra and others for making provocative statements leading to multiple riots was mentioned for urgent hearing before the bench headed by Justice Muralidhar.
Stating that "police do not have to wait for a court's order" and "it should take action on its own", the Delhi High Court sought the police's stand by 12:30 pm. The bench then asked solicitor-general Tushar Mehta to advice the police commissioner on lodging of FIRs against the perpetrators. The court also asked Mehta and deputy commissioner of police (crime branch) if they have seen the video clip of BJP leader Kapil Mishra making alleged hate speech after which the video was even played in the court room.
The bench had also asked SG Mehta and Deputy Commissioner of Police (crime branch) if they had seen the videos and when the bench was informed that they didn't come across the video of Mishra's speech, Justice Muralidhar had said, "There are so many TVs in your office, how can a police officer say that he hasn't watched the videos? I'm really appalled by the state of affairs of Delhi Police", reported LiveLaw.
Justice S Muralidhar had questioned the police as to why there had been no FIRs lodged against leaders of the ruling party for their inflammatory speeches. He had said, "You showed alacrity in lodging FIRs for arson, why aren't you showing the same for registering FIR for these speeches?" He had asked Delhi Police to take a "conscious decision" to register an FIR in 24 hours and expressed "anguish" that the city is burning and questioned the Delhi Police on the delay and its lack of acknowledgment of the speeches themselves as crimes.
After this hearing, Justice Muralidhar was hurriedly transferred to Punjab and Haryana High Court.
Here's a look at several other such important decisions and orders of Justice Muralidhar which are revelatory and could have a bearing on the recent conduct of the Central government that has come in for strong criticism.
Gautam Navlakha transit remand
In 2018 when Pune Police obtained Navlakha's transit remand from Chief Metropolitan magistrate Court in Delhi, a bench comprising Justice Muralidhar pulled up the court for the same stating that there was "non application of mind" and that the court did not even bother to understand the offence against him; since the document of grounds of arrest produced before the court was in Marathi language.
Sajjan Kumar conviction-1984 riots case
In 2018, the bench of Justices S Muralidhar and Vinod Goel of Delhi High Court convicted Congress leader and former MP Sajjan Kumar for playing a role in the murder of five family members residing in Raj Nagar in Delhi and sentenced him to life imprisonment overturning his acquittal by a lower court.
Hashimpura targeted killings of 1987
In November 2018, Justices Muralidhar and Goel convicted 16 PAC personnel holding it a case of targeted custodial killing, 31 years after they shot down in cold blood more than 40 males of the Muslim minority. On May 21, 2015 a trial court had, while not disputing that the killings had taken place, had acquitted the accused for lack of evidence. The court had held that "the compensation paid and conviction after 31 years is still a miscarriage of justice for the victims. There is clear evidence of prior meeting of minds."
Decriminalizing homosexuality
In 2009 in the Naz Foundation case, Justice Muralidhar was junior member of the bench headed by then Chief Justice AP Shah, which legalised homosexual acts among consenting adults. "We declare section 377 of Indian Penal Code in so far as it criminalises consensual sexual acts of adults in private is violative of Articles 21, 14, and 15 of the Constitution," the bench had declared.
Kathua rape convict parole denied
IN November 2020, the division bench of Justice S. Muralidhar and Justice Avneesh Jhingan of Punjab and Haryana High Court rejected parole to Sanji Ram, convicted in the Kathua rape and murder case stating, "Given the genuine apprehension expressed as regards the possible law and order consequences if the petitioner's prayer for parole is granted, the Court is not inclined to accept such prayer at this stage."
Sanji Ram had prayed for parole for a period of 8 weeks in order to attend his son's marriage.
Compensation for negligent custodial death
IN February 2021, Orissa High Court bench headed by Chief Justice S Muralidhar and comprising Justice Biswajit Mohanty directed the state government to pay compensation of Rs. 5 lakhs to the parents of a man who died while in police custody, 15 years ago while holding that the police failed to immediately rush the deceased for medical treatment and that amounted to criminal negligence under constitutional tort.
Direction for prison visits
In March 2021, Bench of Chief Justice S. Muralidhar and Justice B. P. Routray while hearing two petitions highlighting the various issues concerning the jails, noted the absence of jail visits by the District Magistrates and the medical teams and directed District Magistrates of various districts to make surprise visits to jails within their jurisdiction. The bench also submitted a joint report to the court "on the conditions of the jails, condition of the prisoners, issues of overcrowding, the status of facilities within the jails including provisions for food and shelter, recreation etc." The Bench emphasised that these visits should be "unannounced."
Compensation to manual scavengers' family
In April 2021, in a suo moto case, Bench comprising Chief Justice Dr. S Muralidhar and Justice BP Routray took cognizance of deaths of two young men in Cuttack where they entered the sewer line, which was over 15 feet deep and died due to asphyxiation. The court then directed Rs. 10 lakh compensation to manual scavengers' family and asked the state to file an affidavit before the next date of hearing, listing out the steps it has taken thus far to implement, in letter and spirit, the various provisions of the Prohibition of Employment as Manual Scavengers and their Rehabilitation Act, 2013.
As a follow through, the bench, in June 2021 sought proof of payment of compensation to those families as well.
COVID vaccine for prisoners
Justice Muralidhar ensured, as Chief Justice of Orissa High Court, that no prisoner in the state is denied COVID vaccination for not registering on COWIN portal and directed the State to make alternate arrangements to ensure that prisoners are vaccinated. This direction came after the bench was informed that with respect to vaccination in jails, many prison inmates may not have identity documents for registration on the COWIN portal.e
Disappearance of JNU student Najeeb
Najeeb (27), a student of M.Sc Biotechnology, had gone missing from the Mahi-Mandvi Hostel of the Jawaharlal Nehru University (JNU) on October 15, 2016, following an alleged scuffle with students associated with the Akhil Bharatiya Vidyarthi Parishad (ABVP). The case was transferred to the CBI in 2017 and there were some demonstration outside the CBI headquarters alleging that the agency was not doing enough to trace Najeeb. When the CBI raised this issue before the bench comprising Justices S Muralidhar and IS Mehta, the bench said this was a "democratic expression of the anxiety of the people" since the case had dragged on for so long. The bench had also pulled up the CBI for its "complete lack of interest" and not showing any result in its probe into the disappearance of Najeeb, five months after being handed over the investigation.
Justice Muralidhar's hasty transfer from Delhi High Court in 2020 saw many members of the Bar celebrating his tenure. Additional Solicitor General Maninder Acharya had said, "I have seen common people blessing you while leaving your court". While this decision to transfer him (clearly showing the influence of the executive) did not go down well with the Delhi Bar and was condemned quite vocally, he nevertheless received an overwhelming farewell from members of the Bar who called him a beacon of hope.
In his public addresses as well, Justice Muralidhar has spoken for the marginalised. Speaking at the Ambedkar Jayanti lecture organised by Community for the Eradication of Discrimination in Education and Employment and telecast on LiveLaw on April 14, he said laws are structured to discriminate against the poor and that the system works unequally for the poor and the rich. Structured discrimination has ensured 21 % of undertrial population is SC, 17.4 % Muslim and 34.3 % are OBCs, he had pointed out.
Related:
Structured discrimination has ensured 21 % of undertrial population is SC, 17.4 % Muslim and 34.3 % are OBCs; Justice Muralidhar
Centre must not segregate collegium resolutions, Supreme Court should be firm against the executive for sitting over proposals: Justice MB Lokur
Delhi violence calculated attempt to disrupt normal life: HC