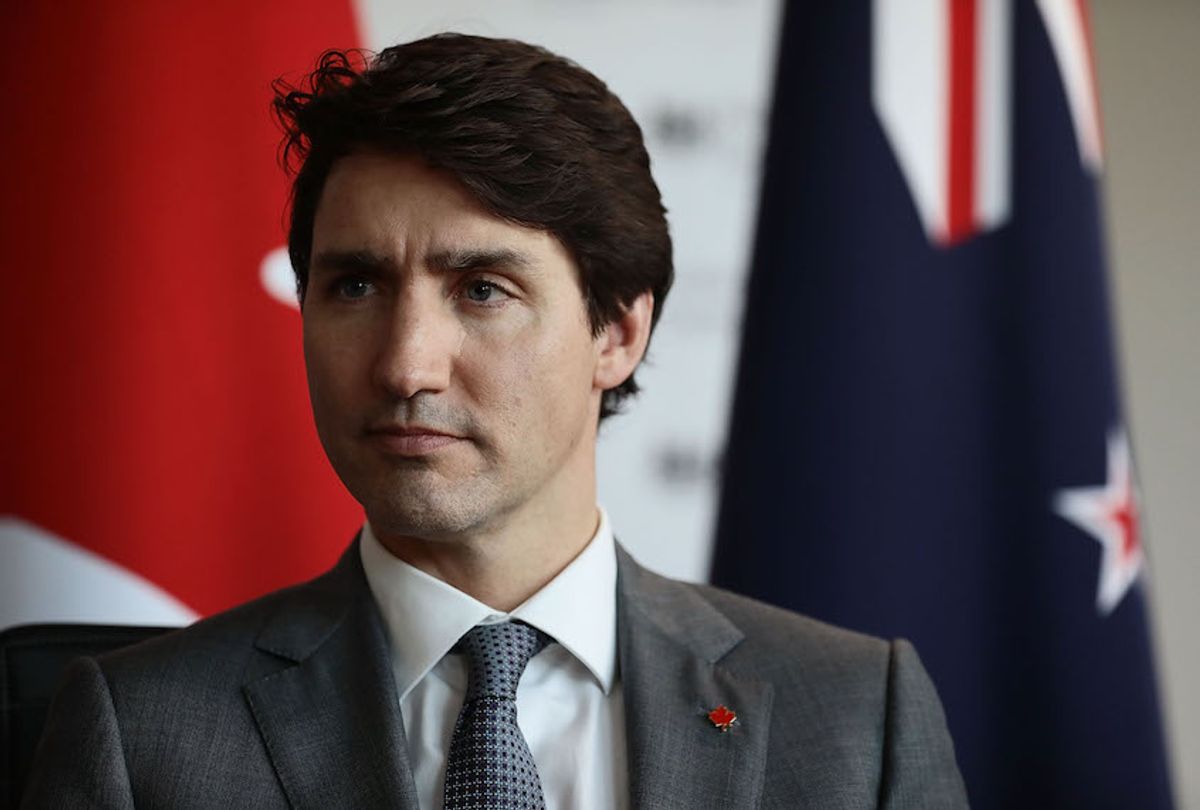 The right-wing ecosystem that includes writers, social media influencers, actors and even sportspersons seem to be all out to embarrass the Indian government by trolling Canada's prime minister Justin Trudeau. They have been trending 'karma' in an attempt to mock and Canadian PM for moving to a secure location or as the right- wing wants to project it, 'hiding' as a truckers protest gathers steam in Canada. The truckers are against the new vaccine mandate issued by the government.
Justin Trudeau however, has issued a strong statement saying, "Canada is not intimidated by 'disgusting' truckers' protest" and that "Canada has no place for such behaviour". On Monday as he addressed the media from a secure location where he is at the moment as the "Freedom Convoy" protest rages on. He had earlier stated that he had tested positive for Covid-19. "I know this pandemic is frustrating. It's frustrating that, after two years, we're not done fighting Covid-19. But over the past few days, Canadians have been shocked – and, frankly, disgusted – by the behaviour displayed by some people protesting in our nation's capital," Trudeau tweeted his statement.
I want to be very clear: We're not intimidated by those who hurl abuse at small business workers and steal food from the homeless. We won't give in to those who fly racist flags. And we won't cave to those who engage in vandalism, or dishonour the memory of our veterans.

— Justin Trudeau (@JustinTrudeau) January 31, 2022
For nearly two years, Canadians have shown strength, generosity, and respect. That is the story of this pandemic. https://t.co/v8dUAXPSgA pic.twitter.com/US2nN9PA4I

— Justin Trudeau (@JustinTrudeau) February 1, 2022
"To those responsible: It needs to stop. And to those who joined the convoy but are uncomfortable with the symbols of hatred and division on display: Be courageous and speak out. Do not stand for, or with, intolerance and hate," he stated. Trudeau and his family have shifted to a secret location soon after the truckers' protest in Ottawa against the vaccine mandate, gathered speed. According to news reports, truckers, and other vehicles have jammed up central Ottawa since Friday. This is now leading to the supply of essentials to Ottawa being challenged. This protest has reportedly also received "heavy funds and a GoFundMe campaign has raised over a whopping C$7m ($5.4m; £4m) from over 99,000 donors," as per media reports.
Back home in India, those who lauded the Indian government's Covid-19 vaccination programme and hailed Prime Minister Narendra Modi, for it, have now attacked Trudeau online. The same people had attacked him in 2020, when during farmers' protests in India, Canada's PM Justin Trudeau had commented, "The situation is concerning. We are all very worried about family and friends. We know that's a reality for many of you. Let me remind you, Canada will always be there to defend the rights of peaceful protesters. We believe in the process of dialogue. We've reached out through multiple means to the Indian authorities to highlight our concerns. This is a moment for all of us to pull together."
The Ministry of External Affairs (MEA) had then summoned the Canadian high commissioner and said, "Such actions, if continued, would have a seriously damaging impact on ties between India and Canada."
Now those who had vilified the farmers protest of 2020-2021 like actor Kangana Ranaut, are mocking Trudeau saying, "Canadian PM Trudeau was encouraging Indian protesters, now in the midst of protests in his country he is hiding at a secret location as protesters threaten his security. Hmm.. law of Karma strikes again." While she is a regular at such trolling and is seen as some sort of 'entertainment' at most trolling by sports stars such as former Indian cricketer Venkatesh Prasad may have come as a surprise to many.
Welcome to Karma Cafe. There are no menus here. You get served what you deserve. How much ever powerful you are you will get dished #JustinTrudeau https://t.co/miwBLHkd7N

— Venkatesh Prasad (@venkateshprasad) January 31, 2022
Politician lawyer, Congress MP Abhishek Manu Singhvi, also shared his opinion on Trudeau.
Hope #JustinTrudeau's anti-India friends would come up to his rescue. Before poking nose into internal matters of a sovereign nation and a much bigger democracy, never forget that Karma could hit back hard!https://t.co/MbaBzIOK1U

— Abhishek Singhvi (@DrAMSinghvi) January 30, 2022
What is the 'Freedom Convoy' protesting?
The convoy of big rigs / trucks is protesting Covid-19 vaccine mandates and measures. They call themselves 'the Freedom Convoy,' and the protest began after vaccine rules for truckers crossing the US-Canada border were implemented by Prime Minister Justin Trudeau's Liberal government. According to a report in BBC and others the truckers are protesting the rule that requires "unvaccinated Canadian truckers crossing the two nations' boundary to quarantine once they've returned home." Protestors are seeing this as "political overreach" by the Trudeau led government.
Related:
Islamophobia: Lessons from Canada on how to respond heinous hate crime
Hinduphobia is a construct to silence the critics of Hindutva Right in India