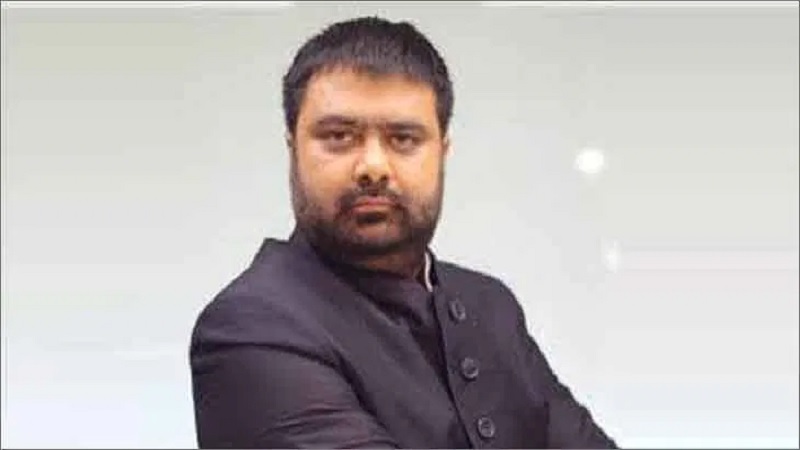 Image Courtesy:exchange4media.com
In a shocking display of communal hate, a Delhi University professor of Political science has called for a "ban" on the Quran. But what was more shocking is that this deeply communal demand was made live on television, with the anchor Deepak Chaurasia making no attempt to restrain the speaker from spewing venom against Muslims!
The Professor named Sangit Kumar Raagi also termed most of the Muslim community, and others including Dalits as "traitors" who he said will call for another "Partion of the country" in the future. Raagi was a guest panelist called to defend the Rashtriya Swayamsevak Sangh (RSS), and represent Hindutva by television news anchor Deepak Chaurasia on his prime time show Desh ki Bahas or the nation's debate/argument, aired on September 14.
Chaurasia, though nowhere near the viewership ratings of Arnab Goswami, it appears has been working hard to close the gap somehow. Perhaps he is trying to become yet another Suresh Chavhanke, someone who gives a platform to hate speech, given how he has been focussing on mainly anti-Muslim debates on his prime time show, with some breaks taken to discuss Bollywood.
The topics always range from blaming the Muslim cummunity for all ills, including for Delhi riots, targeting individual activists such as Dr Umar Khalid, Harsh Mander, etc. Chaurasia makes his TV appearance as consulting editor News Nation TV Channel, and anchors 'debates' which he fuels into shouting matches between Right Wing heavyweights like Sambit Patra, propped by four or five others, and on the other side a couple of lesser known member of the Muslim community, who barely get in a word.
While it is predictable how each 'debate' moves, often dangerous hates peech is also allowed to be aired by anchors like Deepak Chaurasia, who shout down any counter to right wing allegations, and instigate communal response to any comments made by a dissenter, especially if they happen to be Muslim.
The latest example of this was seen in the show that aired on September 14, Chaurasia brought in Delhi University Political science professor Sangit Kumar Raagi, as the voice of the RSS, to respond to a comment by advocate Ehtesham Hashmi who had asked if anyone could honestly say that BJP politicians like Kapil Mishra, and members of the RSS were "not involved" in the Delhi Riots. While Chaurasia appeared to channel his inner Arnab and shouted over Hashmi's words so the latter could not be heard, he eventually ran out of steam and handed the floor over to Patra.
Soon enough the baton to defend RSS was passed on to Raagi, who then held forth stating that the Delhi riots were a "pre-planned conspiracy" where according to him "Pakistan element" was also involved, as was "China, PFI, radicals, leftists 'urban naxals, some dalits and some indian Muslim traitors". He said the anti-CAA revolution was an "Islamist" and warned that Hindu community must unite against Muslims.
Else, according to Raagi "these traitors" will go on and call for another "Partition of the country". Raagi has called for a "ban on the Quran". He called Quran, the "school of terrorism". He said the verses of the Muslim Holy Book call for the "killing of kafirs". His hate speech continued for minutes as Chaurasia listened intently, and it appeared that the microphones of the Muslim particiapns had been muted, as they were seen shaking their heads, but not heard at all. Left leader Vivek Shrivastava was unmuted after a while and could be heard reminding Raagi that India was run by the Constitution. Chaurasia stayed quiet and did not stop the hate speech even when asked. Raagi went on to spew venom and targeted hate speech against Madrasas, and even Shaheen Bagh. When Shrivastava insisted that the hate speech on a TV news channel be stopped, Chaurasia appeared to be forced awake from his stupor and gave Raagi even more time to 'conclude'. "This is Sangit Raagi ji's personal opinion, not mine," he said, in an attempt to extricate himself from the dangerous communal hate speech that he had just allowed to air un-interrupted on prime time.
The show may be viewed here. Trigger warning: Communal hate speech targeting a minority community
Chaurasia's own explanation on the youtube channels explains what he and his channel endorse: "On the lines of Shaheen Bagh, why the crowd of protesters was gathered in Delhi, its layers have been opened. Those faces are being exposed, who prepared the entire script to burn Delhi. Umar Khalid, arrested, has been sent by the court to the police custody of 10 days… since the arrest of Khalid, the so-called secular camp has started playing the Victim Card. In such a situation, the question is whether violence was instigated in Delhi under a planned conspiracy?" News Nation claims to be "amongst top Hindi News channels as per the current rating system".
Chaurasia has also followed Suresh Chavhanke's call for a "population control" law, which the RW feels is needed to stop what they claim is a rise in Muslims having more than two children. "When the debate starts in the society People started playing VictimCard from now on. #WeWantPopulationControlLaw" he recently tweeted.
ख़ुदा बच्चे पैदा कराता है और वही उनको खिलाता है,आप और हम कौन है भाई।जनसंख्या नियंत्रण क़ानून ना बनाने के तर्क में मौलाना साजिद ने यही बात कही थी।SC में इसपर याचिका दाखिल हो गई है लेकिन समाज में सिर्फ़ बहस शुरू होते ही लोग अभी से विक्टिमकार्ड खेलने लगे.#WeWantPopulationControlLaw

— Deepak Chaurasia (@DChaurasia2312) September 21, 2020
Related:
SC cuts short Sudarshan News's diatribe on 'UPSC Jihad'
NBSA forwards CJP's complaint against Sudarshan News to I&B Ministry
Hate Watch: The real news behind Suresh Chavhanke's fake news factory
'UPSC Jihad' is prime example of virulent Islamophobia: Petitioner in Sudarshan News
Policing in the times of corona has many tones, depending on who you are