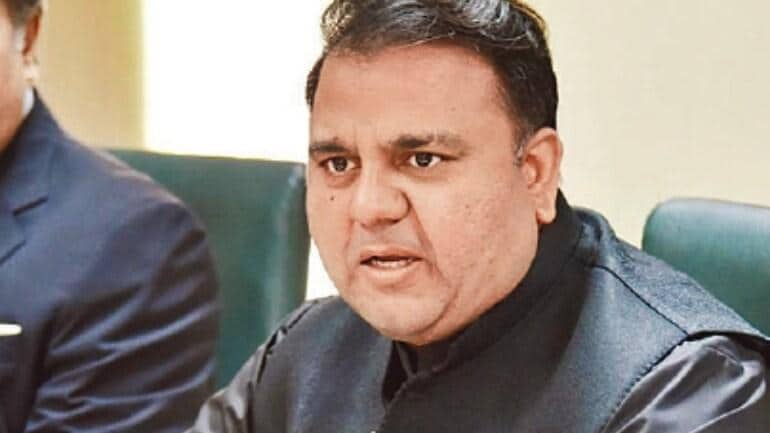 Federal Minister for Science and Technology, Fawad Ahmed Chaudhry a.k.a Chaudhry Fawad Hussain, has confused bhakts and war mongers on both sides of the border. Just 24 hours ago his bravado filled statement in the Pakistan National Assembly had launched a massive outcry, on both sides of the border. He was clearly heard and seen in the video clip boasting that Pakistan attacked Indian soldiers, deep in Indian territory in Pulwama in February 2019.
'Ghar me ghuskar' he said emphasizing on the intrusion deep into indian soil. "Humne Hindustan ko ghar mein ghus ke maara (We hit India in their home). Our success in Pulwama, is a success of the people under the leadership of Imran Khan. You and we are all part of that success," Fawad Chaudhury had said in the national assembly.
Fawad Ahmed Chaudhry, in his moment of bluster did not even raise an original slogan. Instead he borrowed the 'ghar me ghuskar' line from Indian Prime Minister Narendra Modi who had in March 2019 slammed those who called the Indian Airforce strikes on terror camps in Pakistan as an electoral gimmick. "Humara siddhant hai, hum ghar me ghus ke marenge (It is our principle… we enter their hearth and attack)' he had said. The PM's followers had echoed those words for months after that.
Unlike PM Modi whose followers are steady in their devotion, Fawad Ahmed Chaudhry, faced attack from his fellow parliamentarians, and must have faced major heat from his own boss. He has had to eat his words, and retreat after being attacked for his statement which has put Pakistan's position on terror under the scanner. The minister quickly changed his statement, appeared on Indian news channels and claimed that his remarks were misconstrued.
He told NDTV that "Pakistan doesn't allow any terrorism, I was misinterpreted." He told NDTV that his statement was about "Operation Swift Resort that we undertook after India dared to enter Pakistan territory on Balakot. I was talking about the post-Pulwama operation that Pakistan undertook."
However, that has had little effect on the Indian side of the border as he is still believed to have suggested that Pakistan was responsible for the 2019 terrorist attack in Pulwama, Jammu and Kashmir where 40 Indian paramilitary personnel were killed. Even then he has been making all attempts to take a smooth u-turn on the issue. Most actively reaching out to Indian audiences with social media posts such as these:
Meri jaan hear full speech so you will know unlike #Endian definition of #GhussKMarna by using terrorism n Kalbhoshans our #GhussKMarna is when our planes target combat installations,unlike Your security doctrine we do not show Bravery by killing innocents n we condemn terrorism https://t.co/bcAcJUP5DD

— Ch Fawad Hussain (@fawadchaudhry) October 29, 2020
You are quoting @fawadchaudhry out of context

He was mentioning the events after Pulwama Attack.
The misadventure of Hindustan and the way Pakistan gave you the bloody nose, which is still hurting! ??

Watch the full clip. #NeverForget https://t.co/fErAXBrmnf pic.twitter.com/nggYiBNm6U

— Fawad Chaudhry (Updates) (@FawadPTIUpdates) October 29, 2020
The February 14, 2019, deadly attack on a Central Reserve Police Force (CRPF) convoy in Pulwama had set off a massive chain reaction, India retaliated with air strikes on a terrorist camp in Pakistan's Balakot. Pakistan then sent fighter jets to target Indian military installations, this was thwarted by the Indian Air Force. However, Indian Wing Commander Abhinandan Varthaman was captured by Pakistani forces after his plane went down across the Line of Control. His release two days later had earned much praise for the country and all credit was given to Pakistan Prime Minister Imaran Khan's diplomatic approach to the sensitive situation.
Over a year later, the issue was dusted and displayed as Pakistan minister Fawad Chaudhury's extempore statement after opposition leader Ayaz Sadiq's dramatic 'disclosure' that Pak Foreign Minister Shah Mahmood Qureshi and army chief General Qamar Javed Bajwa met after the aerial encounter and the decision to release Wing Commander Varthaman, was taken fearing that 'India would attack Pakistan that night by 9 PM'. Multiple news reports quoted Ayaz Sadiq's saying: "I remember Shah Mahmood Qureshi was in the meeting in which (Prime Minister) Imran Khan had refused to attend and Chief of Army Staff General Bajwa came into the room, his legs were shaking and he was perspiring. Foreign Minister said for God's sake let Abhinandan go, India's about to attack Pakistan at 9 PM."
In August 2019, the National Investigation Agency (NIA) had filed a chargesheet in the case reported by The Scroll, it named 19 people, including Jaish-e-Mohammad chief Masood Azhar and his brother Rauf Asghar. According to the report, NIA's investigation also revealed that Pakistan used Adil Ahmad Dar, the suicide bomber who rammed the CRPF convoy on February 14, because it wanted to project the attack as a result of a home-grown militancy against "India's occupation of Kashmir".
Meanwhile the Indian side took Pakistan's internal war of words as a golden opportunity to attack the Opposition. Bharatiya Janata Party President JP Nadda on Thursday criticised Rahul Gandhi for mocking the Indian Army and the Narendra Modi government, reported The scroll. He he hoped the "Congress princeling found some light" after hearing Pakistan Muslim League-Nawaz leader Ayaz Sadiq's statements about India.
Veteran activist and CPI (M) politburo member Brinda Karat had written a powerful opinion in Feb 2019, exposing the Centre's Double Standards in the aftermath of the horrific terrorist attack. She had stated that a unanimous resolution of the all-party meeting reflected the resolve of people across India to rebuff terrorist violence, and, as the resolution stated, "the support being given to it from across the border." She lashed out at the way the then BJP's president Amit Shah speech in Assam, saying "The sacrifices of our jawans will not go in vain since it is not a Congress government at the Centre but that of the BJP," and saying it was "to make electoral gains from the killing of jawans" and that it gave "India's opponents a handle to promote the theory that all this is part of the electoral strategy of the BJP." Reports of Kashmiris being targeted had emerged from different parts of the country.
The war of words continues to fuel heated debates in 2020, as elections are now underway in Bihar, and in some other constituencies. And trolls have been busy for hours now attacking senior journalist Rajdeep Sardesai who conducted an interview with Fawad Chowdry yesterday where he backtracked on his own statement. The least Pak Fawad Ahmed Chaudhry could do was use an original slogan.


Related:
Going against EC advisory, PM Modi asks people to dedicate their votes to Balakot soldiers
Anantnag's BJP candidate says Kashmiri students 'deserved' to be attacked after Pulwama attacks
Pulwama Aftermath: The Love for Sikh Community
Pulwama Response: Choose Peace over Political Posturing and Propaganda
Opinion: Centre's Double Standards Exposed In Aftermath Of Pulwama Terror