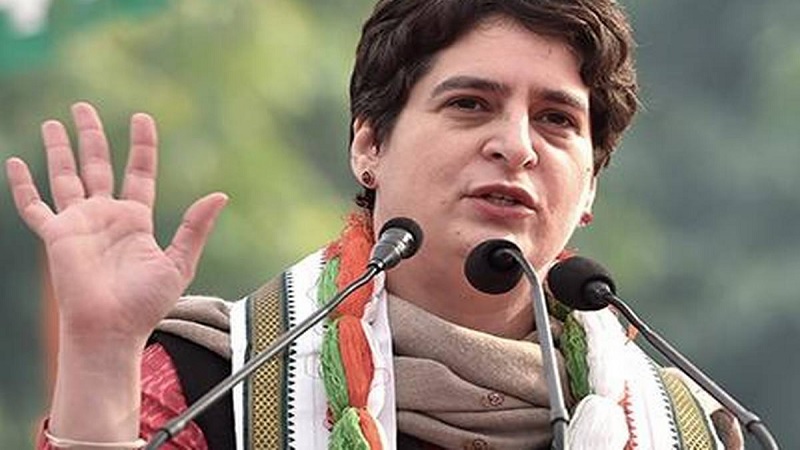 Image Courtesy:thehindu.com
It is the sad truth that most of the Indian mainstream media is either too wary, or too loyal to ask tough or even slightly difficult questions from the political powers that be. However, the irony is that they do ask most of those questions and demand answers from the political party that is out of power at the Centre. And it gets even better, even tougher questions are now being asked of members of that political party who do not hold any position in any elected body. However this one is not about questions.
This one is about answers. Recently, as a spate of crimes, including rapes and murders, have been reported from Uttar Pradesh, Congress leader Priyanka Gandhi, who is in charge of parts of Uttar Pradesh for her party, had expressed concern over the situation.
She had shared a graphic that she called a 'crime meter' to illustrate the massive number of crimes reported in the state over just two days. She listed crimes reported on Sunday, August 23, and Monday, August 24 in a tweet early on August 25. Most crimes listed were heinous, including murder, rape, kidnapping etc. The tweet went viral.
यूपी के सीएम सरकार की स्पीड बताते हैं और अपराध का मीटर उससे दोगुनी स्पीड से भागने लगता है।

प्रत्यक्षम् किम् प्रमाणम्

ये यूपी में केवल दो दिनों का अपराध का मीटर है। यूपी सरकार बार-बार अपराध की घटनाओं पर पर्दा डालती है मगर अपराध चिंघाड़ते हुए प्रदेश की सड़कों पर तांडव कर रहा है। pic.twitter.com/vaN3J5wG2T

— Priyanka Gandhi Vadra (@priyankagandhi) August 25, 2020
Soon replies started pouring in, as expected from both supporters, and critics, and plenty of right-wing trolls doing their daily job as always… replies in the form of posts on Twitter, in response to Gandhi's 'allegations' that the crime rate in Uttar Pradesh was rising fast. This was expected. However what happened next was surprising. Gandhi must have touched a raw nerve somewhere, because in a couple of hours official replies from various Uttar Pradesh police stations' Twitter accounts started responding, in quick succession.
She had accused that the state government was 'covering up' the incidents of crime, but crime itself was dancing the 'tandava' on UP's streets. Implying that things were getting out of hands.
It was interesting to see how the several UP Police Twitter accounts started sharing details of what stage the investigations were at, in each case of crime registered across the state. Detailed replies at that.
But what made them react in such a coordinated manner, that too to a politician who does not represent any constituency in Uttar Pradesh, at any level of state or central governments? Yet, 14 police stations responded, with official details and procedural status of investigation, of crimes under investigation. Thus, recognising and validating Gandhi's point that all those crimes had taken place in the state in just two days, and that the crime situation was indeed worrisome.
However, according to the right-wing blog Opindia, it was Uttar Pradesh Police's way to ask Priyanka Gandhi to perhaps rethink her allegations and instead "dwell upon the cause and action" in the context of crimes that occurred in the state over two days. The UP police's official reply to Gandhi stated, "With reference to the events mentioned on Sunday and Monday in Uttar Pradesh #UPPolice It is also important to know the cause of action and incident. It is also important to note that Uttar Pradesh is the largest state in the country from the point of view of population and a population of about 24 crore lives here."
उत्तर प्रदेश में रविवार एवं सोमवार को उल्लिखित घटनाओं के संदर्भ में #UPPolice की कार्यवाही एवं घटना के कारणों को भी जानना जरूरी है।
यह भी ध्यान रखना आवश्यक है कि उत्तर प्रदेश जनसंख्या के दृष्टिकोण से देश का सबसे बड़ा राज्य है एवं यहां लगभग 24 करोड़ की आबादी निवास करती है।@UPGovt https://t.co/q3mDZ9BGk0 pic.twitter.com/QEf2edaSeO

— UP POLICE (@Uppolice) August 25, 2020
Of course, detailed case by case replies came from Varanasi Police, stating that the complaint had been registered and legal proceedings will be done etc.
उक्त प्रकरण के सम्बन्ध में जनपद मिर्जापुर थाना चुनार में अभियोग पंजीकृत है अग्रिम विधिक कार्यवाही थाना चुनार जनपद मिर्जापुर द्वारा की जा रही है। @Uppolice @adgzonevaranasi @IgRangeVaranasi

— Varanasi Police (@varanasipolice) August 25, 2020
Similar replies followed, in random order perhaps, from official Twitter handles of Bareilly Police, Ballia Police, Barabanki Police, Bijnor Police, Fatehpur Police, Muzaffarnagar Police, Prayagraj Police, Baghpat Police, Unnao Police, Ghaziabad Police, Jaunpur Police, Mirzapur Police, Kaushambi Police, Khushinagar police. Most aprising of case updates, including arrests if any, and ending with an assurance that investigations were on.
इस संबंध में थाना चुनार पर अभियोग धारा 363 भा0द0वि0 पंजीकृत है, पीडिता पुलिस द्वारा बरामद की जा चुकी है, पीडिता का मेड़िकल परीक्षण कराया जा रहा है, अन्य विधिक कार्यवाही की जा रही है, विवेचना प्रचलित है।

— Mirzapur Police (@mirzapurpolice) August 25, 2020
प्रकरण में जाँच कर आवश्यक कार्यवाही हेतु SHO अहिरौली बाजार को निर्देशित किया गया है।

— Kushinagar Police (@kushinagarpol) August 25, 2020
While right-wing followers see this UP police countering an 'allegation' from a Congress politician, it is interesting to note that the official replies have not refuted the fact that a number of crimes has happened in a short period of time.
Meanwhile, Priyanka Gandhi on her part, has taken the matter to the next level. She has now written to Uttar Pradesh governor Anandiben Patel expressing concern over the law and order situation, highlighting the lack of safety for women in the state. She also posted this on social media on Wednesday. Priyanka Gandhi wrote: "Your Excellency the Governor, Uttar Pradesh. The situation of women safety in UP has become very bad. A girl from Lakhimpur was going to fill the online form. She was raped and brutally murdered. This is happening daily in UP now. Hope you understand its seriousness and take it into consideration."
महामहिम राज्यपाल महोदया
उत्तर प्रदेश

यूपी में महिला सुरक्षा के हालात बहुत खराब हो चुके हैं। लखीमपुर की एक लड़की ऑनलाइन फॉर्म भरने जा रही थी। उसकी बलात्कार कर नृशंस तरीके से हत्या हो गई।

यूपी में ऐसा अब रोज हो रहा है।

आशा है आप इसकी गंभीरता समझेंगी और संज्ञान में लेंगी।

— Priyanka Gandhi Vadra (@priyankagandhi) August 26, 2020
As Priyanka Gandhi had stated the example of the brutal rape and murder of a young girl from Lakhimpur, and claimed that such crimes were happening frequently in the state, the area police replied.Twice.
— KHERI POLICE (@kheripolice) August 26, 2020
Perhaps this is Priyanka Gandhi's way to take a dip-stick poll on how seriously her word is taken in Uttar Pradesh, before she takes the electoral plunge? If the answer is yes, then clearly she is seen as a politician with influence over the vote bank. If she is not going to contest election, then it is a signal to perhaps her own party colleagues, that she is to be seen as a politically savvy, powerful force to reckon with. Either way, an impact has been made, and noted.
Related:
Heer Khan arrested by UP police for posting abusive anti-Hindu video
Yet another journalist shot dead in Uttar Pradesh
Delhi-based Journalist Prashant Kanojia arrested by UP police for "some tweets"
Kidnapping, rape, torture, murder; just another long weekend in Uttar Pradesh
UP's crime graph rises further, BJP politician Sanjay Khokhar shot dead
Is this the "Ram Rajya" promised by the BJP: Congress attacks UP govt
Webinar on rise in Human Rights violations in UP during lockdown
They abused us, asked us to worship their idols: Christians attacked in UP
Journalism is a hazardous profession in Uttar Pradesh