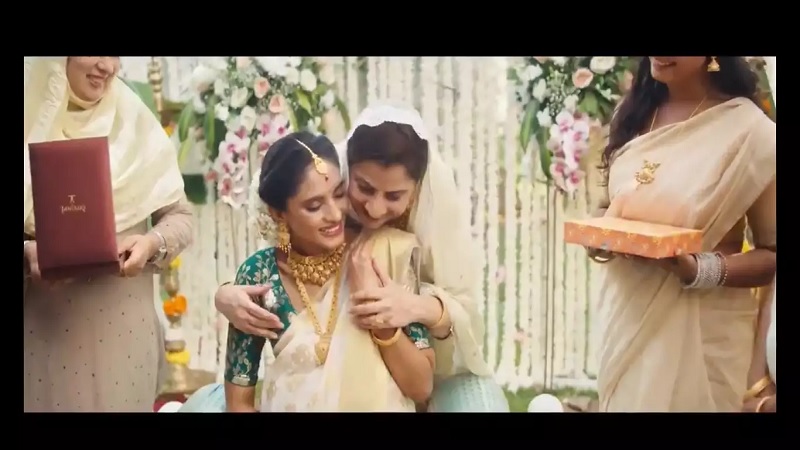 Image Courtesy:businessinsider.in
Jewellery brand Tanishq's one-step-forward-two-steps-back attitude towards the reception of its recent advertisement has led to a much needed discussion on the role of brands and advertisers amidst an increasingly communal political climate.
Of late, many brands have voiced an intention to be more careful while selecting news channels for placing advertisements so that they don't inadvertently end up endorsing toxic content in their shows. Most recently, Bajaj industries and Parle Products have taken a firm stand to boycott news channels that promote toxic or aggressive content. Industrialist Rahul Bajaj went so far as to boycott three news channels.
In the middle of all of this comes news of Tanishq feeling pressured to drop its advertisement showing a Muslim family erforming the god-bharai ceremony of their Hindu daughter-in-law. The brand initially faced backlash from the right-wing Hindutva extremists who claimed the advertisement supported 'love jihad.' Then Tanishq faced the second wave of criticism from liberals and others who were disappointed to see the jewellery brand take down the advertisement.
This sparked a huge debate on social media on whether Tanishq should have given in to the right-wing trolling.
zomato was selling chole bhature/dal makhni not Gold and Diamonds. Check out Tanishq stores now in Delhi etc, all are putting banners outside stores that the do no agree with ad. Its festival season of Navratri and Diwali and it cannot afford hurting Hindu sentiments @Nidhi

— Dev (@Dev71225527) October 13, 2020
Chetan Bhagat too offered his two cents:
Dear #Tanishq,

some of us live with,deal with and thrive with trolling everyday. If you know you are in the right, as a company people trust, be more solid. Don't let bullies trample Indian unity, creativity and expression.Make a statement. Keep the ad. Stay strong. Stay Indian.

— Chetan Bhagat (@chetan_bhagat) October 13, 2020
The Zomato example mentioned on Twitter refers to an incident that tool place in 2019, when the food delivery app rreceived a bigoted complaint from a client. Zomato refused to bow down to the communal demands of the client who did not want to accept delivery from a Muslim delivery boy and the brand received much praise for its strong stand. While the person talked about 'being bullied' into accepting the delivery, Zomato tweeted the following reply on Twitter.
Food doesn't have a religion. It is a religion. https://t.co/H8P5FlAw6y

— zomato india (@ZomatoIN) July 31, 2019
The fact that Zomato's Founder Deepinder Goyal endorsed this view only increased people's appreciation for the ethical stand.
We are proud of the idea of India – and the diversity of our esteemed customers and partners. We aren't sorry to lose any business that comes in the way of our values. ?? https://t.co/cgSIW2ow9B

— Deepinder Goyal (@deepigoyal) July 31, 2019
A proof of this appreciation lies in the fact that people have compared the two companies' behaviour when faced with bigotry.
@Zomato was trolled too, but it stood its ground on food having no religion. It did not affect its business. Companies need to put some research into how much of the trolling actually reflects public opinion and has any potential to impact business. https://t.co/8ymFrdNXUA

— Deeptiman Tiwary (@DeeptimanTY) October 13, 2020
Indeed, an interesting parallel can be drawn between the criticisms received by the two brands following their reaction to the bigoted action against them. Tanishq was heavily criticized and called spineless.
Rajiv Bajaj on one side and the surrender of Tanishq on the other. Difference between spine and supine.

— barkha dutt (@BDUTT) October 13, 2020
Wow @TanishqJewelry that's all it took? What would you do if you were a woman on twitter who faced this every day? Another reason to have more women CEOs

— sunetra choudhury (@sunetrac) October 13, 2020
On the other hand, Zomato was lauded with appreciation and memes.
— KΛJӨᄂ (@Leonotcaprio) July 31, 2019
— Scotchaholic (@shreygandhi) July 31, 2019
This stark contrast in the two incidents, merely a year apart, suggests that the tide might be turning. The political environment in the country has not changed much over the course of a year. However, there has been a growing unrest among the masses since December 2019 along with a rise in censorship. More and more activists are being booked under the Unlawful Activities (Prevention) Act, compelling people to voice their opinion more carefully than ever.
Considering this backdrop in which Tanishq felt compelled to pull back its advertisement, a disturbing thought arises that is voiced by one of the netizens on Twitter.
Secular India couldn't bear an advertisement by #Tanishq promoting inter-religion relations?
The brand was criticized for the advertisement and it has been taken down just because it portrayed two "humans" happy.
Well "secular" and "India" don't go together anymore.

— Trio.says (@Trio02817961) October 13, 2020
Related:
More brands withdraw advertising from news channels airing hateful content
Tanishq takes down advertisement after being bullied by trolls for depicting 'Love Jihad'
Will advertisers consider punishing TV channels for unethical TRP strategies?
Media, right-wing spew venom over Sushant Singh Rajput's death