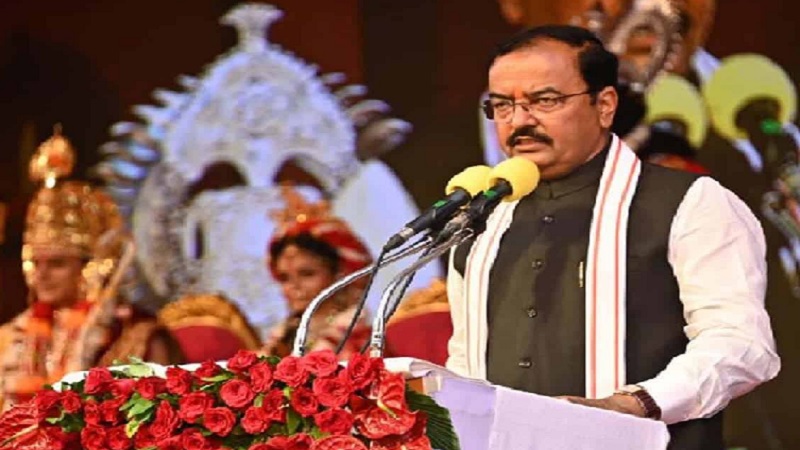 Image Courtesy:siasat.com
Uttar Pradesh Deputy Chief Minister Keshav Prasad Maurya once again made headlines when he walked out of a BBC interview on Monday. Maurya lashed out at the senior journalist, Anant Zanane, even pulling his Covid mask off. But why did a senior minister behave this way when questioned about the Bharatiya Janata Party (BJP) leadership's complete silence over Haridwar dharma sansad's hate speeches? Maurya went a step ahead and defended the right of expression of the Hindutva leaders.
According to the BBC repor,t it has sent an official complaint to the National President of the BJP, the State President of the BJP and the Chief Minister of U.P., on the incident. Meanwhile, smug in the knowledge that BJP politicians were not going to condemn hate speeches made at "'Dharm Sansad' Narsinghanand held a press conference at Shimla Press Club on January 9 and announcement that the next one will be held in Una district of Himachal Pradesh on March 4 to 6.
Yati Narsinghanand held a press conference at Shimla Press Club on 9th January 2022 and made the announcement that a 'Dharm Sansad' (Hate Assembly) will be held in Una district of Himachal Pradesh on 4th, 5th and 6th March 2022. 1/n pic.twitter.com/cSknji70al

— Arbab Ali (@arbabali_jmi) January 11, 2022
The BBC reported on the incident stating that Maurya told his security personnel to delete the video interview. Journalist Zanane had merely asked the CM why his party leaders – Prime Minister Narendra Modi and Uttar Pradesh Chief Minister Adityanath – had not even commented on the statements inciting violence against Muslims which have gone viral. The Dharma Sansad in Haridwar has been noted as the platform from where calls for Muslim genocide had been given. Police complaints and FIRs followed, but no arrests have been made against the Hindutva leaders named. Most of those Hindutva leaders have also been close to many BJP leaders. That was perhaps the reason that questioning the silence of his party bosses, upset Maurya who lashed out saying, "BJP does not need a certificate. We believe in developing sabka saath sabka vikas." He then reportedly asked the BBC reporter to talk about "how many people had to migrate from Jammu and Kashmir before [Article] 370 was removed? When you raise questions, then the questions should not be one sided only. The dharma sansad is not of the BJP, it belongs to the monks. What the monks say, what they don't say in their meeting, is their subject."
When asked about #HaridwarGenocidalMeet, Deputy CM of Uttar Pradesh, Keshav Prasad Maurya says, 'They have the right to say what they said in Dharm Sansad'. When asked about Yati Narasinghanand, He says, 'No body is saying anything wrong, they say what they think is right'. pic.twitter.com/m56x6LVtUS

— Mohammed Zubair (@zoo_bear) January 11, 2022
However, those who spread anti-Muslim hate and called for violence have deep roots in Uttar Pradesh that will soon hold Aseembly elections. As even the BBC reporter reminded Maurya that the hate speech accused Narasimhanand is from Ghaziabad, Annapurna is from Aligarh, and that warranted action and comments from the UP government. That the UP government and UP's BJP leaders should react to such hate speech and condemn its impact Maurya reportedly appeared to defend the hate speech saying, "Nobody tries to create an environment, what is the right thing, what is the wrong thing, what is appropriate in their platform, they would say."
Maurya accused the journalist saying he was speaking like an "agent" and not as a journalist. In the video posted by the BBC Hindi, he is then seen removing his lapel mic. The BBC in its report said that once the camera was switched off, Maurya pulled the BBC reporter's Covid mask and directed his security personnel to forcibly delete the video, however the cameraman managed to recover the deleted video. The clips of Maurya's tantrum have gone viral too.
The Deputy Chief Minister of Uttar Pradesh, Keshav Prasad Maurya is himself known his anti-Muslim speeches, and in the recent past called Muslims "lungi chaap, jaalidaar topi goondas" and said that before the 2017 Assembly elections, "They were roaming the streets with revolvers in their hands and threatening businessmen." He asked the crowds to tell him who these "goondas" were, and the public replied "lungiwale". "Just remember my words" he said to the eager crowds of BJP supporters.
Before that, Maurya had publicly announced that "preparations were underway for the construction of a grand temple in Mathura" along the lines of what was being done in Ayodhya and Varanasi. He said, "A grand temple is being constructed in Ayodhya and Kashi, preparations are on for Mathura next." Mathura in western UP is revered as the birthplace of Hindu deity Krishna. It is also home to the Shahi Idgah, which is next to the Krishna janmabhoomi (the place where the deity is believed to have been born).
Related:
SC issues notice in plea urging criminal prosecution in Dharam Sansad case
Apps auctioning women fuelled by a TRADition of Hate
SC to hear plea seeking SIT probe in 'Dharam Sansad' due to lack of substantive police inquiry
Hate Offender: Meet Kalicharan 'Maharaj' aka Abhijit Dhananjay Sarag
Citizens compare Dharma Sansad to Nazi Germany