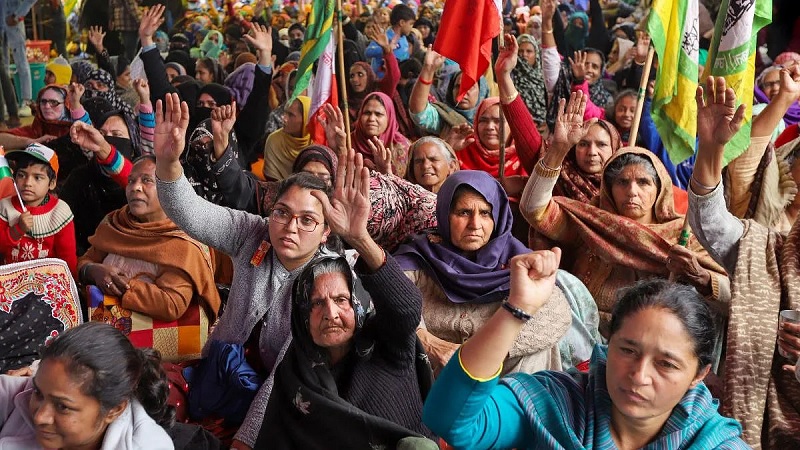 Image Courtesy:thequint.com
Delhi Police is attempting to criminalise a democratic and protest, say, anti-CAA-NRC-NPR activists, as it continues to be linked to, and blamed for instigating the communal riots of North East Delhi that took place in February. While scores of activists have been arrested, remain in jail, and are regularly called in for questioning on their participation in the anti-CAA-NRC-NPR protests, even though the investigations are on the cases related to the communal riots, none of the political leaders whose controversial speeches are a matter of public record, have even been mentioned in any official investigation. None of the politicians have even been called for questioning, or asked to join any ongoing investigation into the riot cases.
Activists, writers, lawyers, university professors, scholars who were an active part of the anti CAA movement held a press conference in solidarity with those who have been arrested, named in first information reports, or been called for extensive questioning and investigations. Activists such as Harsh Mander, Kawalpreet Kaur, Umar Khalid, Prof Apporvanand, etc have all been made to face tough questioning by the Delhi Police. While politicians such as Kapil Mishra and Anurag Thakur, whose controversial speeches circulated widely before the Delhi riots have not even been mentioned in any police report.
This, stated the activists, is an attempt at whitewashing facts and steering the narrative of the sequence of events in another direction. They state that Delhi Police believes that there was a conspiracy behind the February communal violence in Delhi, however it appears that the "actual conspiracy" was a very different one from the one which Delhi Police is propagating." The activists alleged that the investigation into the Delhi 2020 carnage itself is a conspiracy.
"No major episode of communal violence is spontaneous: it is always planned, organised and facilitated. Such violence requires first the creation of hatred. In Delhi we saw the build-up during the Delhi elections of a climate of hatred spawned by hate speech by senior leaders targeting the protestors against CAA NRC NPR – unprecedented level of communal venom in any election in Delhi," said Harsh Mander, who was once an IAS officer and has seen how riots can be controlled if the administration is willing, adding, "the critical factor in any riot conspiracy is the role of the state, and particularly the police – no riot can go on for more than a few hours except if the government wishes for it to do so." He alleged that there is a "complicit partisan role of the police in the Delhi riots as was recalled by testimonies of survivors recalling "the police enabling, encouraging and actually indulging in hate violence".
The conspiracy behind the Delhi violence he said is this "effort to punish and crush the largest non-violent protests in independent India." According to Mander, who too has been questioned by the police, "every day the Special Branch which normally investigates grave crimes like terror is busy summoning mostly young people, and sometimes seniors, grilling them ,intimidating them, and sometimes as Umar has testified, making them create false evidence."
Umar Khalid, the former JNU scholar, had been called for questioning twice in two months and had this week, shared how he was told that another person being questioned was presented by a prepared statement by the police, to implicate him.
Khalid said the process began in March when a video clip of a few seconds from a long speech he had made on civil rights was shared out of context, by the right wing IT cells. The clip was then picked up, and still reported out of context with none of the media having seen the full speech where he spoke about non violence and satyagraha as forms of protest. The clip was shared by the RW on March 3 and an FIR was lodged against Khalid on March 6, filled by a 'secret informer'. "there is a chronology to this investigation", said Khalid. He asked the Delhi Police how they missed the rally by Kapil Mishra on December 20, 2019, even though section 144 was in place and gatherings banned in Delhi. "Why is the Delhi Police silent?" he asked.

Kawalpreet Kaur, AISA leader and activist who too had been questioned and her phone seized, said the police was attempting to spread fear in students activists with such actions. The attempt she said was to curb dissent but added that student activists must stand up to that fearlessly, "We must remain united." This was echoed by Khalid, and Mandar too, who said that there was a need to stand in solidarity with those, "languishing in prison for months without bail in the name of this so-called conspiracy We are gathered here today above all in the defence and solidarity with these young people."
Mandar added that all activists now facing Delhi Police action now "did participate in the non-violent movement against CAA NRC NPR, and are proud to have done so. During the protests some WhatsApp groups were made. Now every word exchanged in these groups is being examined with a defective microscope by the police, their meaning and context deliberately and mischievously misinterpreted, the truth ripped into shreds and reimagined to create the mythology of a conspiracy of hate, violence and insurrection."
He added that the protests, "were to uphold the Constitution, and the idea of an inclusive and humane country of equal citizenship, which is the proudest legacy of our freedom struggle. The young people and we protested because we love our country dearly, and we seek to make this country better for all its citizens, of every religion, caste, class and gender, by holding the state accountable to stand by its duties to the constitution. It is a travesty to describe this as a crime against the nation. The purpose of the state is transparent; to destroy the basic guarantees and freedoms of our constitution."
He, and the other activists have stated strongly that the "effort of the Indian state, facilitated by the Delhi Police, is to crush our voices, our dissent, and our struggles to uphold our constitution. We declare here – and hope those holding highest office in the country hear us loud and clear – that the government will never succeed in silencing us, and will never succeed in taking away from us the dream we inherited from our freedom struggle, of together building a country which is just, and equal, and kind."
The following is the entire press statement released by the activists:
Related:
Northeast Delhi riots: Crime Branch questions activist Umar Khalid again
Hope probe focuses on real perpetrators of Delhi violence: Prof Apoorvanand
Delhi violence: Is Kapil Mishra the villain of the story?
Mere mention of Shaheen Bagh whets political appetites again
Is Delhi Police hiding key information, documents of riot cases?
North-East Delhi Riots: Minorities Commission investigations reveal role of Delhi Police, politicians
Hate Speech by BJP's Top Brass fuelled Build Up to Delhi Violence: Minorities