Protesters gathered at Azad Maidan express concerns about silencing the voices of Kashmiris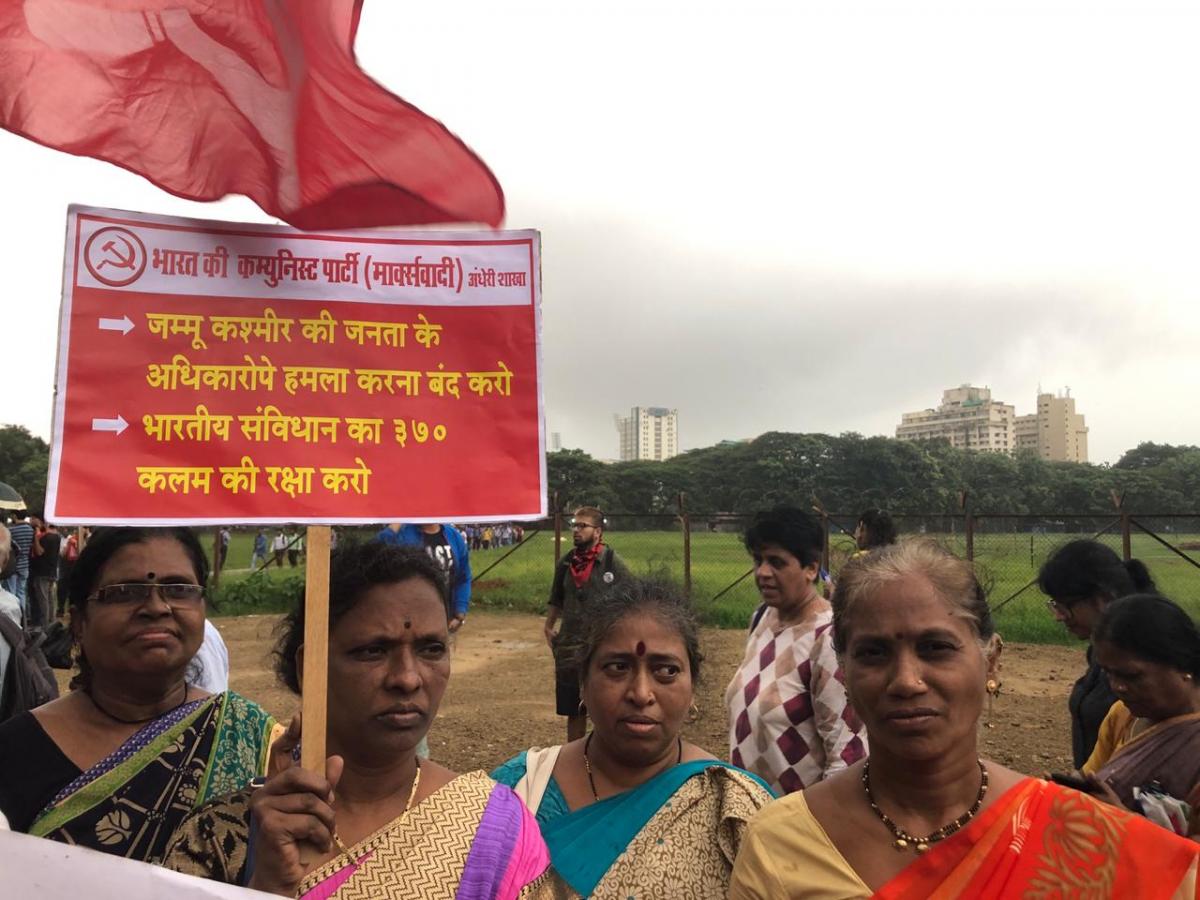 On Wednesday, August 7, responding to a call for a national call for protests against the abrogation of Article 370, activists and citizens from different walks of life, responded. We asked the protesters who gathered at Mumbai's Azad Maidan braving rains, bad weather and disrupted trains, their reasons for joining the protest.
"Today as I heard the personal story after story from Kashmiri students. My heart skipped a beat many a time,and tears overcame me often. But the most striking moment was when a Kashmiri student from St Xavier's spoke about her deepest fears: fears of a possible genocide, ethnic cleansing and violence. She hadn't slept in 60 hours, was unable to contact her family, and feels more alienated than ever before, her identity entirely negated," said one protester.
Hundreds of Mumbai citizens gathered at the Azad Maidan on Wednesday, the third day since the state of Jammu and Kashmir was entirely cut off from the rest of the world, after a complete lockdown was enforced in the valley. It has been more than ninety hours since the lockdown was enforced.
The Central government led by the Bharatiya Janata Party (BJP) unilaterally abrogated Article 370, the only Constitutional provision that links Kashmir to India on August 5, Monday, 2019 while President's Rule was in force in the state. Political leaders were detained, their personal freedoms snatched away. The decision was taken in a secretive manner, while the Parliament session was on, without any consultation with the state assembly that was dissolved in June, 2018.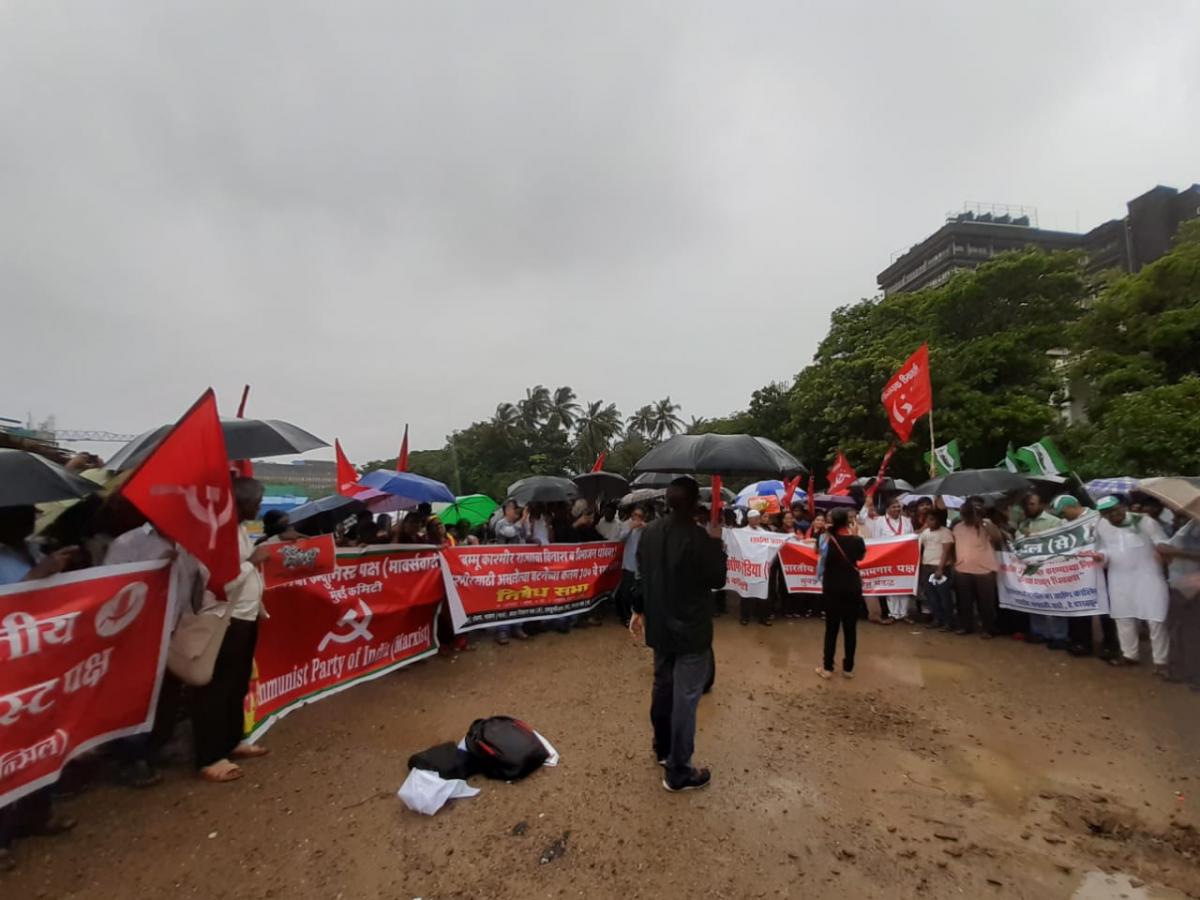 Before the bill, Reorganisation of Jammu and Kashmir, was brought before Parliament on Monday, August 5, the state of Jammu and Kashmir was brought to a state of a complete shutdown. Fear and panic rules. More than seven million Kashmiri people have been incarcerated in their homes since the night of August 4 as a curfew was enforced, news media disallowed access, telephone lines, cellular, internet, and basic services cut off.There is widespread panic among the people –out of Kashmir and within the Valley–as they have not been able to establish contacts with their loved ones since the curfew was enforced. There is no way of knowing what prevails in the Kashmir.
Left parties, the Communist Party of India (Marxist), Communist Party of India (CPI), Communist Party of India (Marxist-Leninist) Liberation, All India Forward Bloc and Revolutionary Socialist Party declared August 7 as the National Protest day against "Dismantling the State of Jammu & Kashmir" which they have condemned an "assault on India's Constitution, Democracy & Federalism".
"I joined the protest to mark my dissent as a citizen of this country on the way the central govt. has provided a "solution" to "Kashmir problem". Everything about the process is undemocratic, unconstitutional and unethical," said Nikita Patodia, a social activist who joined the protest.
"I have rarely felt this hopeless and disempowered as a citizen, and I can only extrapolate my emotions to feel what the people of Kashmir might be going through. A non-existent opposition, a bought-out media, all resistance criminalised, and an enormous state power that has merged with Hindu majoritarianism. The present is absolutely dark and the future is troubling. Will we have any answers when our future generations ask us what the hell we were doing at a time like this?" asked Akhil, a masters student from the Tata Institute of Social Sciences.
Raghu Godavar, a freelance writer and editor and part of the Rethink Aadhar movement said, "I was at Azad Maidan to be counted among those Indians who are clearly, unambiguously saying that we don't see Kashmiris as the enemy, that we support their right to self-determination."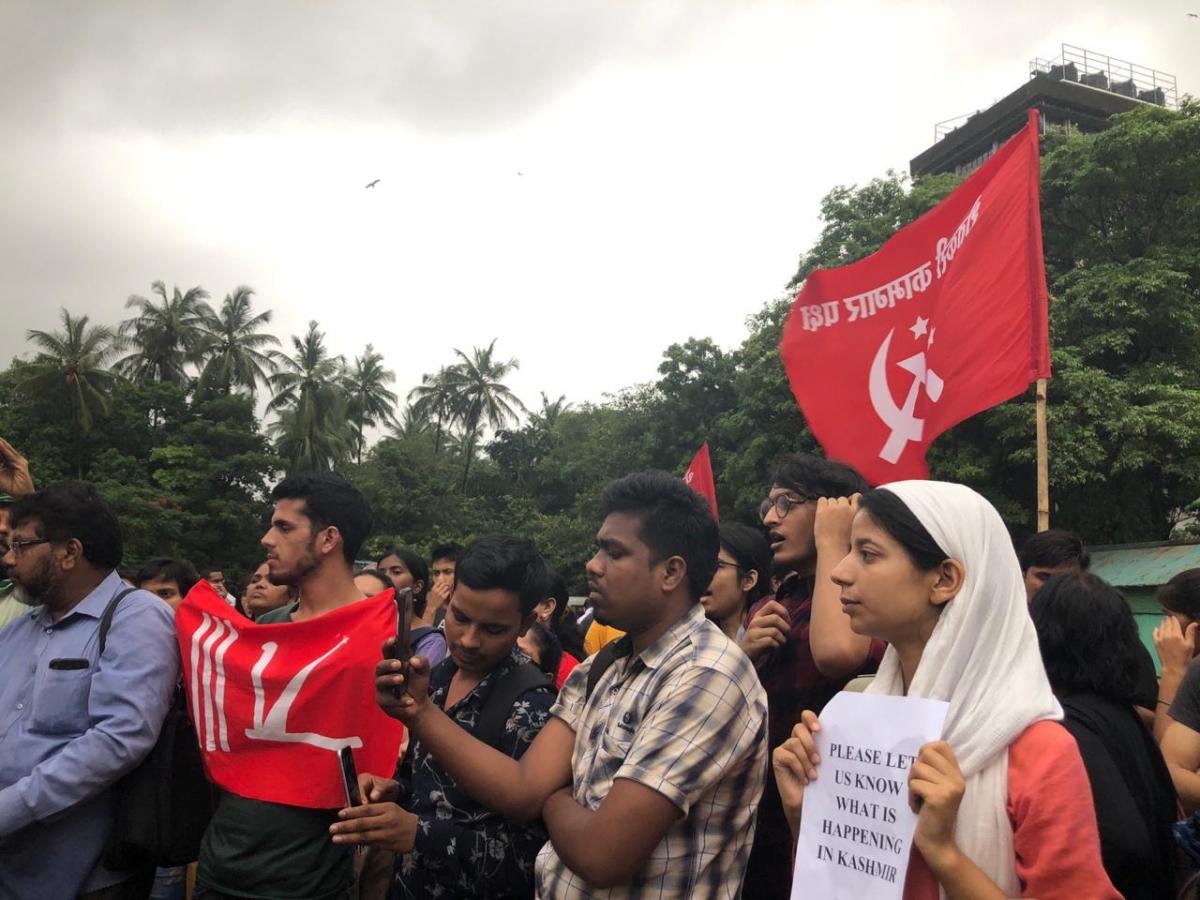 He adds, "I thought that the turn out (today) wasn't bad. There were around 300-400 people in total. Though the protest was held in Azad Maidan many of us stood at the boundaries/grills where passers-by were stopping and we distributed pamphlets. All the 1500 Hindi and 500 English pamphlets got distributed and people were asking for more. As we were speaking to the crowd a lot of people gathered at one point and they were actually engaging with us, wanting to know more on the subject, were asking questions. I didn't feel people had any hostility towards Kashmiris just that they genuinely believed that what had happened was possibly in their interest. Even such people were listening to the counter arguments that we gave. There was only one disruptor in a white shirt who tried to threaten us, calling us "K….. ke followers", "deshdrohisetc" and was provoking people to beat us up! But others in the crowd told him to engage; another person said. 'Kyon ladh rahe ho hum log sab Bhai Bhai Hain. Hindu Muslim Bhai Bhai hai.' At such moments I really get amazed by Mumbai. Would this have happened in other cities? I feel there's a lot of potential to engage with people here. We should take this forward ..not only for Kashmir but also for other upcoming attacks and assaults on freedoms. By the way, the guy in the white shirt also said,'Vampanth khatm ho jaega'."

Rossi D'Souza, a PhD student of Homi Bhabha Centre for Science Education (HBCSE)said, "As a citizen of a once colonized country, I enjoy many kinds of freedom today owing to the sacrifices of people like Bhagat Singh who were once considered anti-national and terrorists by their colonizers. Hundreds of freedom fighters fell to the bullets of the Gurkha rifles of the State's Army a hundred years ago at Jallianwala baugh to a massacre we criticize today. But the same discourse continues to support the same colonizing forces while criticizing colonialism in the abstract. It is against this hypocrisy that I find myself compelled to oppose lest it be that my fallen brothers and sisters shed their blood in vain. I find it criminal to have the resources of my country and the labour of my fellow people be used to colonize our neighbour, more so in such a vile manner by a fascist regime whose leaders are known to be the mostcruel of men who've walked the earth. Tomorrow if Britain decides to revoke the Indian independence act of 1947 of the UK parliament, I would expect anyone with a spread of humanity to stand against it. And so as an Indian citizen who boasts of coming from the land of Ambedkar, Periyar, the Phules, Birsa Munda, I find it my duty to oppose the violent takeover of the land and freedom of my neighbours. The least I could do was join in a protest."
Several political and civil rights groups have criticised the manner in which Article 370 was lifted. A coalition of more than forty organisations, Mumbai Rises to Save Democracy (MRSD) highlighted in its statement, "First, the government used the President of India's powers under Clause 1 of Article 370 to apply an amendment to Article 367 of the Constitution to Jammu and Kashmir. This amendment in turn suggests that Clause 3 of Article 370 refers to the legislative assembly of Jammu and Kashmir, instead of constituent assembly. The effect of these changes, as per the Indian government, is that with the legislative assembly of Jammu and Kashmir currently dissolved, the Governor has the power to recommend revoking Article 370. However, given that Jammu and Kashmir is currently under President's Rule, such a conclusion is a fraud upon the Constitution."
A protester Salim Saboowala said that he came to demand reimplementation of Article 370 and Article 35(A) and to support Kashmiri people's struggle against the Indian state which is going on for the last 70 years for which more than 90 thousands Kashmiri people have been martyred."
He also said he came "to demand to remove curfew, reinstate net, telecommunications and other communications. Remove the blockage on Kashmir. Bring it back in the main stream, make people's life normal. Remove army from Kashmir. To oppose the way our Constitution values have not been followed."
Akhil added towards the end, "I returned resolving, inspite of, and because of, everything, if we do not find ways to speak up with Kashmir (not for, but with), if we do not effectively intervene and respond to everything this regime will bring upon all minorities of this dear land, we will not only fail as Indians, we will not only fail the Constitution, fail the spirit of fraternity and democracy, we will fail- ultimately, as human beings."
Nikita also added, "The euphoria among masses is a further proof of 70 years of nationalist propaganda at work. Few people are looking out for the voices of the people of Kashmir. This is met with deafening silence of course, as the voices of the people of Kashmir as well as the local political leaders and activists has been seriously quashed. I reject this politics of communalism and demand the govt. do better."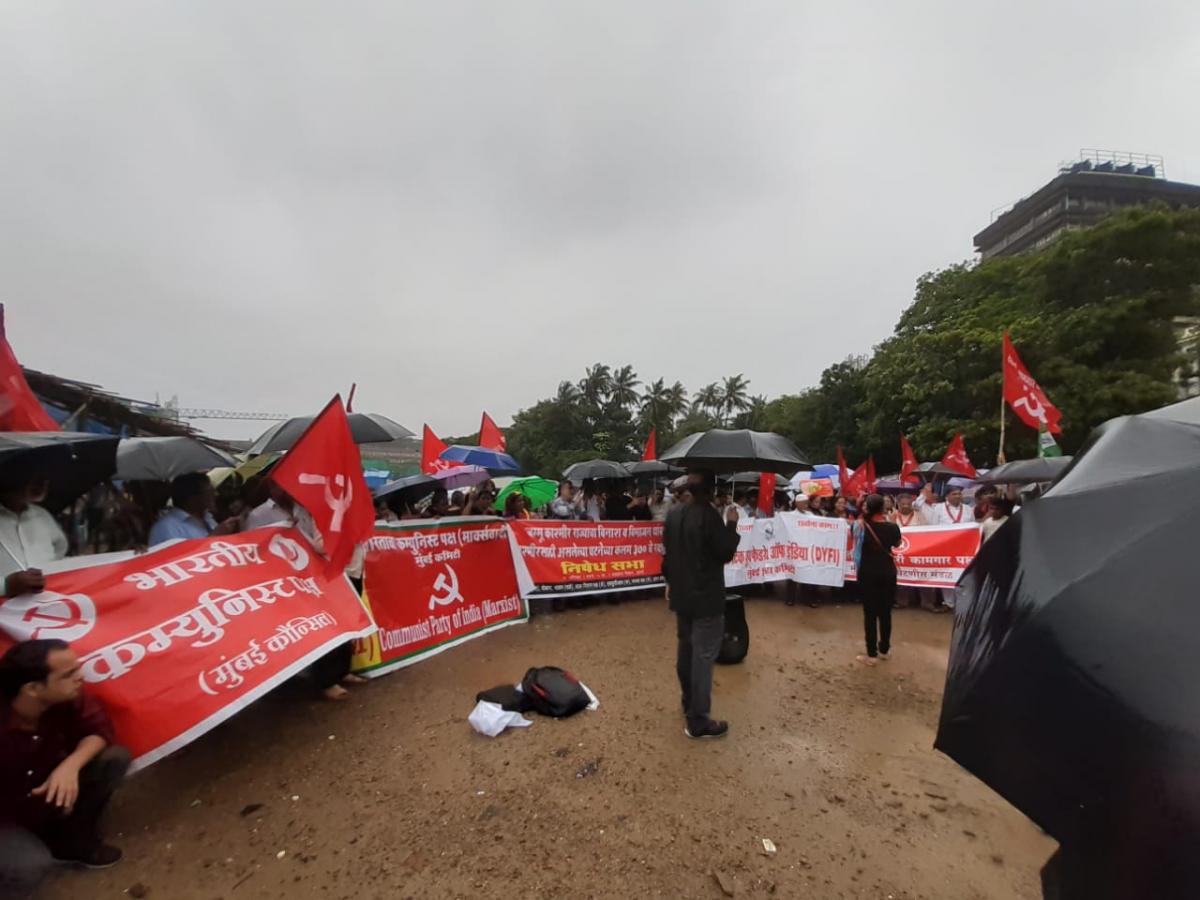 Related Articles:
1. A note from the Kashmiri Girl
2. Section 144 imposed on Kargil
3. Law of Force & the Law of Nature
4. Democracy Aaj Kal : Article 370 &Has India lost its moral high ground on Kashmir?
.