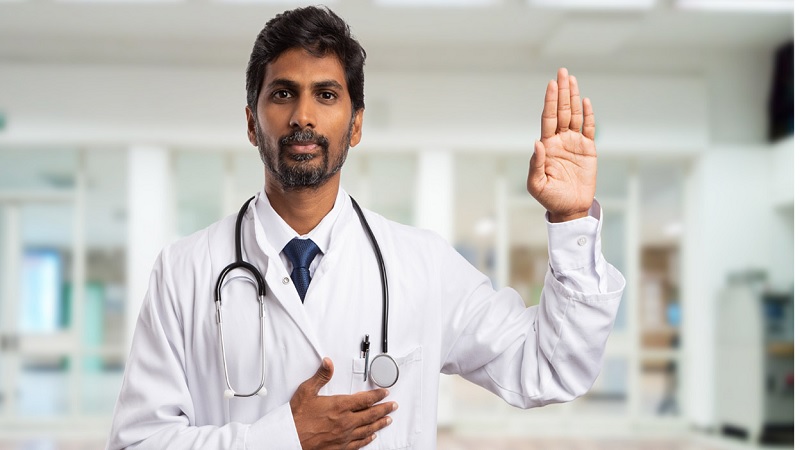 Image Courtesy:onmanorama.com
The Hippocratic oath, believed to have been written by the ancient Greek physician Hippocrates, is taken by newly minted doctors as part of their graduation ceremony as a guide to conduct medical practice as they begin their careers. There is the traditional version, and a modern version, both roughly mean that the doctor swears to follow a scientific ethical code and will treat patients to the best of their ability. It also states that a patient's privacy will be respected, and the larger meaning of both ancient and modern versions are words that mean that the doctor will treat everyone with equal care.
However, there are sections among medical authorities who seem to think that the Hippocratic oath is perhaps not "Indian encough". According to news reports, the National Medical Commission (NMC), country's apex medical education regulator, is now discussing that the Hippocratic oath be replaced with 'Charak shapath'. Social media users shared the minutes of NMC's discussion with medical colleges across India circulated, "No Hippocratic Oath. During white coat ceremony (with parents) the oath will be "Maharishi Charak Shapath" present on the NMC website."
Many doctors are expressing concern. I am all in favour of introducing Indian elements into Indian education, but not at the expense of universal values and standards. Why can't the Charaka Shapath supplement, rather than supplant, the HippocraticOath that doctors worldwide take? https://t.co/vRzn8GFaoZ

— Shashi Tharoor (@ShashiTharoor) February 11, 2022
"This is just in discussion stages as of now; no final decision was taken in the meeting. It does not work like that there has to be a due process that needs to be followed before a decision is taken," the Hindustan Times quoted an unnamed NMC member as saying. According to the news report, another document that had highlights of the video conference of NMC's undergraduate medical board that was held on February 7, stated that the reason for proposing to replace the Hippocratic oath with Charak Shapath was that "Charak belonged to our motherland— oath-taking to be conducted during White Coat Ceremony in local languages/vernaculars."
Charak Shapath is the oath mentioned in the ancient Indian medical text Charak Samhita, recognised as being authored by Acharya Charaka also known as Charaka Rishi, who is said to have also been the major force behind developing Ayurveda.
I took the #HippocraticOath & ask all future doctors to take the same Oath. Say No to Charak Shapath https://t.co/J5X1blQa4F

— Dr. Shama Mohamed (@drshamamohd) February 11, 2022
According to a report in NDTV, the as yet unverified minutes of a meeting regarding first year medical students, for whom classes begin Monday – says "no Hippocratic Oath. During white coat ceremony… the oath will be 'Maharishi Charak Shapath'…". Students may also face "compulsory 10 days of yoga (in the) morning on (an) empty stomach".
Originally in Sanskrit, the Charak Shapath allegedly contains several Hindu elements including the requirements to "lead the life of a celibate and eat no meat," stated the portal Encyclopedia.com. It cites that according to the oath the teacher "should instruct the disciple in the presence of the sacred fire, Brahmanas [Brahmins] and physicians." There are other sections that state, "Thou shalt dedicate thyself to me and regard me as thy chief. Thou shalt be subject to me and conduct thyself for ever for my welfare and pleasure. Thou shalt serve and dwell with me like a son or a slave or a supplicant."
Replacement of Hippocratic oath with Charak Sampath!!

This saffronisation of country will destroy every scientific stream! Stop this nonsense before it engulfs us ! pic.twitter.com/V5lfk4mj9z

— Dr Pooja Tripathi (@Pooja_Tripathii) February 10, 2022
The caregiving of a patient is also referred to as "day and night, however thou mayest be engaged, thou shalt endeavour for the relief of patients with all thy heart and soul. Thou shalt not desert or injure thy patient for the sake of thy life or thy living." But there are also some truly disturbing elements to this shapath, such as, "No persons, who are hated by the king or who are haters of the king or who are hated by the public or who are haters of the public, shall receive treatment. Similarly, those who are extremely abnormal, wicked, and of miserable character and conduct, those who have not vindicated their honour, those who are on the point of death, and similarly women who are unattended by their husbands or guardians shall not receive treatment."
While it is still a proposal, and no formal order in this regard has been issued, the news has created a divide in the community. However, according to Dr Mahesh Verma, a member of NMC as quoted by HT, "There is a due process that is followed before a final decision is taken on any matter. From individual boards, the matter goes to the main commission, and is discussed in great detail. The decision is based on what the majority thinks." The news report also stated that AIIMS has already been using Charak Shapath or the modified version of the Hippocratic Oath.
In November 2014, the Ministry of Ayush was formed, for "ensuring the optimal development and propagation of the Ayush systems of healthcare.". Ayush expands to Ayurveda, Yoga, and Naturopathy, Unani, Siddha and Homoeopathy. The National Medical Commission (NMC) has been constituted by an act of Parliament known as National Medical Commission Act, 2019 which came into force on September 25, 2020. The Aim of the National Medical Commission are to:
(i) improve access to quality and affordable medical education
(ii) ensure availability of adequate and high quality medical professionals in all parts of the country
(iii) promote equitable and universal healthcare that encourages community health perspective and makes services of medical professionals accessible to all the citizens
(iv) encourages medical professionals to adopt latest medical research in their work and to contribute to research
(v) objectively assess medical institutions periodically in a transparent manner
(vi) maintain a medical register for India; (vi) enforce high ethical standards in all aspects of medical services
(vii) have an effective grievance redressal mechanism.
Related:
In 2021, COVID Deaths Surged in Stunning Fashion in Eastern UP, Investigation Finds
UNICEF and parents worry about India's future generations in the aftermath of Covid-19
KEM Hospital accused of atrocities against SC students