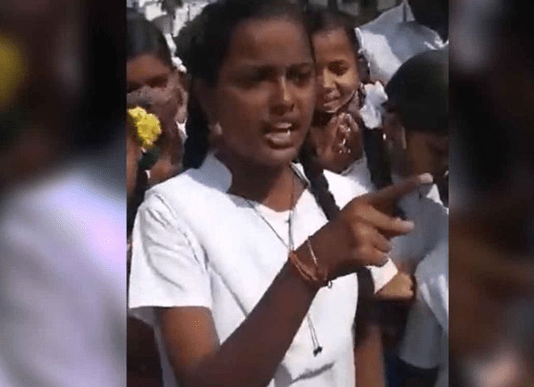 The powerful religious leaders of the influential Lingayat community of Karnataka want the state government to serve a "pure vegetarian" school meal, for children in government schools. Most of the children however, say they want the boiled eggs they now get three times a week in seven districts of the state. These kids are the 'lucky ones' to even get that bit of 'extra' nutrition. However the egg on offer to poor under-nutritioned kids, seems to have offended religious leaders of various Hindu sects in the state. So much so that, the Karnataka government has reportedly begun to "explore" alternatives to boiled eggs in the school mid-day meal. The Karnataka government has on its hand the challenge to fix malnourishment among school children in the state.
Primary and Secondary Education Minister B C Nagesh told the media that the decision to include boiled eggs in the mid-day meal scheme was based on "surveys and reports from the Centre that indicated malnourishment persisting among children. We also had inputs from experts that egg was the best-known single source of protein. This led to its inclusion in the mid-day meal scheme to help children combat malnutrition." However, according to a report in The Indian Express the minister has added that the government is "exploring other options to provide protein-rich food to children as an alternative to egg." He added that eggs "were not being forced". Children who did not want eggs "were provided boiled bananas as a substitute."
Anjali, a 14-year-old Karnataka schoolgirl challenges 'upper caste' leaders
However, the choice it seems is not always with the children, as some Hindu leaders are reportedly asking the government to stop egg as an item offered in the meals altogether. It has taken a 14-year-old Karnataka schoolgirl's speech directed at the powerful Hindu leaders opposing boiled eggs in midday meals to refuel the conversation. The video clip of Anjali, a Class VIII student of MNM Government Girls School at Gangavati in Koppal district, has now gone viral. She questions the seers on why they want to deprive poor children of the only access they have to eggs, "Don't we pay obeisance to you after eating eggs and taking a bath? Don't we offer cash to your maths? Why are you eating with our money? You throw away that money, or give it back to us. We will eat (food)."
13 year old SFI member, Karnataka Teenager challenges the so called seers who have opposed provision of eggs in mid day meal scheme.https://t.co/W6JhF6tNmT

— CPI (M) (@cpimspeak) December 15, 2021
She says the leaders do not understand the conditions of the poor, "We go to government schools because our families are poor. We need eggs and bananas. If not, we will come to your maths and eat eggs. We will all come… Do you want that? You don't, right?… Who are you to tell us (what to eat)? We will come and sit at your maths. We are not scared. I am not alone. Your maths won't survive if we bring all the girls from Gangavati taluk. You won't even have space to sit, we are so many children. What do you think of yourselves? We are not what we appear to be," Anjali does not sugar-coat her words. She, according to news reports, is the daughter of a labourer, and school unit member of the CPM-affiliated SFI.
The Karnataka primary and secondary education department have only recently decided to introduce eggs for around 14.44 lakh students in government and government-aided schools in Bidar, Raichur, Gulbarga, Yadgir, Koppal, Bellary and Bijapur districts to tackle malnutrition. It is for students from Classes I to VIII, they will get 12 eggs, or bananas for vegetarians, every month, till the end of school year on March 30, 2022. The allowance of only 12 eggs in a month per child seems to have exposed the caste divide in the state too.
According to news reports these districts have reported a high rate of anaemia and malnutrition. After the eggs were put in the menu, over 80 per cent of the students' parents gave consent for it. The Telegraph reported that Anjali said if the government stopped eggs the students would stage protests "since it is our right to eat what we want," she said.
Those opposing eggs reportedly include Hindu religious leaders such as Sri Vishwaprasanna Theertha Swami of the Pejavar Mutt in Udupi, Channabasavananda Swami of the Lingayat Dharma Mahasabha and Sadhguru Mate Satyadevi stated the news report. They have demanded the immediate withdrawal of eggs from the midday menu." Theertha Swami of Pejavar Mutt has reportedly claimed that the inclusion of eggs would "force-change eating habits of vegetarians" adding "the government should not include eggs as there will be kids from other communities. Schools are not places to change the lifestyle and customs of children." Lingayat leader Channabasavananda Swami told the media there will be protests if eggs were not pulled out of the menu. "Schools will turn into military hotels [which are eateries that serve non vegetarian food] when eggs are served. There will be strong protests if this is not withdrawn immediately," he told reporters.
Protests had scrambled the egg-in-mid-day-meals' plan in 2015
It is not for the first time that religious groups have objected to eggs in the mid-day meals. In 2015, they had actually brought similar plans to a halt, Dr. Sylvia Karpagam, a public health doctor and researcher involved in Right to Food and Right to health campaigns in Karnataka, told SabrangIndia. Such bans/objections she says are reflective of caste based discrimination. "They started distributing eggs on December 1, apparently the attendance went up [in schools] and now that the resistance has started, there are rumours that they [government] may stop it. They have said if bananas [instead of eggs] are not adequate they can also give chikkis [peanut brittle] for children who don't eat eggs."
Dr. Karpagam added that the 'fear' among the religious leaders is perhaps that the vegetarian children may be "tempted" to eat eggs if they see other children doing the same. However she says compared to 2015 [when the controversy last rose], now the demand for eggs by children is "much stronger", as well as a lot of doctors, activists, Dalit leaders have come forward to say we want eggs. From Ahhara Namma Hakku (food is our right) a group of activists and nutrition expert, had even written an open letter to Education Minister, Government of Karnataka, asking that the state government to provide eggs for children who want to eat them, in all districts of Karnataka, as part of Mid Day Meals and not just seven, to uphold the Right to Food of every child as enshrined in the National Food Security Act 2013.
"According to the National Family Health Survey (NFHS) 5th round (2019), most children in Karnataka do not reach their ideal height and weight. Stunting (less height for age) of 35.4% and being underweight (less weight for age) of 32.9% are common in children even before they start their school life, and this is much more so in children from vulnerable communities," stated the letter. It further said, "The aim of the Akshara Dasoha (mid-day meal scheme, MDM) in Karnataka was both educational and nutritional – to increase school enrolment and attendance, decrease dropout rates, promote good health through nutritional foods and increasing learning ability of children." It added, "Karnataka has been the ONLY South Indian state that has not provided eggs as part of MDM, in spite of the fact that 94% students in the government and aided schools belong to communities that eat eggs." It cited the National Family Health Survey-4 (2015-16) which concluded that at least 83% of the state's population does not have any cultural or religious objections to consuming eggs. Tamil Nadu and Andhra Pradesh provide eggs five times a week.
Boiled egg is a low-cost, easy to cook, culturally acceptable
The civil society groups have demanded that the government urgently take measures such as, eggs being mandatorily provided daily to the children in all the 31 districts of Karnataka. Milk or milk powder must be provided to the school-children under the Ksheera Bhagya scheme daily. "Milk should be reconstituted at the school and provided fresh to the children," alerted the experts. They ask that "extra effort has to go to ensure that children in tribal belts, dalit children, children from OBC communities are not left out" and want school-based kitchens not centralized contracts.
Boiled egg is a low-cost, easy to cook, culturally acceptable and locally available alternative with high Protein component with biological value of 100 as compared to 60-70 for pulses (daal) and a good source of all vitamins except C, stated the experts. Crucially it is safe from adulteration.
"The religious groups that don't eat eggs don't send children to study in government schools," said Dr Karpagam adding that "those vegetarians who have money also have access to "animal sourced food" such as milk and milk products, which the poor children who study in these government schools do not. The three eggs they get in school each week is the highest protein rich food they have a chance to consume.
Related:
Targeting Christian community not a new phenomenon in Karnataka: PUCL report
Carry swords to protect cows: Sadhvi Saraswati
UP: Mid-day meal cooks not paid wages for eight months of wages
Uttar Pradesh: Dalit school children thrashed, made to sit separately in Amethi
Karnataka's Right-Wing groups most active against Christians ahead of State Assembly meet
Communal hate crimes are acts of violence against society at large: Karnataka report