Image Courtesy: Raj K Raj/HT PHOTO


After the Jawaharlal Nehru University (JNU) students went up in arms against the imposed fee hike by the Inter Hall Administration, tuition fees across the board face a hike, a move that will affect thousands of students all over India. In Himachal Pradesh, Tribune India reported that students pursuing the two-year B.Ed degree course will also be compelled to shell out Rs. 16,000 more pr year as the government has hiked the fees from Rs. 84,870 to Rs. 98,000 from 2019-21 batch. Besides the tuition fee, the students will be charged additional Rs 10,800, which include Rs 2,060 as amalgamated fund, Rs 3,600 as computer fee and Rs 1,800 each for science practical.
That is not all. A levy of 7 per cent will be payable on the tuition fee of Rs 84,000 for the full course, which works out to be Rs 5,880 per student. The students will also have to pay Rs 1,400 as examination fee for each semester.The total fee and other charges, excluding 7 per cent levy, will be 49,510 for first year and 48,490 for the second year. "The government is adding to the burden of poor people, who take loans for the education of their wards," said Niharika, who was planning to do BEd in the next session. Clearly, the government is carrying on unheeded.
This is just another recent revelation about how publicly-funded higher education institutions are ironically becoming costlier for the general public to avail of. In the wake of these protests, not only from JNU, but also from IIT students, students from Jadavpur University and the Uttarakhand Ayurveda Colleges, etc. it is imperative to figure out what the major stakeholders – the students lose out on if the administrations and government get their way.
Fee structures – Public vs. Private
In India, education has started to be seen increasingly as a consumer service that is directly related to an individual's financial capital. The more money you have, the more you are 'eligible' for better education. All this is also because of the chest-thumping of private institutions that claim to be the only providers of good quality higher education.
In the last five years the private education industry in India has nearly doubled in size. Research shows that the revenues of this sector stood at $97.8 billion in 2016 and are projected to reach $180 billion in 2020.
Compared to this, Education spending dropped from 1% of GDP in the NDA government's first budget in 2014 to 0.62% in 2017-18. Its share in the budget has been slashed from 6.15% to 3.7%.
The fee hike — set to come into effect from the next academic year — will nearly double the annual fee for JNU students living in hostels from the current Rs 27,600-32,000 annually up to Rs 55,000-61,000.With the revised fee structure that will come into effect next year, JNU is set to become the most expensive central university, tipping off even Delhi University sitting at the top of the table with a fee of Rs. 40,000 – Rs. 50,000 per year.
Allahabad University students have to pay Rs 28,500 (on an average) annually for both food and accommodation. The Banaras Hindu University is cheaper, with students having to pay an average of Rs 27,400 annually. Uttar Pradesh's other major central university, AMU, is significantly cheaper at Rs 14,400.
At Delhi's JamiaMilliaIslamia, the annual fee is Rs 35,000.The Vishva-Bharti University in West Bengal charges between Rs 21,600 and Rs 30,400 annually.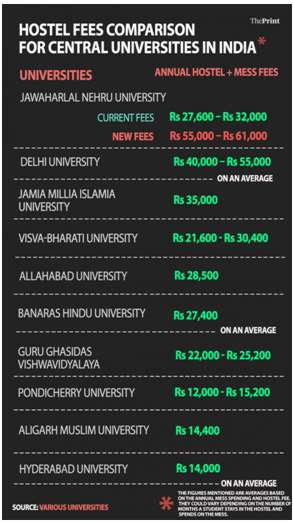 (Source – The Print)
All India Institute of Medical Sciences (AIMS)
Many students are now forced to give up fields like engineering or medicine, all owing the sky rocketing fee structures they come with. Currently, private universities charge between Rs. 30 lakh and Rs. 1.2 crore for MBBS and Rs. 1 – 3 crore for MS and MD.
This, compared to doing an MBBS course at the All India Institute of Medical Sciences (AIIMS) where the fees for the entire course is currentlyless than Rs. 8000 for the 5.5 year course.
However, going with the current trend of fee hikes, even AIIMS is looking to increase its tuition fee to Rs. 50,000 – Rs. 70,000 per year for the course. The ostensible reason?At present, the government gives nearly Rs 3,500 crore to AIIMS-Delhi per year and Rs 300-500 crore each to 14 other functional AIIMS.
An internal analysis on cost of education by AIIMS-Delhi sometime back had found that the government spends over Rs 1 crore per student for the MBBS course there."We are asking these institutes to at least generate Rs 70-75 crore every year through charging for MBBS programmes and patients services," a senior ministry official said to the Indian Express. Currently, AIIMS-Delhi generates only Rs 2-3 each crore.
However this argument evades the very purpose of setting up an institute like AIMS where the issue of medical education and training is intrinsically linked to public health services and quality medial attention for all. Over 13,000 patients visit the AIIMS out-patient clinics every day and these are parients from all over the country and a vast majority from a strata who would not be able to access medical treatment if fees were hiked (both of education and services).Another 2,000 ptientsare admitted for treatment in the network of six hospitals affiliated/attached to AIMS.
Now while JNU students have put up a robust protest around the proposed fee hike, Hindustan Times reports that the All India Institute of Medical Sciences (AIIMS) has begun a process to review the fee it charges from patients as well as students, a process that could make treatments and studying in one of India's finest medical institutions more expensive. The memorandum has been issued by the GOI's Finance Ministry. The memorandum, accessed by HT, was issued after the Central Institute Body of six AIIMS, including AIIMS Delhi, decided to review the tuition fee of students and make user charges for patients uniform across all AIIMS.
The fee for students may also increase from the total tuition of ₹7,640 for the 5.5-year MBBS course.There are 100 MBBS seats for Indians and seven for foreign nationals at AIIMS Delhi, which is ranked first among medical institutes by the National Institutional Ranking Framework of the human resource development ministry.
Why the fee hike anywhere means a loss of merit and education
The hike in the Himachal University B.ed college fees came as a double blow after reports of admitting students not based on merit surfaced. With cut-offs as low as 30 percent, the professors too wondered what was the need of the entrance exam if the government had to enroll in quantity and not quality.
With NEET too, to fill a total of 61,000 seats, the ranks of the students who got admission went all the way down to 8.45 lakh, reported the Economic Times. In many of the private colleges where students with very low scores have got admission, the annual fee ranges from Rs 17 lakh to Rs 23 lakh for regular seats. For NRI seats, it goes up to Rs 33 lakh per year. The cost of the MBBS course in such colleges would be well beyond a crore, once hostel fees, exam fees and various other charges are added. For a large number of students with high scores, this would be way beyond reach.
Because the percentile cut off being set abysmally low allows a ratio of 1:13, or 13 qualified students being available for each seat, helping colleges go down the list of 'qualified' NEET candidates till they find ones who can afford the fees they charge. Thus, instead of a merit-based selection, it becomes a money-based selection, at least for most of the private colleges. Raising cut-offs would reduce the 'demand' in this market for seats and hence force the 'sellers' to lower their price (the fees), as with any commodity.
India's human development figures are dismal: 85% of the population of the country is practically poor, with an income of below Rs. 10,000 per month. Specifically with regards to JNU, if the fee hike is implemented, 40 percent of the students will be at risk of being abandoned.
The Indian education system has seen many privatisation attempts. The Higher Education Financing Agency (HEFA), a joint venture of Canara Bank and the Ministry of Human Resource Development (MHRD) was supposed to provide financial assistance for the creation of educational infrastructure, and for research and development in Indian universities. Curiously, HEFA funding will replace the current grant assistance given by the government of India towards the infrastructure projects of higher educational institutions.
So where will HEFA get its funds from? The Wire reports that it will mobilise resources from the market on the basis of equity from individuals or corporate entities through bonds, to finance the requirements of educational institutions.
Last year, the government proposed that those universities and colleges which have performed very well consistently over a period of time, especially on the National Assessment and Accreditation Council's (NAAC) scale, will be given complete autonomy. This came with a rider. Institutions have to raise the money they need on their own and this will naturally be done by charging very high fees from students and also through 'public-private partnerships'. When we examine what this autonomy entails for public universities in India, it becomes clear that it amounts to nothing but an enhanced push for the commercialisation of public institutions, particularly, universities. This again means that money, not democracy, social justice and merit will govern their policies and functioning.s
Apart from the above measures, the MHRD had earlier come up with a 70:30 formula, where central universities were asked to generate at least 30% of their funding on their own. Corporatisation of education will also mean that the market will decide which courses are to be offered and which not. This essentially means courses in the humanities and social sciences will struggle for space in Indian universities as job-oriented courses with high placement chances are given more importance in the future.
Loss of Merit in Himachal's B.ED Course
There are 72 private BEd colleges in Himachal Pradesh with about 7,500 seats, but a majority of the seats are not filled on the merit of entrance test.The government and Himachal Pradesh University have obliged the managements of private BEd colleges by giving them permission to admit even those candidates who failed to secure minimum 30 per cent in the test. Students, who did not even appear for the entrance test, were allowed to register themselves for counselling on the basis of merit of qualifying examination.
Himachal Pradesh University has been compromising on the merit, making a mockery of the entrance test to fill the seats in private colleges instead of reducing the number of approved seats.Academicians are sore over the attitude of the government towards quality education. "Why should the government be reluctant to reduce the number of seats and strictly adhere to merit in case meritorious candidates are not available?" asked a retired professor.
The imbalance
According to the CAG Report of February 2019, Rs 94,036 crore of the secondary and higher education cess and Rs 7,298 crore of the research and development cess remained unutilised.
In 2017-18, the total expenditure on JNU was Rs 556 crore, seeing over 8,000 students through one academic year, over a 1,000 research articles published in reputed journals, 1,086 special lectures being open to the public, and 4,594 MPhil and PhD dissertations being submitted. Contrast this with the Rs 1,313 crore spent on mere publicity of the central government and its schemes.
The national common minimum programme of the Congress-led United Progressive Alliance-1 government promised 6% of GDP spending on education. This was 15 years ago, in 2004. At present, government expenditure on education is only 3% of gross domestic product (GDP). This includes Central and state governments.
Public universities, by their current composition and policies around admissions, courses and fee structure actually fulfill the mandate of India's Constitutional Vision that promises equality and dignity for all. Crucially, they
The good fight that the students of JNU and other universities are fighting is for education for all. A common school and education system not because they think they are entitled, but because they know, hailing from the diverse backgrounds that they do, that this crucial stepping stone towards higher education and research enables equality, diversity and pluralism to thrive.
Instead of questioning their struggle and their determination to struggle for the enforcement of the Constitutional Vision, we should question why this agitation has taken shape in the first place. Why is there an increasing need for the privatisation of a fundamental right? Why is there a constant push to keep vast sections of Indians away from quality public education? Why is money the measure of merit?
The current protests all over India are against privatization and segregation within public education. It is against a system that is suppressing free thought by using methods like a fee hike that will keep deprive most students of their right. It is against exclusionary practices based on religion, gender, caste, class or financial standing.
India's caste system, for close to five thousand years, denied research, knowledge and learning to its millions. The crass push towards privatization of primary, secondary and higher education is nothing short of the push of neo-liberal economics to re-inforce and re-invent the caste system of deprival and exclusion in a more crass, 21stcentury mask.
Related:
JNU VC Deserves Compliments — For Passionate Zeal To Destroy Varsity & His Loyalty To Masters
Ahmedabad students sign huge banner in support of JNU anti-fee campaign
'Stand by JNU!' Solidarity Statements from across the world