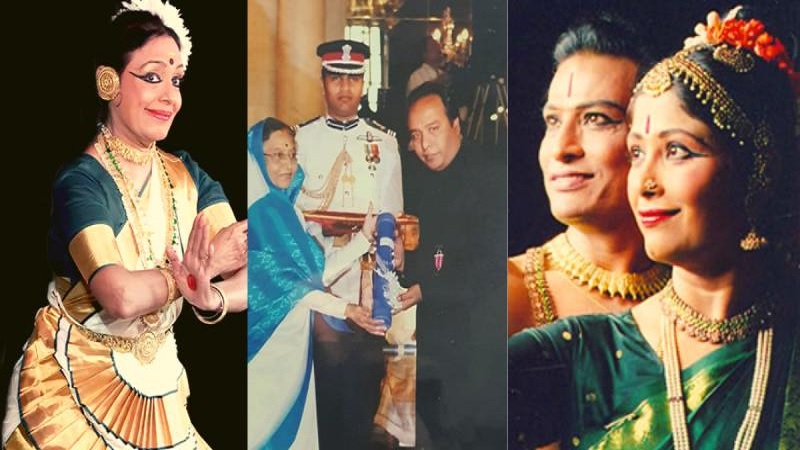 Image Courtesy:thewire.in
Birju Maharaj, is to Kathak what the Beatles are to rock music, sheer legend. He turned 83 years old this year (born February 4, 1937). Brijmohan Nath Mishra Maharaj, has put Kathak on the global stage, and is regarded as a master and teacher by some of the best known dancers in India and abroad. He comes from a line of Kathak legends, and even now is regarded almost as a demi-god by artists who vie to have him seated in the audience when they perform. The many awards he has been honoured with include the Padma Vibhushan, Sangeet Natak Akademi Award, National Film Award, Sangam Kala Award, Bharat Muni Sammaan, Andhra Ratna, National Nritya Shiromani Award, Rajiv Gandhi National Sadbhavana Award, an Honorary doctorate from Indira Kala Sangeet Vishwavidyalaya, Honorary doctorate from Banaras Hindu University, and many more from various state, and international governments.
Dhrupad legend Ustand Faiyaz Wasifuddin Dagar is one of the best known names of the classical vocal genre. He has been awarded the Padma Shri and has kept alive and polarised one of the oldest living classical traditions of vocal music in India. According to a story written by art expert Humra Quraishi in the National Herald, this genre dates back to the 15th century when a Dagar was a court musician for the Mughal Emperor Akbar. Ustad Wasifuddin Dagar, it's the 20th generation of the Dagars rendering this particular form of Dhrupad, he is also the President of the Dagar Society of India
Mohiniyattam guru Bharati Shivaji is a well known choreographer and author, she is the founder of Center for Mohiniyattam, co-author of two books on the dance form. She has received the Padma Shri, Sangeet Natak Akademi Award, Sahitya Kala Parishad Samman, Lasya Lakshmi title, Nishagandhi Puraskaram and the Nritya Choodamani title among other global recognitions.
Guru Jayarama Rao is one of the best known teachers and performers of Kuchipudi, the ancient classical dance from Andhra Pradesh. His students have gone on to become legendary performers themselves. Now,nearly 70 years old, he dedicated his life to the dance form, and to his students, and is a member of the government's expert committee on Kuchipudi, has been feted by the ICCR and along with his wife Vanashree Rao has represented India all over the world as a cultural ambassador and showcased the dance form at major International festivals. He is the recipient of the Padma Shri, (2004) and the Sangeet Natak Akademi Award, Delhi State Award, Andhra Pradesh Samman, Indira Priyadarshini Award, Natyaratna Award and many more.
These cultural legends are just a few of the recent list of artists who now face eviction notices asking them to vacate the government accommodations they were allotted in recognition of their service to the art forms. The eminent artistes have reminded the government that the Covid-19 pandemic is far from over, and most of them are vulnerable senior citizens who have been suddenly asked to vacate homes they have resided in for years.
According to a report in the Indian Express, the Union Culture Minister Prahlad Patel seems unmoved and said the artistes have been given "time till December 31, 2020, to vacate the houses, failing which, they will have to pay their outstanding dues. But if they vacate within the deadline, all their dues will be waived off."
There are over 20 eminent artistes now facing eviction including Pandit Birju Maharaj, Ustad Wasifuddin Dagar, dancer Bharati Shivaji, Guru Geetanjali Lal, Guru Jayarama Rao, Jatin Das, and others. Most of them are senior citizens. They were all allotted government accommodations at nominal rents for three-year terms which were extended regularly. The homes were allotted to artists who had earned global fame and were regarded as cultural icons, and had been awarded with national and international titles. According to the news report these allotment extensions had expired in 2014 and there was "a constant back and forth of letters between the artistes and the Culture Ministry since then", the ministry has 40 residential units for artists and 23 have been vacated till date, stated IE.
The report quoted dhrupad vocalist Wasifuddin Dagar, who has been asked to vacate, saying some consideration needs to be given to the artiste's stature, contribution to the art form, "We don't want to go against the government or have a tussle with any minister. We just want them to help us out. They had said that the ministers are given accommodations for five years, to which we want to say that we are not representative of some party. Artistes don't retire. They keep working and that happens out of their homes. I teach dhrupad out of this home. These are only 20 houses, extremely simple, small homes and that is also bothering them? We hope that somebody will come forward to help us."
Kathak exponent Pt Birju Maharaj, also appealed to Prime Minister Narendera Modi to consider the pandemic situation, his advanced age and his service to the art form, "during this pandemic, at the time of Covid, I received a notice to vacate the home. I have been staying in the house for some time now and it's a huge help from the government. I have been serving classical dance and have been spreading the art form nationally and internationally. I am 83 years and I am quite sad and shocked that a notice like this has come at this time. It's my appeal to PM Modi to think about this and the artists and find a solution to this."
According to The Indian Express reports the government decided to phase out all kinds of quotas in accommodation for sportspersons, journalists or artistes in 2014, and has been sending regular notices for eviction to those who still occupy the government houses. It stated that the dues of some of those yet to vacate "are running into crores". Once the houses are vacated, they will only be allotted to central government employees as per the new policy, stated the IE.
"When a government does not care about culture in a country, they do things like these. All those who've got notices are cultural ambassadors whose contribution in the field of arts is huge. All those MPs and netas who get those bungalows, no one tells them to leave. This is extreme short-sightedness on the part of the government. You need to value these artists, not evict them like this," vocalist Rajan Mishra told the IE.
The culture minister however told The Telegraph that a policy already exists and "it's clear that no one can stay on above the age of 60, or for more than two terms of three years each. Their income should not be more than Rs 20,000 a month. But people have been living (in these government houses) for 12 to 35 years," he said adding, "The CCA (cabinet committee on accommodation) has decided to waive their liability (penalty for overstay) if they vacate. If they don't, then commercial rates will apply." The Hindu reported that the CCA, headed by Union Home Minister Amit Shah, had on November 8 approved a culture ministry proposal to waive "damage charges" — penalty for overstay — against 27 artists allotted government houses in Delhi.
Birju Maharaj was quoted as saying: "I have written to the Prime Minister and the housing and urban affairs minister (Hardeep Puri), but I'm yet to receive a reply. I ask them to think about us — who have given our whole life for the culture of this country. Where do we go once we are evicted? I have no other home. Rajiv Gandhi gave me this home (on Shahjahan Road) in 1985, along with another to Pandit Ravi Shankar (in Lodhi Estate)."
According to the Telegraph, five of those in the list, dance historian Sunil Kothari, Kuchipudi guru Veernala Jayarama Rao, Mohiniyattam expert Bharati Shivaji, Dagar and Sangeet Natak Akademi awardee and Kathak expert Nalini Asthana, had been asked to meet culture secretary Raghvendra Singh on the issue. However they received no assurances, except that their request would be examined. "At the age of 73, during a pandemic, I expected my government to support me and not evict us," Rao told the Telegraph, adding that the family had been paying the rent of Rs 16,800 per month, cumulatively every six months, for its 2BHK home in Asiad Village. His wife added that they were both in their early 70s, and for the last eight months have had no income since they can't conduct classes amid the pandemic and all performances have stopped. He said "Unlike Bollywood artistes we don't make a lot of money. It's only state festivals that pay us in full, and even that amount is spent on the musicians and lights. We have no pension or provident fund."
Related:
Apolitical is a luxury few can afford: Rahee and Sarah
Art and activism are complementary endeavours: Bhawana and Smish
Most dangerous thing is the death of our dreams: Pash (9 September 1950 – 23 March 1988)