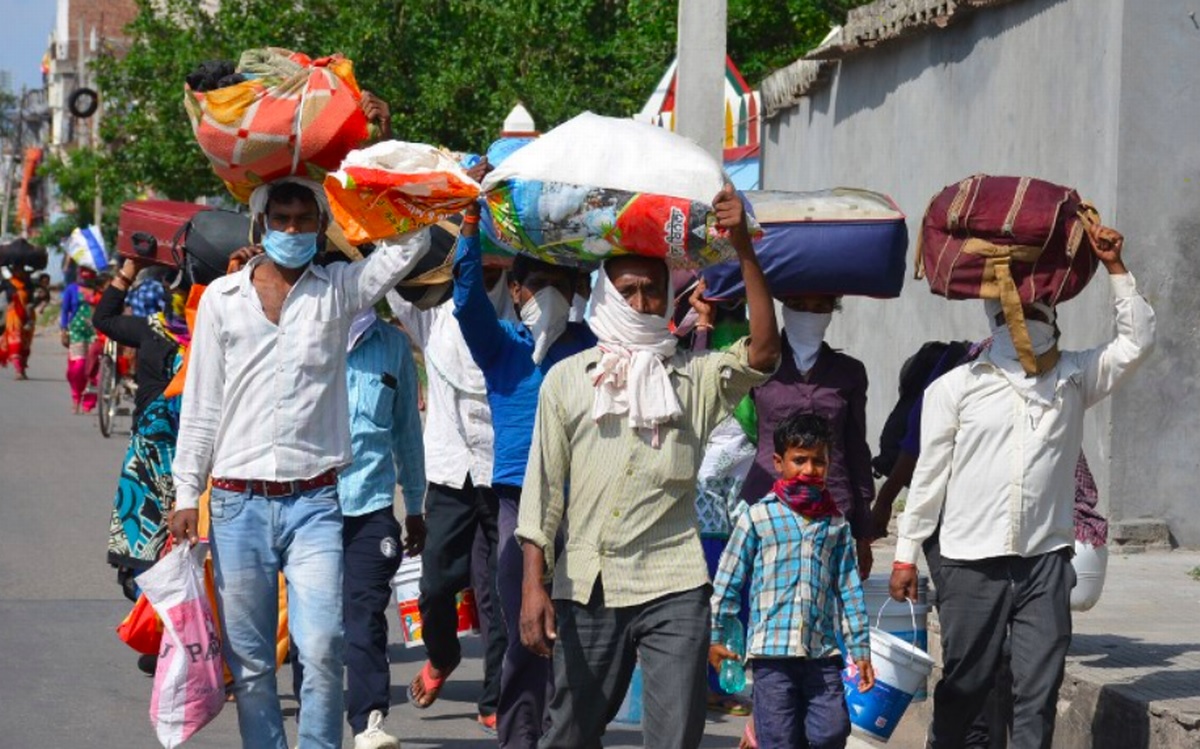 Well into yet another 'unlock' with politicians repeatedly saying that the economy is back on track, the lakhs of migrant workers, who were among the worse affected due to the sudden lockdown in March, continue to suffer. India still does not have a working system to absorb migrants under the public distribution system, stated an extensive report in The Telegraph, stating that the average income had plummeted 85 per cent by mid-August among returned migrant workers.
Around 35 percent of them have had no work at all, the report based on a survey, stated that two-thirds of the migrants who had returned to their villages, now want to return to the cities they worked in. They do not have a choice even though they may have planned to stay home for longer as Covid-19 crisis in the cities continues. When they had come back after the arduous journey from workplaces like Mumbai, Rajasthan, Gujarat, Punjab, and Delhi, many had vowed they would never return.
After the lockdown, many migrant labourers were forced to choose between two extremely difficult options; continue to stay in expensive cities where expenses kept mounting and income sources dried up, or go back home to their families in their villages, but face an uncertain economic future. Citizens for Justice and Peace, supplied rations and essentials to thousands of migrant labourers who both stayed on, and some of those who left. SabrangIndia and CJP series Migrant Diaries had chronicled the ordeals they were forced to face as they took an arduous journey back home.
Some like Tinku Sheikh had quickly realised the hardships were only to get worse even at home, "There is no work here. I have heard that MNREGA work has started in our village but I do not have a job card. My parents used to have one but I don't have one. Now the offices are shut because of this lockdown, how will I get one for myself? I don't know from where I will earn money for my and my family's sustenance? What I do know is that if the lockdown continues then poor people will starve to death," Tinku Sheikh had told team CJP back in June.
He was right, and now the continuing hardship is forcing the millions who had walked home in initial days of the lockdown, to return to the cities. The Telegraph reported that a telephone survey of returned migrants across six states conducted between June 30-August 15 has emphasised the lockdown's continuing impact.
The report "Migrant workers: A study on their livelihood after reverse migration due to lockdown" by the Inferential Survey Statistics and Research Foundation, a body of retired Indian Statistical Service and Indian Economic Service officials, was released on Thursday. The survey spoke to "2,917 returned migrants from 505 gram panchayats in 34 districts in Bengal, Bihar, Odisha, Uttar Pradesh, Chhattisgarh and Jharkhand," its principal investigator B.B. Singh told the media, and found that the worker's "average monthly income had, after their return, fallen from Rs 13,683 to Rs 2,045 – a drop of 85 per cent," this has prompted 67.64 per cent to plan a return to their workplaces in the cities.
The Telegraph noted that Union Labour Minister Santosh Gangwar had told the Lok Sabha on September 14 that "80 crore people were being provided 5kg wheat or rice and 1kg of pulses free every month" in addition to their usual entitlements under the National Food Security Act. The minister added that "20.65 crore women Jan Dhan account holders had been given a cash assistance of Rs 500 a month for three months, while three crore pensioners had received a one-time ex-gratia assistance of Rs 1,000." The government stated an additional allocation Rs 40,000 crore under the Mahatma Gandhi National Rural Employment Guarantee Act (MNREGA), which promises every rural household up to 100 days' work a year.
However, the survey found that while the job scheme was supposed to absorb a substantial number of the returned migrants, it provided employment to just 3.53 per cent, stated the news report While many of the returned migrants did casual work for an average of 4.59 days a week, nearly half were paid less than the minimum wage. About 35 per cent had no work. According to the report even though some states had started giving free rations to stranded migrants in the early days of the lockdown, it was too little, "only 4 per cent received the free rice and less than 2.57 percent received free wheat and dal."
The Telegraph quoted P.C. Mohanan, former acting chairperson of the National Statistical Commission who attended the report's web release, that the survey had "found that there was hardly any support for sustaining their income or rations at their place of work," he said. Mohanan highlighted that the "country currently has no system to absorb migrants under the public distribution system." He added that for the two-thirds of the migrants who want to return to their work sites, "The central and state governments should ensure they can go back to their workplaces without any financial burden," as even train travel was now expensive. Ashok Gulati, former commissioner for agricultural cost and prices, told The Telegraph that, "the income loss is the most alarming aspect."
Behera says he is happy that he has reached home safely but is aware that the financial struggle will begin afresh. "We are going to face a lot of difficulty due to unemployment and ultimately we will have financial issues. But I am with my family now which is most important to me. I am thankful to all the people who helped us during this crisis. I hope that things get back on track, and the state government provides us with some opportunity for work, so that we can at least earn for our daily living," says Behera.
His optimism, backed by his will to work hard, will help him brave this storm too. Hopefully, the government of Odisha is looking out for the workers who have always sent money, money that was also added by their families' spending, right into the state's coffers.
As Hrudanand Behera, a skilled repairman, who had returned from Mumbai to his village Biripali, in Bolangir district of Odisha, told CJP, and SabrangIndia that their financial struggle will begin afresh, even after 20 years of working in the big city. "We are going to face a lot of difficulty due to unemployment and ultimately we will have financial issues…" he had predicted months ago.
Related:
http://sabrangindia.in/migrant-diaries
No data to check unemployment rate in last 12 months?
National Unemployment Day: Youth demand jobs, financial security
SC quashes Gujarat notification extending work hours without overtime pay
How the new labour codes leave Indian workers' future in the dark?