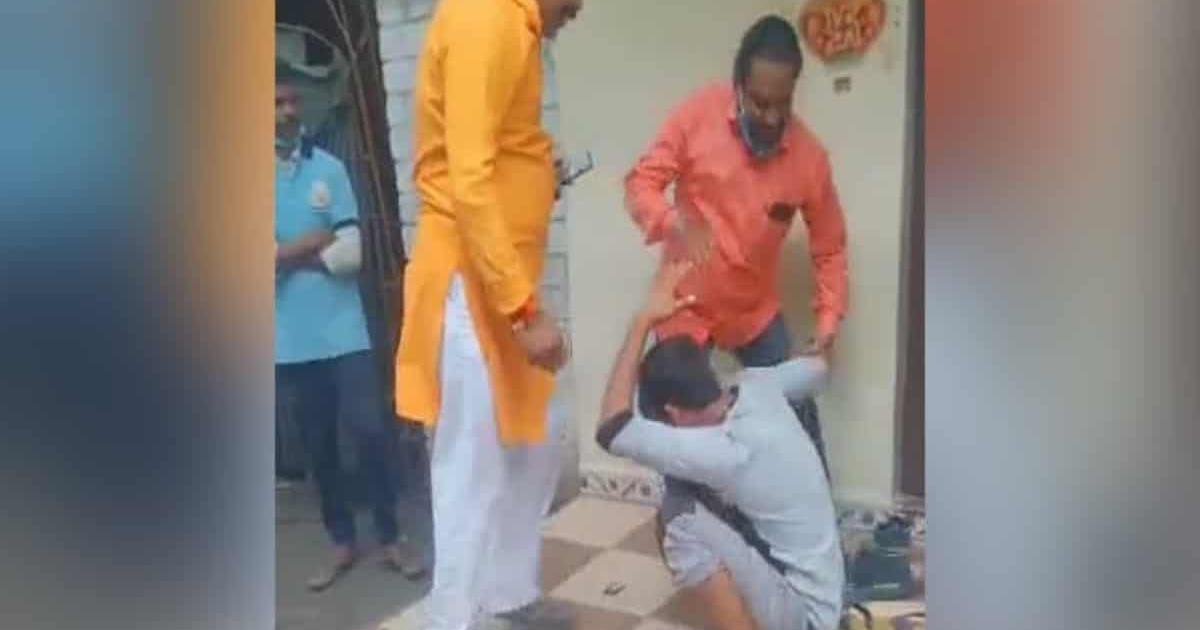 The festive season has begun in earnest in North India. Eid is done, Rakshabandhan and Jamashtami have just gone by, soon other festivals will also bring a sprinkle of joy in the darkness that Covid-19 seems to have brought on.
However, doing their best to kill the festive spirit and fuel hate, are vigilante mobs, taking the law in their hands with impunity. Most are out attacking innocent Muslims, Dalits, Adivasis, and of course women and children. Most victims are also from economically backward backgrounds, and the accused are almost always backed by communal groups. Most of these cases are reported from north and central Indian states including Madhya Pradesh, Uttar Pradesh, Haryana, Rajasthan, Jharkhand, Chhattisgarh etc. Here are just a few of the heinous anti-minority crimes reported recently.
Uttar Pradesh: Muslim boys, 14 & 13, hacked to death near Meerut
Blood-soaked bodies of two minors — Mohd Sadiq (14) and his friend Mohd Aman (13) — were found dumped in forests some 25 away from Meerut on Sunday, reported Times of India. The victims are students of class 9 and 7, and were found with "multiple cuts and bruises on them". According to the police this indicates that the victims were "surrounded, thrashed and brutally hacked with sharp weapons". The children were driving an e-rickshaw to help supplement the family income. According to police, the vehicle is missing, along with Sadiq's phone. Police, however, told the media that the gruesome nature of the crime indicates that mere theft may not be the motivation. The police added that they did not have any leads in the case yet. Police told TOI that there were no signs of sexual abuse reported yet, and that the investigatons were on and an FIR was filed under various sections of the IPC, including murder, against unknown people.The children's families had reported them missing a day before their bodies were found. Sadiq's father Jaane Alam, a motor pump repairman told the media that he last spoke to his son "on Saturday evening when he and Aman had taken an e-rickshaw owned by Sadiq's elder brother to drop a passenger to a nearby stop." The father recalled that the child's phone was switched off after that call.
Madhya Pradesh: Adivasi man dies, after he was thrashed, dragged behind truck
Kanhaiyalal Bheel, a 40-year-old tribal man was allegedly thrashed by eight men then tied to the back of a vehicle and dragged him on the road. He succumbed to his injuries, soon after this barbaric act was reported from Neemuch in Madhya Pradesh on August 26. He died a day later. It was only after massive outrage, when the video went viral on social media, that the local police reportedly swung into action and arrested seven of the accused. Neemuch district Superintendent of Police Suraj Kumar Verma told the media that action was initiated "after a video of the incident became viral," adding that "by then, the accused had fled. The victim was rushed to the district hospital where he died on Friday."
सिंगोली में कान्हा भील की हत्या के प्रकरण में 5 हजार रुपये का इनामी आरोपी सत्तू उर्फ सत्यनायण पिता किशना गुर्जर निवासी ग्राम पाटन थाना सिंगोली गिरफ्तार, प्रकरण में अब तक 7 आरोपी गिरफ्तार @CMMadhyaPradesh @DGP_MP @drnarottammisra @DIG_RATLAM_MP @JansamparkMP @collectornemuch

— S.P.Neemuch (M.P.) (@SPNEEMUCH) August 31, 2021
According to the police, the main accused, Chhitar Mal Gurjar, a milkman, was riding a motorcycle that had hit Kanhaiyalal Bheel. SP Verma told the media that Gurjar was angry as his milk was spilled on the road and wasted. Gurjar then proceeded to accuse the tribal man of "stealing from him". Gurjar called up his friends and the mob proceeded to thrash Kanhaiyalal Bheel together, tied him to the vehicle,and dragged him on the road.
Uttar Pradesh: Mathura Muslim dosa maker attacked, more attacks feared
Hindutva mobs attacked Irfan, a Muslim dosa seller in Mathura, eventualy forcing him to rename his stall 'American Corner' from 'Shrinath Dosa Corner'. The mob vandalised his stall, tore down the name board, and threated the dosa seller, attacking him for being a Muslim and not givin his stall a 'Muslim name'. The mobs called for people to come and "purify" Mathura. The incident took place on August 18 at Vikas Bazar under Kotwali Police Station area, the video went viral on social media. According to media reports, police registered a case under section 427 (mischief causing damage) and 506 (punishment for criminal intimidation) of the Indian Penal Code against unknown people, adding that the main accused however has been identified.
Varun Kumar, circle officer (CO), Mathura (City) was quoted by The Wire as saying, "We have identified the culprits and will arrest them as soon as we can." According to news reports, Devraj Pandit (Prakash Sharma) a Hindutva 'activist', had claimed 'credit' for the attack by posting a video of the incident on his Facebook page. He continues to post videos on the page as he is yet to be arrested. He says all he needs "is the support of Sanatan brothers and the police administration".
Jharkhand: Muslim man alleges cops forced him to have sex with co-accused inside station
A shocking incident was reported by Maktoobmedia of two Muslim residents of Jamshedpur in Jharkhand, accusing the local police "of brutally beating and sexually assaulting them in a station premises". The men identified as Mohammad Aurangzeb and Mohammad Arzoo, have in their written complaint to the Senior Superintendent of Police (SSP), accused "seven policemen including Kadma police station in-charge, Inspector Harshvadhan and Nitish Thakur of custodial physical torture and sexual coercion," stated the news report.
Aurangzeb and Arzoo said that they were called to Kadma police station on August 26, in connection with a case of a young woman from Kadma who ran away with a youth from Dhatkidih. He told the reporter that he was kept "seated till 4 o'clock in the afternoon. And for the next five hours continuously, I was brutally beaten up by the policemen." The cops allegedly abused them with anti Muslim slurs such as, "Tum mulle Talibani ho ye hindustan hai tum sab Afghanistan chale jao (you Muslims are Talibani, this is India and all of you should go to Afghanistan)". Aurangazeb allaged that he was "forced to have unnatural sex with my friend, an accused in the case. On refusal to be involved in the sexual course, I was beaten up with a cricket wicket laced with excrement. Urine and excrement were also thrown on me."
Madhya Pradesh: Muslim man forced to chant 'Jai Shri Ram'
Two persons have reportedly been arrested for terrorising a Muslim scrap dealer into chanting 'Jai Shri Ram' in Ujjain district of Madhya Pradesh's. The videos of the incident were reported on Saturday. Sub Divisional Officer of Police (SDOP), Mahidpur, told the media that on Saturday the scrap dealer identified as Abdul Rasheed, went to Sikli village under Jharda police station area to collect some scrap in his mini truck, but he "was forced to leave the village and also threatened against doing his scrap business in the area. When he left the village, two men intercepted him at Pipliya Dhuma, manhandled him and forced him to chant 'Jai Shri Ram'. The man somehow got out of there after giving in to their demand, he said." The Indian Express reported that Jharda police station in-charge Vikram Singh Ivne confirmed "that an offence was registered against the two accused, identified as Kamal Singh (22) and Ishwar Singh (27), for disturbing communal harmony, and they were arrested." The accused were "booked under IPC sections 153-A (promoting enmity between different groups on grounds of religion), 505 (2) (public mischief), 323 (voluntarily causing hurt), among others."
Madhya Pradesh: Muslim street vendor asked for Aadhaar, thrashed for not carrying it
A a 45-year-old Muslim man was thrashed for not carrying his Aadhaar card in Dewas last Thursday, reported India Today. The Victim, Zahid, is a labourer who works a second job as a biscuit seller who travels from village to village to sell his wares. According to the news report, he was on his way back after selling biscuits at Borli village under the Hatpipalia police station jurisdiction, when he was accosted by two men who asked him to show them his Aadhaar card. The accused thrashed Zahid who said he was not carrying his Aadhaar card at the time. According to the report. Zahid told the police that he recognised his assailants. He said, "Both are residents of Borli village and I have seen them in the village in the past, I recognise them from their faces and they have warned me not to enter the village again."
Meanwhile, Mukhtar Abbas Naqvi, Union Cabinet Minister of Minority Affairs has been busy with events such as "Mera Watan, Mera Chaman" a mushaira organised a few days ago in Delhi as a part of "Amrit Mahotsav" the brand name the government has given to celebrations of 75 years of India's Independence. Mukhtar Abbas Naqvi said such events strengthen the fabric of "Unity in Diversity" and India's "culture of civility and etiquette". Most recently he has been lauding UP CM Adityanath for his events as well.
श्री @myogiadityanath सरकार का समावेशी विकास, सर्वस्पर्शी सशक्तिकरण ? pic.twitter.com/bj3LFPzJTR

— Mukhtar Abbas Naqvi (@naqvimukhtar) September 1, 2021
Related:
Serial hate crimes against Muslims spiral, first MP, now Rajasthan
Kanpur: Three men arrested on Thursday for assaulting Muslim man, get bail on Friday
A pyramid of hate being built to score a poll win in UP?
Anti-Muslim hate speech at Delhi rally calls for communal violence