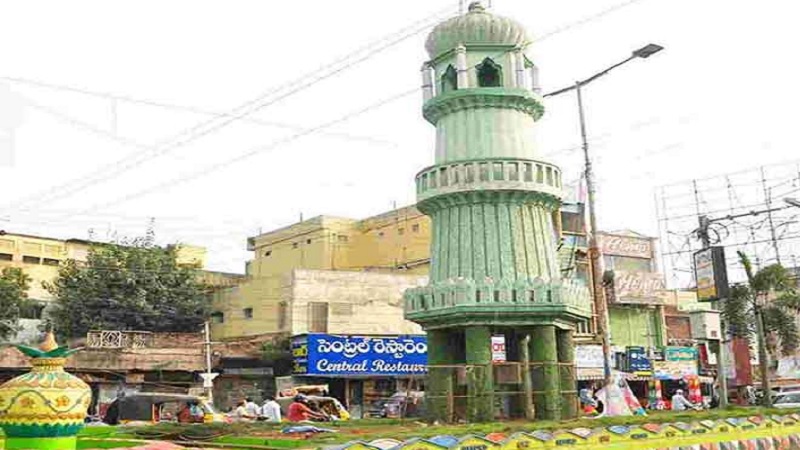 Image Courtesy:yespunjab.com
A group of Hindu Vahini members' attempt at communalising Republic Day, was thwarted by local police who detained them in Guntur, Andhra Pradesh, for 'trying to unfurl Tricolour at Jinnah tower'.
According to the police, "Celebrations at the circle could lead to communal trouble". The Hindu Vahini members were detained for a brief period and released, however a video of police "using force to disperse" the group has given fodder for the right-wing ecosystem.
Built in 1945 by Lal Jan Basha to honour Muhammed Ali Jinnah, the monument dates back to pre-partition and pre-Independence days after the visit of Jinnah's representative Juda Liaquat Ali Khan to Guntur. The monument, located at Jinnah Circle, on the busy Mahatma Gandhi Road, is seen as a "symbol of harmony and peace". That was until some BJP leaders began demanding that the state government remove the name "Jinnah" from the monument and the location.
Long before the incident of Republic Day, the Andhra Pradesh Bharatiya Janata Party (BJP) had been demanding the YS Jagan Mohan Reddy-led Yuvajana Sramika Rythu Congress Party (YSRCP) government rename the Jinnah tower in Guntur.
This Republic Day a group of around 10 members of Hindu Vahini, shouted "Jai Bharat Mata" slogans, and attempted to enter the Jinnah Tower area to unfurl the National Flag. It is obvious that they chose the location for a purpose and message that they hoped will reverberate long after Republic Day. It is most likely that the message was communal. As seen in the response of the police, that was reportedly deployed at the centre in large numbers. The right-wing group members were detained and taken to the local police station and were released later the same evening.
According to news reports, the Guntur Municipal Corporation erected barbed wire fencing around Jinnah Tower, after BJP's state president Somu Veerraju "announced on December 30 that Jinnah Tower would be razed to the ground and the area would be renamed after former President of India A P J Abdul Kalam or noted Dalit poet Gurram Joshua," reported Hindustan Times.
BJP National Secretary Y Satya Kumar also tweeted that it "carries the name of the traitor of India" and asked that "shouldn't it be named after Dr Kalam or son of the soil, a great Dalit poet, Gurram Jashuva?"
AP under Jagan is under twin attack from missionaries as well as jihadis.

A man was arrested near Jinnah tower, Guntur for hoisting 'Tiranga'.

Here in Jagan's rule, SDPI & PFI goons can construct illegal mosques,but a common man can't hoist national flag.

Jagan's theory! pic.twitter.com/rqXc2u55V2

— Y. Satya Kumar (@satyakumar_y) January 26, 2022
While 102 year old Bhagwan Ram Temple is being demolished in Tenali town of Guntur district,

A 76 old year old structure built in the honour of Jinnah in Guntur is being protected.

Is this Jagan's definition of Secularism ?

Or Peculiar vote bank politics ? pic.twitter.com/pTlv7CYSij

— Y. Satya Kumar (@satyakumar_y) January 24, 2022
His words seem to have empowered right-wing groups too, and was protested by Andhra's ruling YSRCP leaders, who alleged that this was intended to create communal discord in the city. According to news reports, YSRCP secretary and MLC Lella Appireddy told mediapersons that "never in the history of the city had such a demand been made and added that the party would lodge a strong protest over the issue" adding that "even veteran BJP leader L K Advani, during his visit to Pakistan in 2005, had praised Jinnah as the most secular freedom fighter and an ambassador for Hindus and Muslims."
However, the right-wing has seen it as an opportunity to fuel the Pakistan versus India, and by extension 'Muslims versus Hindus' chants. The RSS's mouthepice Organiser, in December 2021, carried an article calling the renaming of Guntur's Jinnah tower a "most sensible demand", made by BJP's Andhra Pradesh chief Somu Veerraju. Another politician from Telangana Raja Singh Lodh, added that the Tower should be named after freedom fighter Maulana Abul Kalam Azad. "How can we continue to use the name of a man who was responsible for the country's division for the tower or the area," the Organiser quoted Raja Singh.
Related
Dharm Sansad: Haridwar local courts deny bail to hate mongers
Condemn Haridwar Dharma Sansad remarks: RSS' Muslim Wing woos voters for BJP
Twitter vs Hate Speech battle now in France, court issues strict directions