Aurangabad and Latur (Maharashtra): "Pashu an shetkari ekaach vargaatle na?…He samplyaashivaay yaanchee smart city chee yojana kashi yashasvi honaar?" (For the government) aren't animals and farmers in the same category? How will their Smart City project be realised if both are not destroyed?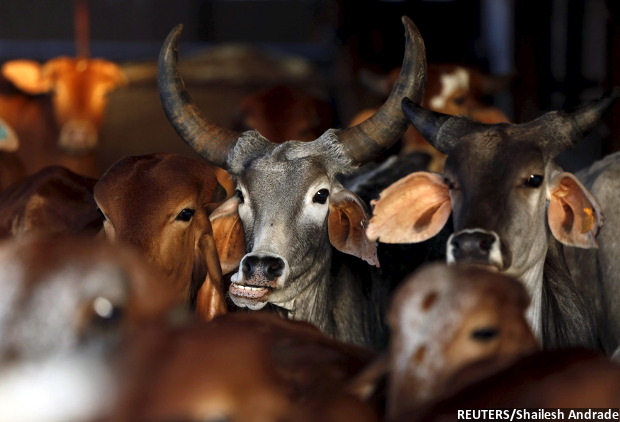 This was a Facebook post last month by Maharudra Mangnale, farmer, author and journalist from Shirur-Tajband village in Latur district in south-central Maharashtra. The irony was directed at the tightening of restrictions on cattle markets and what this would do to the farmer.

There is a ban on the sale of cattle for slaughter in Maharashtra, extended on March 4, 2015, to bulls, bullocks and calves. On May 23, 2017, the Centre notified new rules banning the sale and purchase of cattle from animal markets for slaughter under Prevention of Cruelty to Animals Act.

Why is this increasing squeeze on the cattle market for slaughter making Marathwada's farmers anxious? In this two-part series, IndiaSpend travels through the rural hinterland looking for answers. It looks at why small landholders and landless farmers who own a major share of the state's livestock need the freedom to sell unproductive animals to make cattle-rearing viable.

The next part will take a close look at the work cycle of two farmers in Marathwada to understand the place cattle occupy in it.

Marathwada is a marker of India's current agricultural distress: 77% of farmers have no more than five acres of land, the region has experienced three years of drought over the last decade, its rural per capita income is Rs 90,460, or Rs 12,547 less than the national average.

Cattle rearing and trade form an integral source of farm livelihood in this region. Cattle are essential for agricultural work but there are also 1,614 village-level dairy cooperatives in Marathwada, third highest among the state's six divisions. Annual milk procurement from these societies was around 20 million litres in 2016.

However, there is one important fact about the economic life cycle of cattle whether they are used for milk or agricultural work: It only lasts for about 15 years of their 25 to 30-year life span.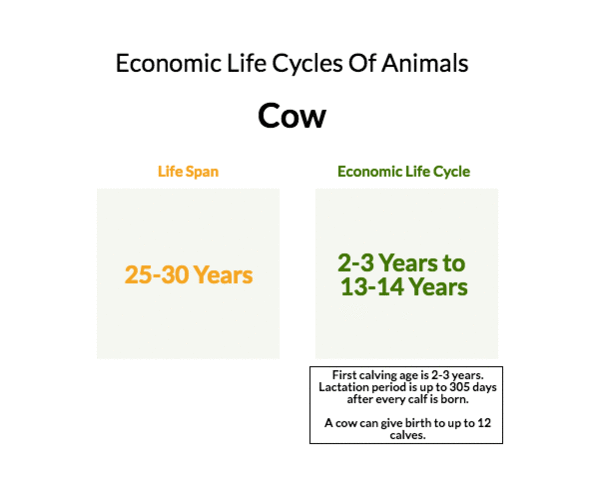 Source: Food and Agriculture Organisation; Sheep and goat breeds of India & Guidelines for slaughtering, meat cutting and further processing, United Nations, India Council of Agricultural Research & Tamil Nadu Agricultural University Agritech Portal

Farmers, thus, need to be able to sell unproductive cattle. This is especially the case with poor farmers who need to raise money to buy productive cattle and sustain milk procurement or farming. In times of distress, droughts for example, cattle sale helps small farmers raise money for sustenance.

To tend to old and unproductive bovines and arrange fodder and water for them is impractical for small and marginal farmers of dry Marathwada. Small landholders and landless farmers account for major share in ownership of livestock, according to the 2015-16 report of the union department of animal husbandry, dairying and fisheries.

So the new restrictions are making cattle rearing increasingly unviable. Slaughter traders are having to shut down businesses and farmers are giving up on dairy farming in Marathwada, IndiaSpend investigations found.

The new rules mandate a tangle of official procedures that threaten to cripple the thriving livestock markets which are intrinsic to rural Maharashtra's agrarian culture.

New rules complicate cattle sale process

Maharashtra government's Agricultural Produce Marketing Committees (APMCs) run 196 livestock sub-yards within the 300-odd markets that operate in the state. While some animal markets function within the premises on designated days where other agricultural produce is traded, others are located in more interior areas regulated by gram panchayat (village council) bodies.

The APMC grants licences to animal traders to purchase and transport animals–cow, buffalo, bull, bullock, calf, goat, sheep etc–that are brought to the market. At present, any person can bring an animal to the market for display and sale. A minimal market licence fee of Rs 10 is charged from the purchaser only if a transaction is made.

The only documentation required in a sale is an entry by an APMC or gram panchayat official in a register after the sale. A basic receipt stating the names and addresses of the buyer and seller, the sale price and the animal's details is issued.

Under the latest rules, cattle sale will become a far more complicated process. It will involve the formation of two committees–one at the district level and another at the local body-level–to carry out a more stringent regulation of market activities.

Members of these committees, unlike the elected members of APMCs, will be appointed by the state government. They will hold discretionary powers to inspect every animal entering the market. They can stop the entry and sale of "unfit" animals as well as seize animals from their owners in cases of "cruel treatment", according to sections 11, 12 and 13 of the recent Prevention of Cruelty to Animals (Regulation of Livestock Markets) Rules, 2017.

"We oppose every law that destroys this current free access to market, limited regulation and freedom of trade," said Seema Narode, western Maharashtra president of the women's front of the Shetkari Sanghatana, a farmers' organisation.

The rules are not only arbitrary and detrimental to farmers, but are also removed from ground realities of current trade practices, Narode said.

"In western Maharashtra where milk production is a flourishing occupation for farmers, many own jersey (cross-bred) cows which produce greater quantities of milk. But, male calves of these cows cannot be used for agricultural purposes," she added. "There is no option for us but to sell them."

Leather industry and butchers comprise a huge number of buyers of male calves of cross-bred dairy cows.

The story of a cattle market that had to shut shop

APMC's weekly animal market in Udgir town of Latur district recorded a slight sag in sales in the year 2016-17 and first quarter of 2017-18. Sales had steadily soared in the period between 2010-11 and 2015-16 owing to the successive droughts. Farmers in distress often sell cattle to tide over a crunch.

Source: Data collected from APMC, Udgir
NOTE: *Figures available up to December 2013; **Up to June 15, 2017

Cattle rearing in the region has declined because of two reasons, according to officials: An increase in the use of machines for farming and a fall in the number of traders who purchase animals after the 2015 ban.

"Around 10-12 cattle traders who operated out of the market here don't work here any longer because of the growing hassles they face in transporting cattle," said BM Patil, APMC secretary, Udgir market.

The situation appears to be equally worrying for farmers in Vidarbha.

An animal market that gathered at Sawal Mendha village in Bhainsdehi taluka of Baitul district in Madhya Pradesh stopped operating nine months ago. Sawal Mendha borders Amravati district in Maharashtra and served as a market for cattle-rearers within a 30-km radius in Akola, Amravati and Buldhana districts of the state.

Those who went to the Sawal Mendha market to trade their animals are now forced to travel 50-90 km to a livestock market in Paratwada village in Amravati district, said Satish Deshmukh, a farmer from Panaj village in Akot taluka of Akola district.

"Around four months ago, a few Muslim traders were also threatened and beaten up when they were transporting cattle. No FIR (first information report) was lodged," said Deshmukh, who is also a member of Shetkari Sanghatana. "The situation is becoming increasingly tense and difficult."

On May 26, 2017, two men were thrashed for possessing beef by seven gau rakshaks (cow vigilantes) in Malegaon taluka of Washim district.

The country witnessed 63 crimes of attacks by cow vigilantes, including 28 deaths, across the country in the past seven years, as IndiaSpend reported on June 28, 2017. And 97% of these attacks occurred after the Prime Minister Narendra Modi-led government came to power in May 2014.

"People fear that they will be booked under false cases. I have decided to not nurture cattle until this law is in place," said Mangnale.

In times of distress, as we said, small farmers usually sell their cattle to deal with the crunch. "When farmers are themselves in debt and committing suicides, they don't have the financial capacity to tend to old cattle and bury them after they die. It is expensive to hire a JCB and dig a pit," said Mangnale.

Govt assistance doesn't reach enough farmers

In 2016-17, Aurangabad district–one of the three districts in Marathwada with the highest bovine population–insured 15,891 cattle. The cattle population of the district stands at 676,180, according to the 2012 livestock census.

"Demand for insurance policy is huge. The target given to us was 5,000 cattle. We exceeded it," said BD Chaudhari, assistant commissioner, animal husbandry department, Aurangabad division.

Insurance is given to the cattle owner if the cow, buffalo or bull dies within one to three years of registration for the policy. The amount is estimated by the veterinary doctor depending on the animal's prevailing market rate and health at the time of registration.

Chaudhari admitted that availability of fodder remained a bigger challenge in the region. A state policy that allows distribution of fodder seeds to farmers had up to 2,000 beneficiaries in the year 2015-16 in Aurangabad district. But, this is clearly inadequate–of the 529,861 landholding farmers in the district, 83% have less than 2.5 acres of land and it is not enough to raise fodder.

"Because the seeds are provided on 100% subsidy , a limited number of beneficiaries are selected every year based on budget availability," said a livestock development official from the Aurangabad zilla parishad (district council).

'Cattle markets are a tradition that need to continue'

Livestock exhibitions and markets are a part of Maharashtra's agrarian tradition. Hundreds of cattle of indigenous varieties are displayed and traded every month at these events.

A case in point is the 50-year-old bull market, one of the largest in Marathwada, in Hali-Handarguli village, 22 km from Udgir town in Latur district. It functions for eight months between the Dussehra festival (October) and the kharif sowing season (June) every year. The market is known for its Deoni and Lal Kandhari breeds of bulls which are known and prized for their strength and capacity to work in peak summer temperatures.

"Are these exhibits and markets also not a part of our tradition?" asked Shankar Anna Dhondge, former Nationalist Congress Party (NCP) legislator from Nanded, countering the Rashtriya Swayam Sevak Sangh's (RSS) narrative of protecting "gauvansh" (cow dynasty) for its "sacredness".

But, cattle commerce in the Hali-Handarguli market, which operates Saturday to Monday, has now fallen considerably. On May 29, 2017, just before the market closed for the sowing season, only three buffaloes were available for sale against at least 100 earlier, according to locals.

"The legal perspective (on cattle slaughter) itself is flawed. Farmers do not anyway trade productive cattle for slaughter," said Mangnale.

Traders say that animal markets in Nalegaon, Deoni and Udgir in Latur district's Udgir taluka bordering Karnataka might have to shut down completely if the Centre's new notification is implemented.

Section 8 of the proposed law states that no animal market can be organised within 25 km of a state border.

"The law is made by those in cities, who know nothing about raising cattle," added Dhondge. "What will those who cannot take care of their own elderly parents and leave them in old age homes tell us about taking care of our old cattle?"

Moreover, Section 14 of the new rules also prohibits traditional practices such as painting of horns and decking animals with ornaments for being "cruel and harmful".

"The law is made with a sense of how animals are kept in a factory. What does the government know how much we care for our animals?" Mangnale added.

(Kulkarni is a Mumbai-based freelance journalist, who has worked with Haqdarshak–a social enterprise, Mazdoor Kisan Shakti Sangathan–a non-party people's political organisation and Hindustan Times–a newspaper.)

This is the first of a two-part series.
Courtesy: India Spend