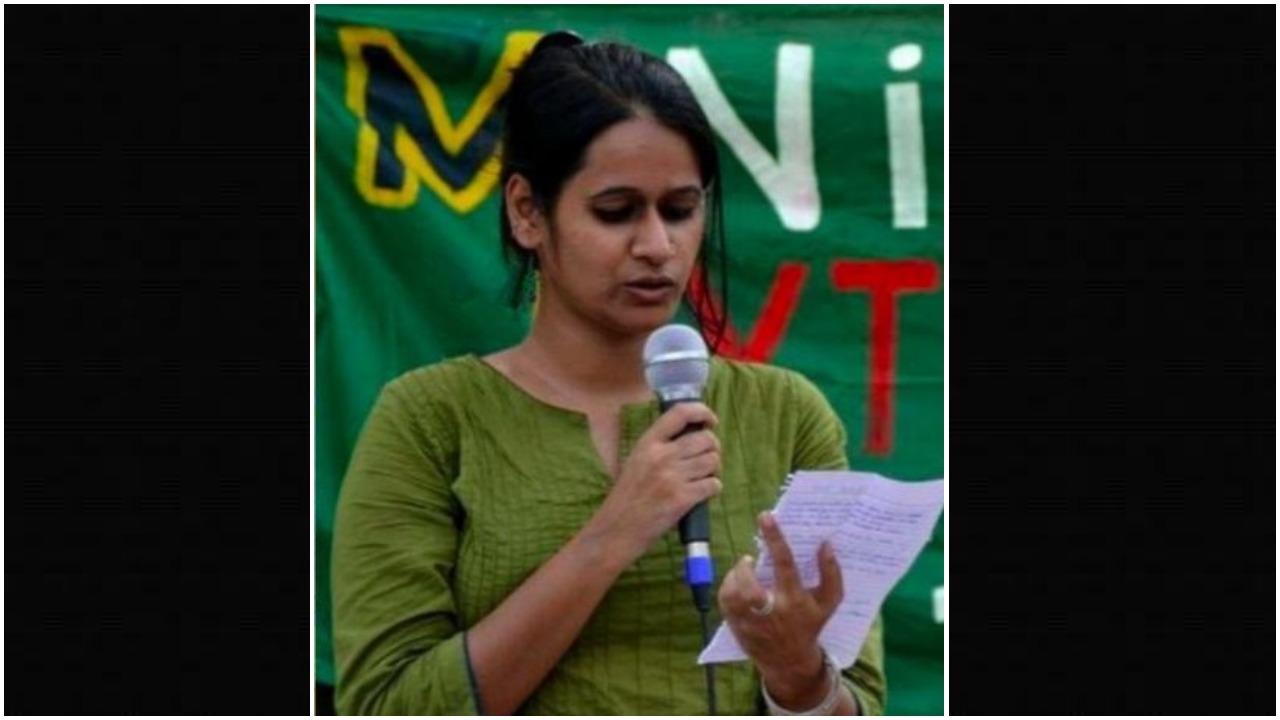 Student-activist Natasha Narwal has yet again not been allowed to register for the semester at Jawaharlal Nehru University. Narwal is a confirmed Ph.D. student of Centre for Historical Studies (CHS), Jawaharlal Nehru University (JNU), however she was not able to register for the crucial 5th semester (August 2020 to December 2021) as well as 6th semester (January to May 2021) of her Ph.D, revealed a post on the social media page of Pinnja Tod, a students' rights movement of which she is a prominent member. According to the page this denial is allegedly "due to non-cooperation by the JNU administration." On May 23 2020 year, Narwal was arrested in connection with a case filed against anti-CAA protesters in Jaffrabad.
The activists stated that "all incarcerated people have the right to pursue education inside jail including "political prisoners currently pursuing higher studies." Natasha, they said joined the Ph.D. program at the Centre for Historical Studies at JNU in August 2018 and according to the university rules, she remains a part of the program provisionally "till her Ph.D. synopsis, with a definite title and a chapter plan is approved by the Committee for Advanced Study and Research (CASR) of the respective School". The Pinjra Tod post added that a provisional Ph.D. student must have their synopsis approved within two years of admission to the Ph.D. program and then they become a confirmed Ph.D. student.
According to the post, Natasha has gotten her synopsis approved at the CASR meeting held on March 6 2020. When she was arrested on May 23 2020, Natasha had completed four semesters of her studentship in the Ph.D. program, she has been working on her thesis titield: 'Building a Space for Women in Delhi: University, Movement and Sociality, 1930s to 1980s.'
However, now the University administration has been denying Natasha permission to register for the past two semesters stated Pinjra Tod, adding that the university has been "uncooperative and vague about the process," when Natasha's family and friends have asked for clarifications on the issue. Natasha does not have access to online information as she does not have her ID /password. According to the information shared, Natasha was already incarcerated by the time "she was required to register in August 2020 and could not recall her ID / Password". It stated that her father Mahavir Narwal even approached the Communication and Information Services (CIS) of the University but his request to issue a new ID but he was refused.
The students group has alleged that this refusal was an exception and no reason was given even though the CIS has been issuing new IDs and passwords to other students who have asked for it. They added that Mahavir Narwal also approached the Registrar of the University but "was told that online registration that happened in August 2020 was provisional anyway due to the pandemic. It would in any case have to be confirmed when the students came back to campus, when their identity cards would be stamped."
The Jawaharlal Nehru University Students Union have also repeatedly approached the University administration regarding her registration but have not been given any response, stated Pinjra Tod activists. Her lawyers have now had to approach the Delhi High Court with a petition seeking for her to be enrolled into her third year of PhD studies at Jawaharlal Nehru University. Justice Prateek Jalan of the Delhi High Court issued a notice on the Pinjra Tod activist, and Delhi violence accused Natasha Narwal's petition seeking to be enrolled into her 3rd year of PhD studies at Jawaharlal Nehru University (JNU) in Delhi,
Pinjra Tod has urged the JNU administration to allow Natasha to register and provide her with her login ID and credentials for completing the provisional registration process. They have asked that she be admitted to her in the requisite semester of her PhD program and also be provided her scholarship and fellowship money as she is entitled to as a PhD student of the University.
Related
Delhi HC issues notice on Natasha Narwal's plea for admission in 3rd year of PhD
Delhi court rejects Natasha Narwal's bail plea