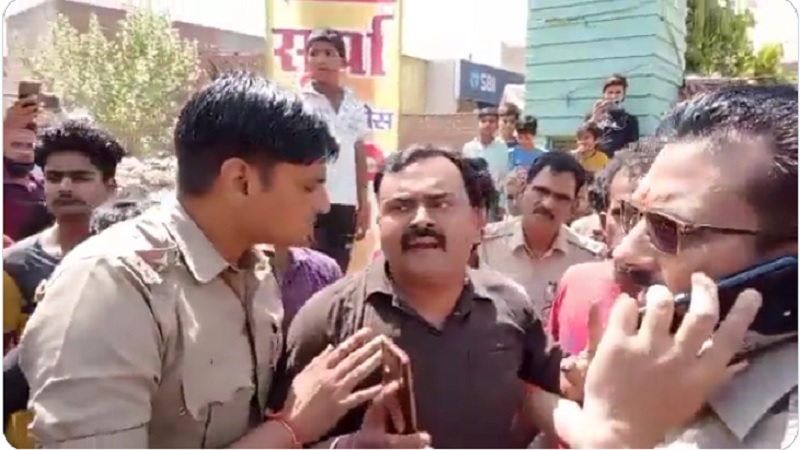 Image Courtesy: Twitter
In Meerut, these days, a group of angry men are busy walking the streets shouting slogans against meat shop owners, which in this case are mostly Muslims. The goons engage in hate speech, raise Hindutva slogans and are demanding that meat shops in Uttar Pradesh be shut down for the duration of Navratri, and even threaten dire consequences.
जो ना माने बातों से, वो मानेगा लातों से
उत्तर प्रदेश के मेरठ में हिंदू सेना के कुछ लोग नवरात्रि पर जबरदस्ती मीट की दुकानों को बंद करवा रहें है. pic.twitter.com/sZiVTGDt0K

— Millat Times (@Millat_Times) April 6, 2022
Mobs like these no longer seem to be an occasional occurrence; they are now dangerously normalised in many parts of Uttar Pradesh, especially in areas that are close to the Delhi-Uttar Pradesh border. What is more shocking is that such mobs, instead of being dealt with an iron hand are treated gently by uniformed police officials who engage them in discussion and try to persuade them to relent their protests for now. Various videos on social media have shown the alleged Hindutva mobsters of Meerut shout their protest and hate slogans outside a police station/ outpost, and in front of uniformed police officials.
मेरठ में मीट की दुकान बंद करवाते हिन्दू संगठन के नेता…

पुलिस ने रोका लेकिन मनुहार करना पड़ा… pic.twitter.com/b1Ofd1CKRY

— आदित्य तिवारी / Aditya Tiwari (@aditytiwarilive) April 6, 2022
The mob has identified itself as members of "हिंदू सेना" and one Sachin, who seems to be leading them is heard telling the Meerut police person that "nothing is above religion" as is daring the cop to arrest him and his supporters. The Meerut police officer is heard pleading with Sachin and "assuring him" that he too was a hardliner/ hardcore, "Mai bhi bohot kattar aadmi hu Sachin, stithi ko samjho, maas kahi nahi bik raha hai, galat afwah nahi phailao.. kaisi baat kar raha hai yaar Sachin." (I am also hardcore Sachin, understand the situation, meat is not being sold anywhere, don't spread fake rumour, what are you talking about Sachin.) Then the cop is heard saying that he as a cop was enough to S@&**F (hindi swear word) if that was the case.
This Sachin, may well be Sachin Khatik of the so called Sangeet Som Sena or ex-MLA Sangeet Som's "private army", who had threatened to hold a demonstration demanding the immediate arrest of those responsible for an "objectionable video" of Som.
On Saturday, 30 people, including those belonging to "Sangeet Som Sena", were booked by Meerut police for "rioting and loot". This mob was accused of vandalising the food cart of Mohd Sajid who was selling a vegetarian biryani. Still the mob went on attack mode in Sardhana, the Assembly constituency that Som was voted out of in the recent elections. According to a news report, Khatik and his fellow goons vandalised Mohd Sajid's cart while he was selling the rice dish near a marketplace. They reportedly asked him why he was selling biryani when it is "banned" during the nine days of Navratri. Sajid told them that it was a "veg soya biryani", but they attacked anyway.
However it is not yet known if Sachin has been arrested yet.
In Ghaziabad, there is a ban on meat already issued by the Ghaziabad Nagar Nigam. Sale of meat is banned till April 10 and officials told the media such a "meat ban during the festival is a routine order." The order read, "It has been directed by the mayor to maintain cleanliness in temples, and to close meat shops during the period. It has been directed that cleanliness be maintained in respective zones, in temples and to ensure meat shops remain closed."
While Sangeet Som lost his seat, party colleague Nand Kishor Gurjar was re-elected MLA from Loni. In March, much before Navratri, Gurjar targeted meat sellers saying, "I want the officials to understand, not a single meat shop should be visible in Loni… There is Ram Rajya [rule of Hindu god Ram] here in Loni. Have you ever seen a meat shop in Ram Rajya? Just consume milk and ghee, and if you don't have a cow I will send you one." It is not known if he has kept his promise of gifting bovines.
Related:
Will Delhi's Mayors ban onion and garlic too during Navratri?
Ramgarh Lynching case: SC sees "no reason" to entertain the Petition filed against the bail of the accused men
Hate Offender Yati Narsinghanand violates bail conditions, calls for communal violence
Hate Watch: Right-wing group vandalises vegetarian food cart run by Muslim vendor
Are increasing calls for economic boycott of Muslims a sinister precursor to something worse?
Meat sale banned in Ghaziabad, demands brew for a repeat in MP