After doing well in written exam, students from socially and economically disadvantaged backgrounds say they have been humiliated at interviews.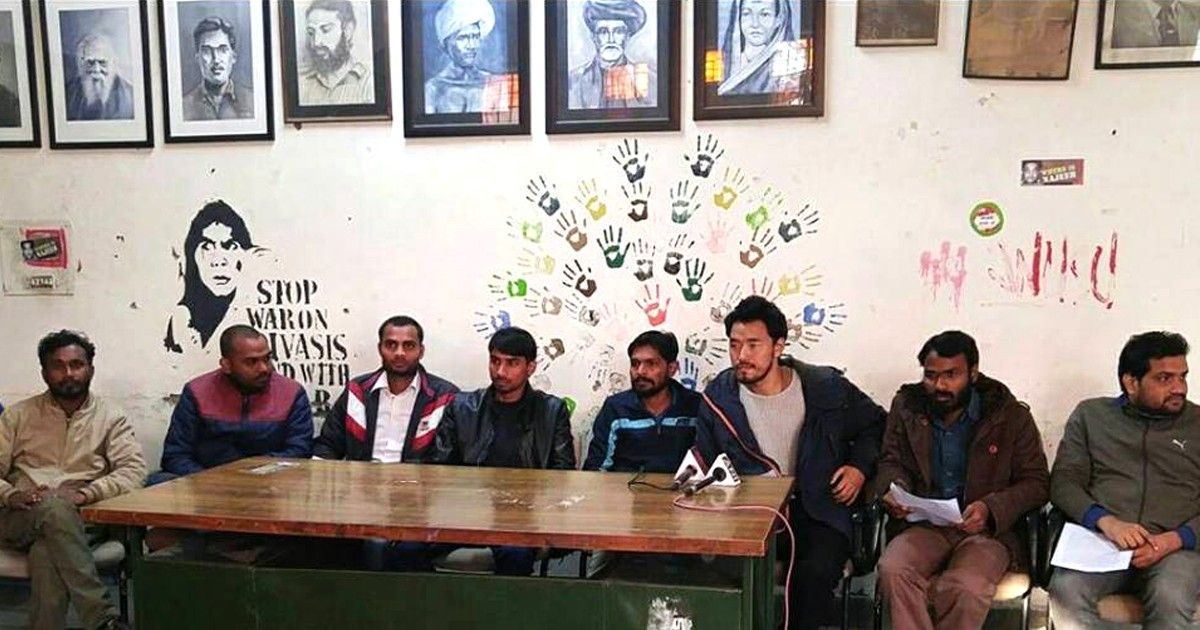 Image credit: Committee of Suspended Students for Social Justice/Facebook
Research scholar Anil Kumar* cried at the viva voce, an oral examination, that he sat for at Hyderabad Central University in 2014. Not because he was not proficient in the subject he was being quizzed on, but because of the sheer contempt he felt in the interviewer's voice.
Kumar had submitted a research proposal for a PhD in linguistics to the university's interview panel.
"An interview panel member looked at my MPhil thesis, made a mocking face and threw it on the table," he said.
The proposal was written in Hindi.
"That turned the panel against me because till then, I had studied only in Hindi medium," Kumar claimed.
Kumar had topped the national-level written test, in English, and not just among Scheduled Caste applicants.
Merit was not the issue, he said.
Such experiences are the primary reason why students across India's university campuses are staunchly opposed to a notification from the University Grants Commission, the country's higher education regulator, which changes the rules for admission into research programmes. A student from New Delhi's Jawaharlal Nehru University even went on a hunger strike against the policy on the weekend, before being rushed to hospital by the police on Monday.
According to the notification, issued last May, selections to research programmes will now be based solely on how applicants perform during the interview. Prior to this, most universities did not follow a uniform policy for admissions to MPhil and PhD research programmes. While some considered a formula that took into account the student's performance both in an entrance test and interview, a few had a test-only policy.
But with the notification, the entrance tests for MPhil and PhDs across India have been turned into qualifying ones. This rule is something all universities – central and state – will have to adopt.
Critics say the notification will lead to further discrimination of students who come from socially and economically marginalised backgrounds. Students believe that the new rules will put those who do not fit the profile they think expert panels favour – proficient in English, neat, confident – at a great disadvantage.
Last month, Jawaharlal Nehru University passed the notification at an academic council meeting, which was disrupted by students, nine of whom have been suspended. On January 3, its executive council adopted the notification.
One of the suspended students, Dileep Yadav, a final year PhD scholar, went on hunger strike, demanding that the administration nullify the decision.

New admission policy
So far, the most common practice in universities was to take into account a student's performance in the entrance test and interview. The formula varied. For instance, at Jawaharlal Nehru University and the Central University of Gujarat, the entrance test was given a 70% weightage and the interview 30%. For an applicant to make the merit list, a composite of marks in this ratio was considered.
Now, students who have experienced interviews like Kumar's say that the new rule expands the scope for bias.
The Central University of Gujarat, which implemented the new policy last year, has already been taken to court on the issue.
"Some felt they were rejected because of the change and have gone to court," said PhD student Vikas Pathe.

Complaints of bias
Everyone has a viva story – whether during admissions or during regular evaluation.
In 2008, Ramnaresh Ram was doing an MA in Hindi from Allahabad University when he appeared for a mandatory viva examination before an examiner from Benares Hindu University.
"They could tell I was from a Scheduled Caste from my name," he said. "I was asked questions about the Bahujan Samaj Party, whether I supported them. The discussion, irrelevant to my coursework, shocked and embarrassed me. I lost confidence."
Suneeta, a PhD student from Delhi University, said that selection boards do not understand the battles students like her fight to just get to the interview room.
"Where I come from – Maharajganj in Uttar Pradesh – families do not send girls to school," said Suneeta.
She said that she had few complaints against Delhi University but added that she faced the "language barrier" during her viva at Jawaharlal Nehru University in 2010.

Subtle discrimination
In 2011, Anubhuti Agnes Bara and Mulayam Singh both made it into Jawaharlal Nehru University's MPhil programme – but only just.
Bara, who studies in the Hindi department, stood second in the written test, scoring 54 out of 70. Singh, in the history department, got a respectable 48. In the interview, which Bara thought had gone well, she got eight out of 30. Singh got three.
"I was asked my full name," said Singh. "They probably wanted to know if I am a Yadav."
The disparity between written test and viva scores of some admission applicants in the university was spotted by the now-disbanded All India Backward Students' Forum. The group obtained the test-interview break-up for several rounds of admissions using Right to Information applications, and detected that the gap was wider in case of reserved-category candidates. It cited this as proof of discrimination.
"No one will call you a chamaar," said PhD student Prashant Kumar, referring to the pejorative for some members of the Scheduled Caste. "It is far more subtle. On the written test, there's just a number. When the candidate appears for the interview, you can guess their background from skin colour, dress, English [speaking skills], and even etiquette. It is not just reserved category candidates who suffer but the poor in general."
The reason for the alleged downgrading is to keep reserved-category candidates whose composite score was high enough to meet general category requirements from claiming an unreserved seat, said Bara. "Those [general category seats] are open to all, but are often treated as reserved for upper castes," she said.

Multiple committees
The demand to reduce the importance given to the viva component is a longstanding one.
Since 2012, the Jawaharlal Nehru University administration has formed three committees to look into allegations of discrimination in viva scores.
The first, formed in 2012, analysed data from 2007 to 2011, and observed in its report that the gap in performance between general and reserved category students was wider in the case of viva-voce than the written test.
The second, in 2014, led by Sukhadeo Thorat of the Indian Council for Social Science Research, found some differences too.
Students thought their demands would finally be met when the last committee, led by Abdul Nafey, from Jawaharlal Nehru University's School of International Studies, recommended a reduction of marks allocated to viva to 15 from 30 last year.
But the university's adoption of the University Grants Commission notification has put paid to any hope of that happening.
The minutes of a Nafey committee meeting say, "Data consistently indicate the pattern of difference in the written and the viva voce marks across all social categories which indicates discrimination."

Assessing merit
Students in Jawaharlal Nehru University see as a betrayal the fact that many teachers, including those generally regarded as Left-leaning, or progressive, did not back their demand that the marks allocated to viva-voce be reduced.
A former student leader, who now teaches in college, pointed out that the weight given to viva in research admissions is "one of the very few issues on which students and teachers do not always agree".
Determining merit once a student is out of the framework of a fixed curriculum and exams is difficult.
"The viva is to assess the viability of a research proposal," said the teacher. "How will you do that through a written test?"
The Thorat Committee report began with this caveat: "This absence of relationship [between test and viva scores] is inherent in the very differences in the objectives as well as in the mode associated with the conduct of the two types of examinations."
But as a Delhi University teacher pointed out, the University Grants Commission has framed some rules for faculty recruitment interviews.
"Now there are fixed parameters," she said. "Interviewers have to state how much the candidate has scored against each. Why cannot a similar system be developed for admissions?"
* Name changed to protect the person's identity.
Courtesy: Scroll.in